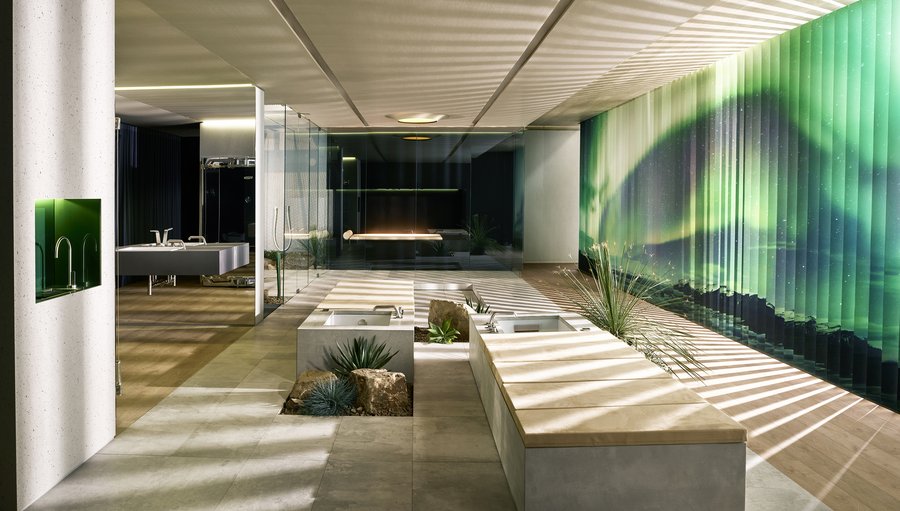 The care of body and mind in the Healthy Bathroom

When it comes to taking care of body and soul, the bathroom is taking on new meaning: tomorrow's bathroom won't just be cosier; in modern interiors, it will also take on the function of a health promotion centre where water plays an important role in prevention – a space for stretching exercises and running on the treadmill, for revitalising and relaxing, for checking health and giving it a boost with water.

Health tops the wishlist for a happy life. And as prosperous societies around the globe become increasingly health-conscious, the bathroom will gradually evolve into an in-home health promotion centre. As a result, it won't just become cosier: in modern interiors, the bathroom will also become a multifunctional space for grooming and fitness, where water plays an important role in prevention. A space for stretching and running, for revitalising and relaxing, for checking health and giving it a boost with water.

At the same time, the Healthy Bathroom stands for the concept of a bathroom for promoting health, individually equipped to suit the requirements, preferences and ages of its users. Where enough space is available, it will be designed to accommodate an ergometer, treadmill or yoga mat, wall bar, sauna and lounger so that owners can slot fitness exercises into their everyday routine and create a relaxing haven of calm that can even be used for family bonding sessions. And at a pinch, there's always room for a balance board under the vanity unit if space is in short supply.

Water will play an even bigger part in health promotion – and not just in the hammam. The positive effects of traditional hydrotherapy treatments like alternating hot and cold baths will also experience new-found popularity. Nor will the tap primarily serve as a washplace, as is currently the case. Instead, it will be viewed as a dispenser of precious water: drinking water that refreshes the cells and fasciae from the inside after a workout and aids digestion. What's more, the bathroom is the ideal place for medical measures like monitoring blood pressure and glucose, which will become routine for many of us in future. Displays for workout instructions and checklists will also find their way into the bathroom. Personal hygiene will evolve into personal health promotion – and the bathroom will turn it into a pleasure.

The Healthy Bathroom provides modern solutions for traditional hydrotherapy treatments
The private bathroom's new-found role as a Healthy Bathroom opens up all kinds of possibilities for both challenging and pampering the body in one and the same room. For most people, the shower plays a vital part in this. Equipped with various sprays and programmable extras, it now enjoys the status of No. 1 feel-good oasis – probably because it takes up less space than a bath, added to which showering is quicker and conveys a sense of being active. Even so, it would be wrong to write the good old bathtub off. Experts point out that the health-promoting effect of taking a bath doesn't only stem from the fact that it calls for peace and quiet and plenty of time. Because contrary to popular belief, soaking in the tub doesn't just relax the muscles and joints, it also stabilises the heart and lungs, improves circulation, stimulates the kidneys and strengthens connective tissue. In addition, it has a soothing effect on the entire organism via the autonomic nervous system. The bathtub is therefore an ideal complement to the usual fitness techniques and turns the workout into a holistic health experience.

But the tub isn't the only fountain of health in the bathroom: other "stations" also lend themselves to healthy everyday routines that can lower our susceptibility to illness. Modern saunas and steam showers stimulate the circulation and metabolism, relieve the airways and relax the muscles. Infrared cabins can also be factored in to a holistic approach. In the shower, all sorts of different rainfall and waterfall effects can be combined with hand showers with multiple spray modes to create highly enjoyable encounters with water. Innovative fittings can also help create sensuous wellness and water experiences in the private spa. Alternating hot and cold showers, either for the entire body or just the legs, likewise play a key role in recommended hydrotherapy treatments. And if a Kneipp pool and Kneipp hose are installed with ergonomic considerations in mind, the Healthy Bathroom can provide a professional-standard experience.