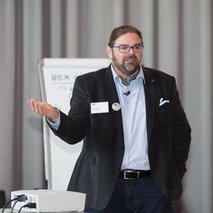 Giving customers an idea of the colour scheme during a planning consultation can be challenging. Workbooks containing exemplary projects are a huge help. Modern tablets and smartphones provide some excellent starting points for designing the colour scheme. In the workshop hosted by our digitalisation expert Thorsten Moortz, you'll learn how to make your own workbook with the help of the internet and how simple colour LEDs can be used to make colour come alive. Fantastic input for any bathroom builder who wants to use colour to generate emotions!

Lecture: Show Colours!

Speaker: Thorsten Moortz

Date: Wednesday, 12. March 2019, 12:00 pm

Location: Saal Europa, Hall 4.0, ISH Frankfurt/Main

The lecture will be translated into English simultanously.