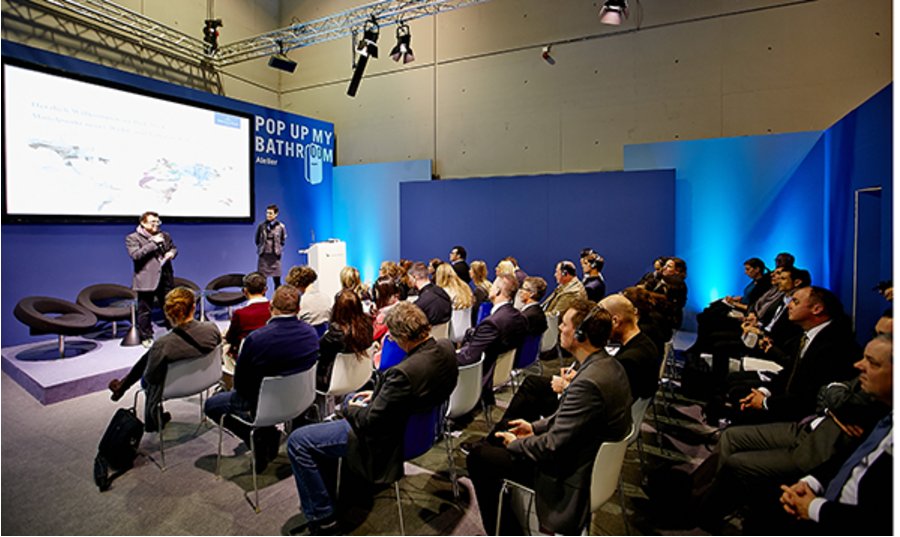 The world of bathrooms that can be experienced at the ISH isn't just about state-of-the-art design; it's about pioneering solutions for sustainable, convenient and cosy bathrooms for the coming generation as well. From 14 to 18 March, the international trade fair for the sanitary sector will provide a gathering point where practitioners and visionaries, architects and planning professionals, technicians and designers can discuss the key issues affecting their daily business and the future development of the industry. This year's Pop up my Bathroom Atelier – a lecture forum located in the midst of an emotionally appealing and inspiring trend installation in Hall 4.0's Europa conference room – promises to be a hotspot for such encounters. 
The overarching theme of the 2017 programme will be the individualism megatrend. The presentations will examine the impact it is having on product concepts and production processes, digitalisation, design and the demand for flexibility. With its informative lectures and panel discussions, the trend forum will once again be providing ambitious bathroom planners, plumbers and specialist journalists with an abundance of ideas and inspiration for their work. 
"This will be the third time we've used the Pop up my Bathroom Atelier to provide the trade audience at the ISH with a forum where professionals and anyone with a general interest in the topic can find out about the latest developments in the sector," says Jens J. Wischmann, Managing Director of the German Sanitary Industry Association. 
Each day, industry expert Frank A. Reinhardt will kick off the programme with an overview of current developments, with a special focus on the role individualism is playing. And in another daily event, Werkstatt Bad will be presenting a new system for simplifying bathroom renovations. The varied agenda also looks at the special field of robotics on the basis of a robotic shower system. Lectures on smart materials and 3D printing provide an insight into the latest developments in production technology, while topics such as universal design, digitalisation, intelligent customer targeting, lighting, colour, health and barrier-free accessibility are also considered from various perspectives. 
This year too, Pop up my Bathroom is hosting a series of panel discussions: the Axor Talks will focus on individual and digital aspects of hotel bathrooms and the bathroom in the shared urban housing solutions of the future. In one-on-one interviews, designer Christoph Pillet questions the passing fads affecting the bathroom, his fellow designer Dominik Tesseraux explores the topic of cosiness in the bathroom, and VDS bathroom ambassador Franziska van Almsick talks about the effect of water in the bathroom. 
All lectures will be simultaneously translated into English or German as appropriate.  
Click here for the complete schedule.