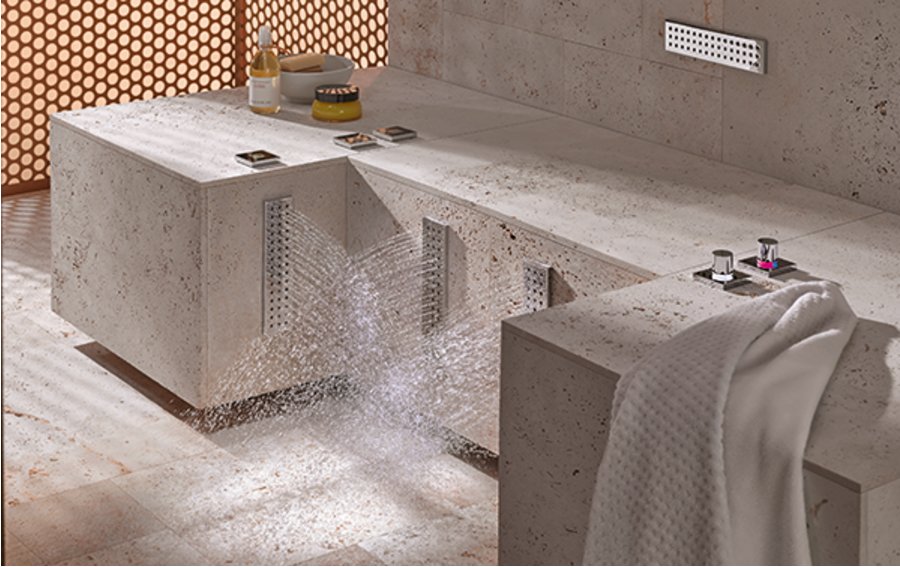 Scientific studies have shown that water has a positive impact on more ailments than was previously believed. The current revival of Kneipp hydrotherapy treatments will influence private bathrooms as well. For dedicated followers of this philosophy, it might even be worthwhile installing two tubs so that they can alternate effortlessly between warm and cold baths. When planning their bathrooms, health-conscious house owners should therefore inform themselves about the water treatment options available in good time. 
Kaldewei offers a system for its tubs that claims to turn taking a bath into a relaxation experience with a cosmetic effect: Skin Touch promises a combination of deep relaxation with deep treatment. Microfine air bubbles, 100 times smaller than the bubbles produced by a conventional whirl system, stimulate the skin cells. The stream of tiny air bubbles looks rather like pampering bath milk dispersing in the water. According to the manufacturer, Skin Touch acts like a fountain of youth thanks to the natural power of the oxygen in the water, leaving the skin feeling softer and smoother. The result, says the sanitaryware specialist, is skin that feels silky soft and younger for a long time afterwards. 
With its new Comfort Shower, Dornbracht is adding a sit-down water experience to the spa segment: at the push of a button, the combined effect of various outlets and spray modes is used to create therapeutic scenarios, whilst the seated posture is intended to ensure a deeply relaxing experience. Comfort Shower can also be equipped with the optional Leg Shower, which applies invigorating bursts of water to the legs and is also activated by simply pushing a button. The seated posture is intended to make hydrotherapy applications like Kneipp showers or exfoliating body scrubs particularly enjoyable. And thanks to the combination of different outlets and spray modes, the user can select pre-programmed choreographies for a balancing, relaxing or invigorating effect.