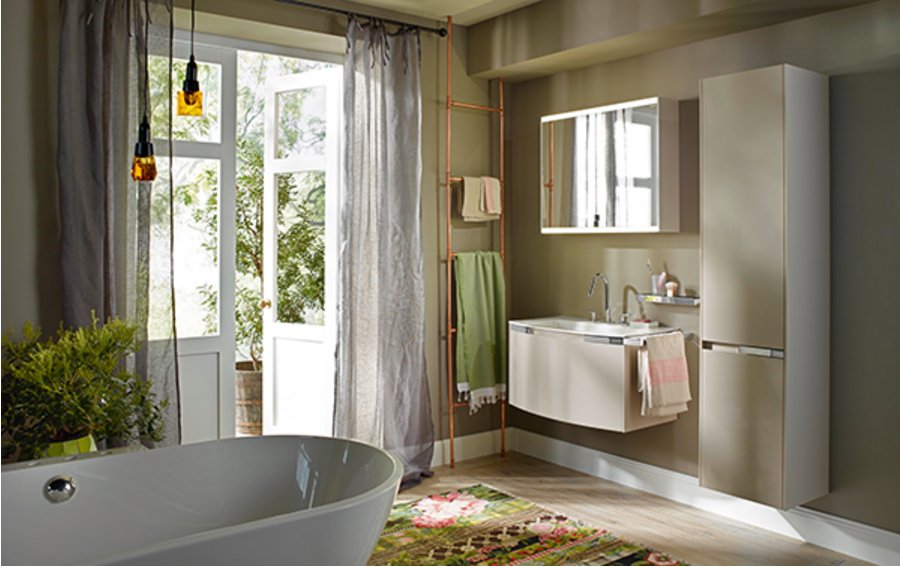 A bathroom speaks volumes about its users. Take Thomas, for instance, a spartan type with a simple shower curtain and solitary tooth mug. Kathy next door has a pastel vanity overflowing with tubes, pretty bowls and candle stumps that sometimes migrate to the edge of the bathtub. Margaret downstairs has chosen a turquoise-and-white backdrop for her collection of maritime mementoes. Finally, the mellow sand hues and vintage-style dresser in Alex's bathroom seem to have come straight out of an interior design magazine. 
Singles can indulge their dreams without worrying about other people's tastes, and are increasingly doing so with an eye to fashionable furnishing trends. Many a bathroom collection embodies a fittingly self-confident lifestyle concept. Even the differentiation of product ranges into style collections with names like "Classic Style", "Harmony Style", "Modern Style" or "Nature Style" is based not just on interior trends but on the latest developments in fashion as well. 
Many singles consciously embrace the up-to-the-minute aspect and thus the principle of permanent change. The recent craze for "white on white", for instance, now needs a little update – a few contrasting touches in black to keep up with the latest "back to black" trend. And although walnut-coloured wood might still be attractive, it's nowhere near as trendy as pastel or limed oak. Or bold splashes of colour. And metal accents or emphatically soft forms that can be interpreted with either a retro or futuristic touch are particularly in right now too. 
Fashion and lifestyle trends are moving into the bathroom – which only goes to show just how much we have come to see it as living space. We want to feel at home in our bathroom – and put our own very individual stamp on it. What better response could there be than to cater to the desire for more cosiness by creating space for seating, fitness equipment and more room to move in general? Room for playing children, yoga exercises, press-ups, bookworms and glorious relaxation. It is a room of almost unlimited possibilities that are still waiting to be discovered. 
The megatrend towards snug and cosy bathrooms continues unabated. Many old bathrooms are just waiting to be lovingly renovated and given a new, comfy feel. A growing choice of waterproof parquet flooring is available to complement this new look too. For owners of this new type of bathroom, snug bathroom furnishings and decorative items are high on their list of favourites.