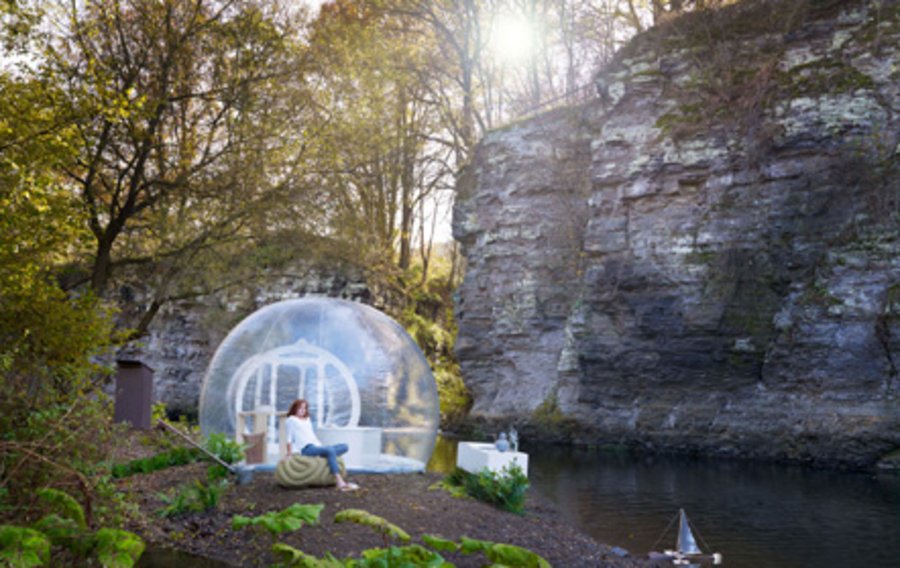 One reason why nature is such an attractive theme for the retreat embodied by the Bathroom Bubble is of course that our modern lifestyle has become so far removed from it. Unspoiled nature is the counterpoint to our reality, which is dominated by an urban feel and the ubiquitous presence of other people, noise and architecture. In the Bathroom Bubble we seek solitude, tranquillity and often also natural, authentic-looking surroundings.  
What the latter look like, however, can vary greatly from one person to another – some people associate such surroundings with organic forms, others with a minimalistic design so simple it is almost inconspicuous. Whilst some of us see nature in a nostalgic brass fitting or a simple pipe projecting out of the wall, others sense its presence in the reflection of light and leaves in polished chrome surfaces. On the other hand, some motifs are common to all these interpretations: the presence of daylight, a window with a view and materials with a natural feel: ceramic, stone, wood, natural textiles, sometimes even metal. When asked about their personal dream bathroom, a striking number of people mention access to a balcony or garden: in an ideal world, we would start the morning by stepping out through double glass doors into a secluded garden and feeling the dewy grass beneath our bare feet. And who wouldn't like to have a good stretch and enjoy the fresh morning air on the pebbly bank of an idyllic river? 
Those not in a position to fulfil this dream can nevertheless design a bathroom that makes its user feel a little closer to nature by considering a few important factors. Besides natural materials and colours for the interior, the minimum requirements also include architectural prerequisites such as a window – preferably east-facing. There's something inherently good and right about starting the day off in the light of the morning sun. A balcony or planted atrium is even better. And if there's access to a garden, why not put the bathroom on the ground floor for a change?