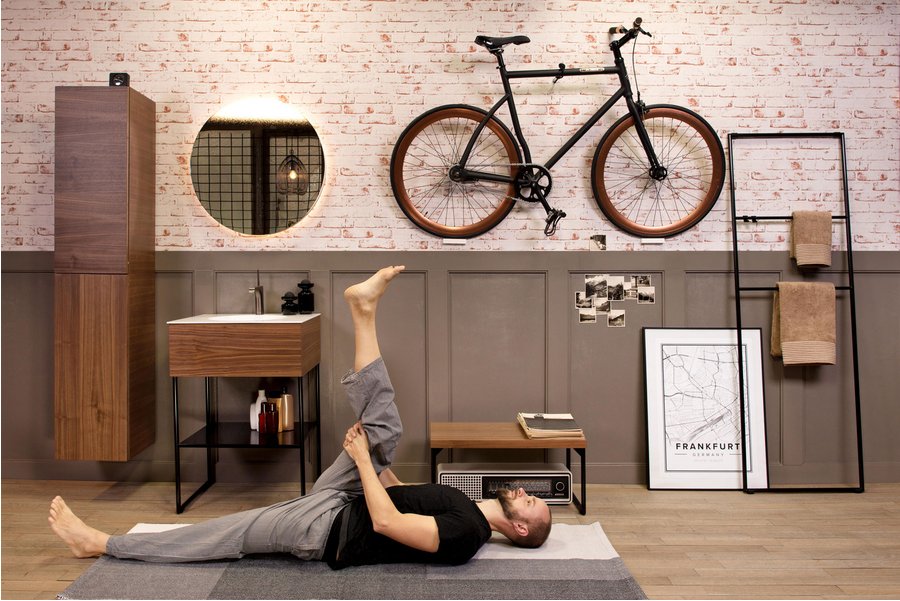 Today's consumers are well informed, style conscious and know what they want. What's more, they are used to seeing their home as an expression of their personality and adapting it to their needs and tastes accordingly – especially in an urban context that attaches importance to a modern lifestyle. The only room to resist these creative urges with any degree of tenacity is – sorry, was – the bathroom. But here too, a thorough shakeup has taken place: things that were once uniformly tiled around and invisibly mounted are now learning to adapt to their owners' individual tastes. 
In recent years, people who aspire to an urban lifestyle have been trying to stand out from the mainstream with interiors in vintage style, DIY furniture and a generous scattering of re-editions. But it's not just about rejecting the standard look. It's also a question of setting oneself apart from the alternatives to the standardised bathroom that the market has come up with so far – including the country style that emerged in the 1990s or minimalistic high-gloss cabinets. 
In a certain avant-garde target group, a preference for individual bathroom design characterised by connoisseurship and the uncompromising desire to be original is evolving as a modern alternative to the nostalgic country style or the smooth, clean lines of minimalistic interiors that look as if they've come straight from the pages of a glossy magazine. Today's trendsetters focus on putting together an individual mix, helping themselves from a treasure trove of historical style elements whenever the fancy takes them. It might be furniture or wallpaper from the fifties, an original Bauhaus stool, granny's bedside cabinet or a plush Memphis icon – as long as the bathroom isn't boring, anything goes. 
Somebody who puts an Eames chair at an oak dining table and a record player on a String shelf wants their bathroom to identify them as a culturally savvy bohemian too. And so, above all else, the Sophisticated Bathroom must show taste and connoisseurship. But it's just as important for it not to look pretentious: masterful improvisation is the desired effect. 
That also means appreciating what's gone before and working with what's already there. So rather than being ripped out or hidden away under plaster, anything considered worth keeping is integrated and accentuated in eclectic fashion and thus subjugated to the desired style. It might be wacky wall tiles from the 1960s or nice cement tiles on the floor, a clouded mirror or an exposed heating pipe. Everything is reused, lovingly restored or brightened up with a bold coat of paint. 
If there isn't anything old to save, materials like stone, ceramic, wood and metal are particularly important. The good old enamel bathtub, for instance, enjoys cult status in any Sophisticated Bathroom. But combining old and new is no problem either, which is why it's perfectly acceptable to put an enamelled steel tub next to a mineral cast washbasin. 
The new approach of treating the bathroom like living space calls for bathroom furniture that looks like furniture and for vanity and bathtub options that combine modernity with nostalgia – either through their use of materials or their exclusive, original design. Historical bathrooms can serve as role models as long as the references don't go over the top and end up looking kitschy or fake. The challenge lies in reconciling the sometimes puristic, sometimes decorative forms with modern technical standards. 
In the Sophisticated Bathroom, the furnishings are joined by accessories usually reserved for other areas of the home, including textiles, occasional furniture and pottery, as well as preferably water-resistant solutions for an authentic use of materials that echo urban looks from the past such as the New York style, Bauhaus or 1970s fashions. Associations with a Mediterranean townhouse are just as feasible as overtones of a puristic factory loft. Even romantic allusions to a life in harmony with nature are allowed if they fit in with an architectural urban style – like traditional Shaker furniture, for instance. 
The Sophisticated Bathroom created to exemplify this trend for Pop up my Bathroom shows how individual components with a furniture-like character can be used to create a liveable, homelike feel. Sophisticated Bathroom lovers are also less concerned about the robustness of the wall and floor coverings – they're willing to tolerate a few water stains in return for being able to have nice wall panelling and real oak in their bathroom. 
With cabinet fronts made of smart real wood veneer (shown here in Natural Walnut), the Coco bathroom furniture collection (burgbad) fits in with this style – and is made to withstand humid conditions too, of course. The simplicity of the round mirror with integrated lighting and the puristic towel ladder – which, like the base frames, is made of black painted metal – also satisfy the desire for simple shapes, sophisticated design and authentic materials. The delicate base of the vanity, the svelte, balanced proportions and the homogenous unit formed by the slender mineral cast vanity top and cabinet emphasise the furniture-like character of the collection. Developed in collaboration with Spanish design studio Lievore Altherr Molina, it also includes a tall cabinet, illuminated mirror and mirror cabinets as well as a handy bench. Although the series is designed with graphic, almost minimalistic clarity, it has a surprisingly feminine appeal: slender, delicate and style-conscious, but also unobtrusive and understated. Like all the components of the Coco range, the towel ladder looks as if it can just be picked up and taken along next time its owners move house.