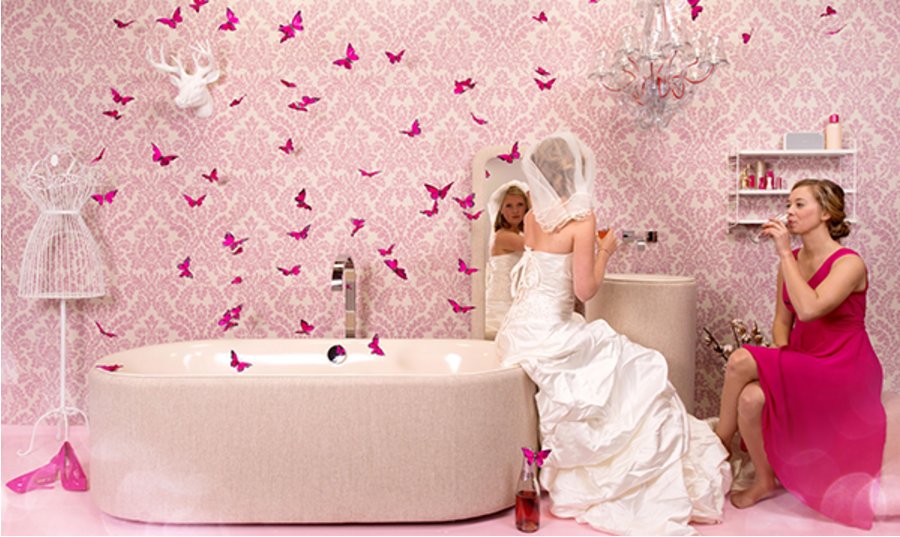 For a long time, fashion's influence on the bathroom was denied. It is, after all, supposed to be timeless and practical: more than anything else, its furnishings should last a long time and be as neutral as possible, at least where rental properties are concerned. But now, as in the rest of the home, people are beginning to think of the bathroom not in terms of generations but in terms of life stages. Fuelled by the desire to design and the need for prestige, fashionable aspects are gradually moving into the bathroom, starting with decorative accessories and trendy flooring or wall coverings, progressing to fashionable accents for the furnishings – sometimes in the form of interchangeable cabinet fronts – and extending all the way to the comeback of colour. 
So it's a happy coincidence that the Seventies are back in fashion too. But Mediterranean or Scandinavian style elements, borrowings from historical styles or nature-inspired colour schemes are also increasingly influencing even classic sanitaryware products. Innovative textiles and textile-like materials are bringing the latest colour and fashion trends to bathroom design in the form of covering fabrics, curtains and carpets. 
Whereas more pastel shades have been establishing themselves in the living room and kitchen for some time, black-and-white is still a popular choice for bathrooms. Even so, it seems as if the bathroom can now look forward to a more colourful future too. The entire spectrum of grey tones, from light all the way to dark, is ultramodern right now – and a great way to combine strong contrasts. Grey, cream and vintage-grey shades of white make ideal accompaniments for any of the delicate to bright shades of rosé that are currently bringing their feminine charm to fashion and many areas of interior design. 
Light, Scandinavian-looking colour spaces are also in: the mix of white, light wood and fresh shades of blue conjures up an attractive Nordic flair. By contrast, it will probably only be more daring consumers who are brave enough to install the latest trend colour in their bathrooms in more permanent form: the fresh, leafy green is too reminiscent of the "moss green" of yesteryear. On the other hand, there's always room for accessories or an accent wall in the Fashion Bathroom. As for metal effects, after gleaming copper interior design is now discovering matt brass and rich shades of rust too. 
Sanitaryware manufacturers' designers have long been turning their attention to carefully selected wood surfaces for bathroom furniture. And even the colour palette for finishes is becoming more adventurous again. Consumers can find anything their hearts desire. And in some cases, they can even exchange the cabinet fronts if they change their minds a few years later. In line with general furnishing trends, varnishes, lacquers and coatings are available in everything from high gloss to ultra matt (fingerprint-proof, naturally), all the way to knotted grains for the wood designs. 
Since the fluctuating humidity in the bathroom obviously has to be taken into account, imitation materials are often used to satisfy the desire for cosy-looking décor. And nowadays tiles don't just come in all kinds of wood effects, textures and used looks, but in various formats and motifs for laying all sorts of patterns too – from ship's deck to herringbone to linear mosaic. Meanwhile it's even possible to allay homeowners' concerns about swollen wooden floors if bathtime gets out of hand: today there are specially treated parquet and laminate products that promise years of use in the bathroom. Innovative PVC floor coverings also satisfy bathroom users' desire for more warm materials. 
With its new design concept for a fabric-clad tub, shower tray and bathtub specialist Bette is bringing a new and surprising take on cosiness to the bathroom: while the inner tub is classically executed in steel/enamel, the apron is upholstered like a comfortable sofa and covered with woven, water-resistant and climate-resistant fabric (design: Tesseraux + Partner). Bette will be premiering a matching vanity unit at the ISH 2017. Fittings with lavishly curved spouts from Dornbracht blend in harmoniously with the Fashion Bathroom and are available for both the freestanding bathtub and (as a wall-mounted version) for the vanity unit clad in special fabric. Dornbracht developed its Mem fittings collection together with Sieger Design in the spirit of its guiding principle: "Reduce everything to the essentials, but don't eliminate the poetry." Luxury and a sensuous quality also number among the design elements that ensure owners will get years of use out of their Fashion Bathroom. Because – whatever the fashion world might say – a fashionable bathroom doesn't have to be redesigned from scratch every year.