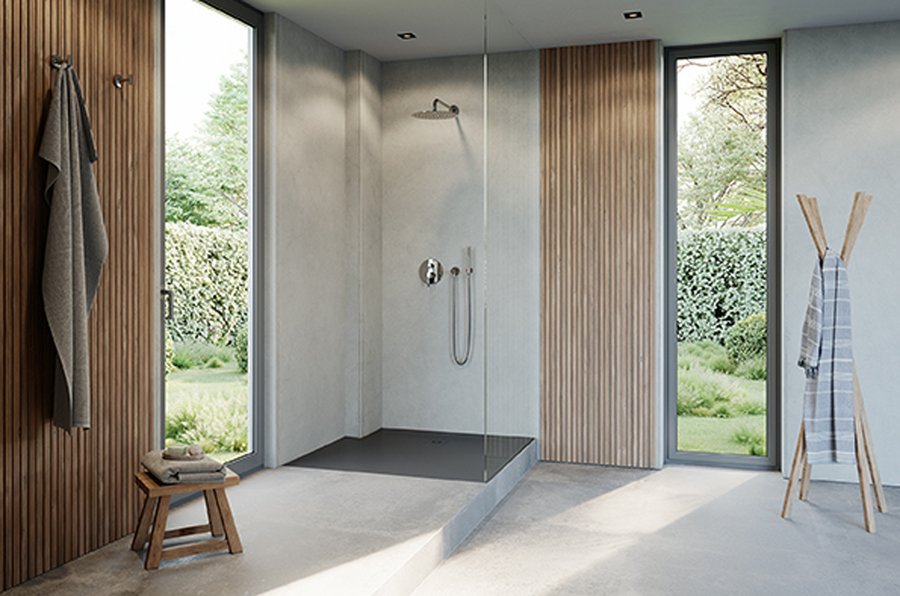 Sustano is the first recyclable shower tray from Duravit. Thanks to its material properties, the shower tray range made of DuraSolid Nature is particularly suitable for renovations and, with its flat and rimless design, it is ideal for floor-level installation.

Sustano represents the launch of Duravit's new material DuraSolid Nature for the bathroom. According to the manufacturer, the recyclable, stone-based mineral material brings together a host of qualities including low weight, adaptability and ease of cutting on the construction site, robustness, ease of cleaning, pleasant touch, UV-resistance, and anti-slip properties in the matt surface versions. Additionally, the range offers six colours for a unique and creative bathroom design. The versions in matt colors feature a velvety surface, with a somewhat smoother surface feel with the glossy colors. The flat outlet cover with a lattice structure in the same color as the shower tray integrates into the trays unobtrusively. The cover is also optionally available in stainless steel.

Ease of installation, maximum safety and accessibility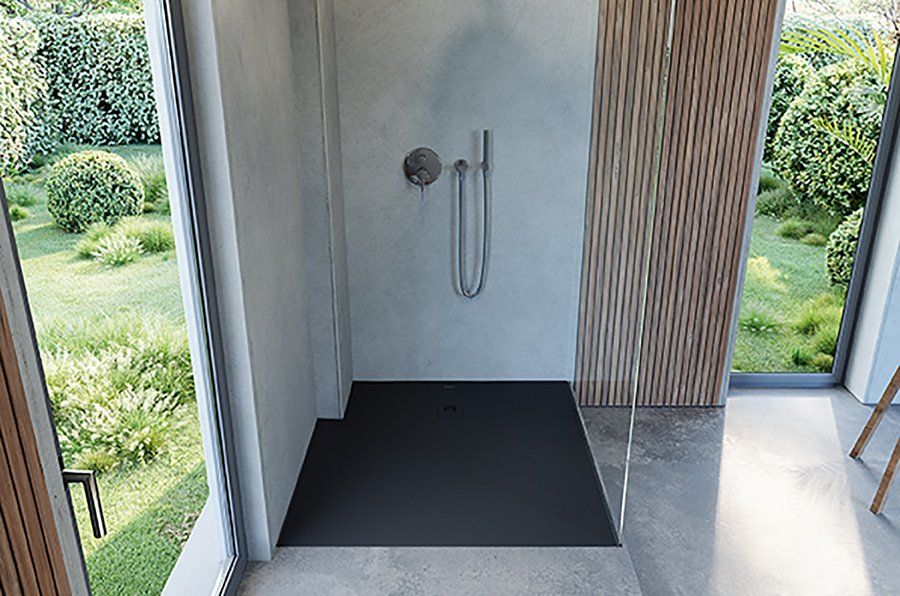 Every millimeter matters in the installation of shower trays. With their installation height of just 30 mm, the self-supporting Sustano shower trays enable flush-mounted installation even in renovation projects with a low floor height. Alternatively, they can be installed in floor-mounted or semi-recessed applications. Additionally, 100 mm can be removed from each side of each shower tray, even on the construction site, enabling easy modifications when necessary. Their low weight makes the trays easy to handle on the construction site, allowing for installation by just one person.

The material's special surface texture means that Sustano shower trays with a matt surface attain anti-slip class C with no additional coating. This is the highest classification for wet (barefoot) areas, like shower rooms, and thus guarantees maximum safety. The surface of the glossy White variant is comparable to Duravit's acrylic shower trays. The 1200 x 1200 mm flush-mounted Sustano model is also suitable for accessible bathroom planning and can be utilized with a wheelchair.

Versatile design options with a recyclable material
The Sustano can be installed flush with the floor, semi-recessed, or on the floor tiles depending on structural factors and personal preference. The flush-mounted application is particularly impressive, as it lends itself to a seamless spaciousness. The elegant, calm design language of the shower tray is perfectly attuned to the contemporary bathroom. Featuring 21 sizes, the ideal solution can be found for almost any new-build or renovation project.

After the end of their useful life, Sustano shower trays made from DuraSolid® Nature can be returned either to Duravit or to a local recycling center to keep within the life-cycle principle. The recycled materials can be reused to manufacture new shower trays or can be applied to industrial use, e.g. the manufacture of pivot bearings. Thanks to their low weight, the shower trays are also lighter to transport, thereby contributing to the reduction of CO2 emissions.