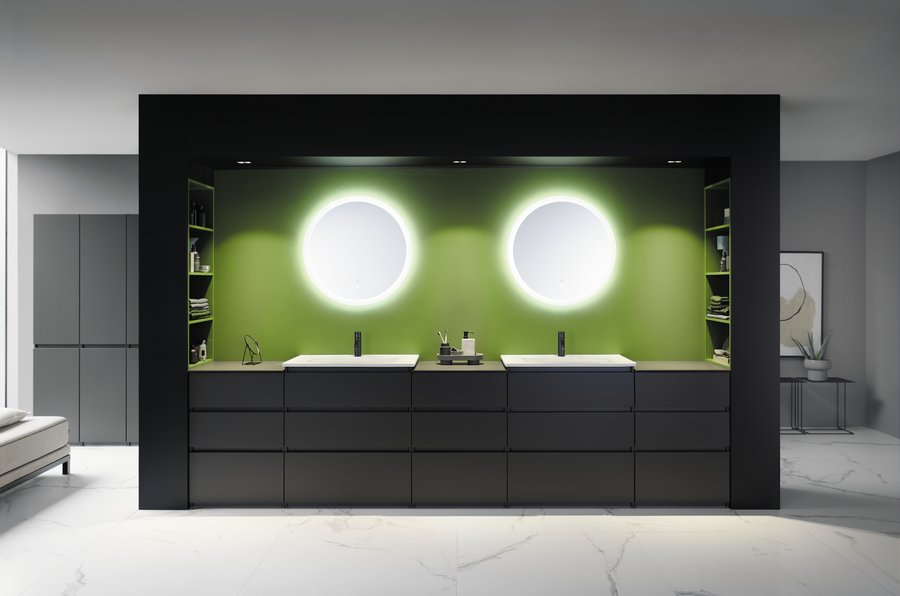 The new Lin20 collection from burgbad brings a clear line to bathroom design. With wall-mounted and floor-standing solutions in an emphatically simple, straightforward design, Lin20 is deliberately unobtrusive. And thanks to its modular structure and three staggered depths, it's so versatile that there's an almost architectonic quality to the storage space it provides.

With Lin20, burgbad is launching a bathroom furniture range with an extensive portfolio. It includes a wide selection of model sizes and surfaces, vanity tops and sit-on basins in ceramic and mineral cast, and a host of attractive extras like an apothecary cabinet and colours with an up-to-the-minute ultra matt finish – all intended for combining and creating individual layouts. Thanks to its simple, handleless design and floor-standing cabinets with integrated plinth, Lin20 creates a lot of storage space with a minimalist aesthetic. Despite its diversity, the new range from the sys20 design line segment is surprisingly easy to plan because of the straightforward, logical way it's structured.

Modular range structure based on the same principle as a fitted kitchen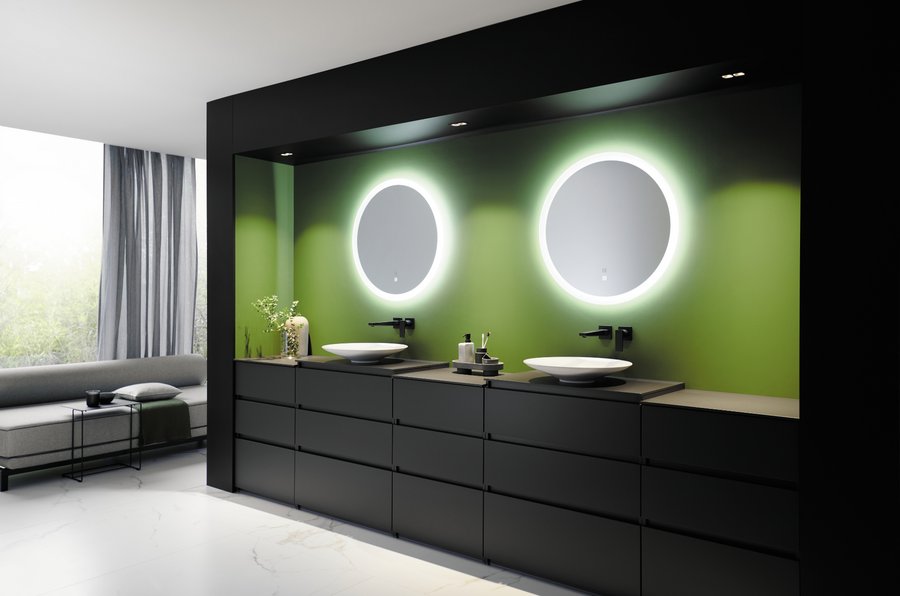 But it's the groupings of different elements that best demonstrate what's so special about Lin20: as a modularly structured range, Lin20 reinvents bathroom furnishings by adopting the principle of efficient and ergonomic storage space maximisation familiar from kitchen design.

Thanks to a classic grid system, the vanity units and add-on cabinets can be used to create apparently seamless combinations and form long rows of floor-standing units with a character similar to that of a built-in kitchen. This impression is reinforced by the emphatically horizontal lines of the handleless furniture, which match up when the modules are combined and thus create a visual analogy with kitchen design as well.

Lin20: A furniture range for Urban bathrooms, long narrow spaces, awkward layouts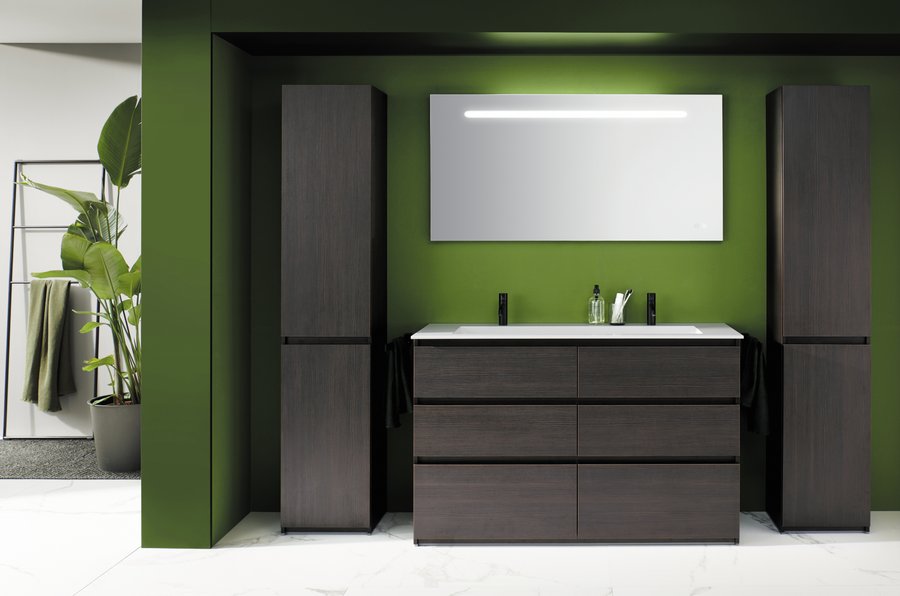 From a small bathroom in the city all the way to a spacious master suite: thanks to its modularity, Lin20 is ideal for furnishing even the most difficult of spaces. There are three widths, three depths and two heights for floor-standing and wall-mounted arrangements, including a wide choice of reduced-depth vanity units and cabinets. Lin20 provides compact and integrative solutions that create the impression of a seamless whole.

As a result, it's just as suitable for furnishing the long, narrow bathrooms typically found in urban housing as it is for sophisticated details like T-walls implemented with the aid of pre-wall elements. "Lin20 fills a gap when it comes to making the most of individual and often awkward spaces like narrow rooms or layouts with lots of corners," says head of marketing Sabine Meissner of the new burgbad collection's potential.

Washbasins in ceramic and mineral cast: from reduced-depth all the way to extra-wide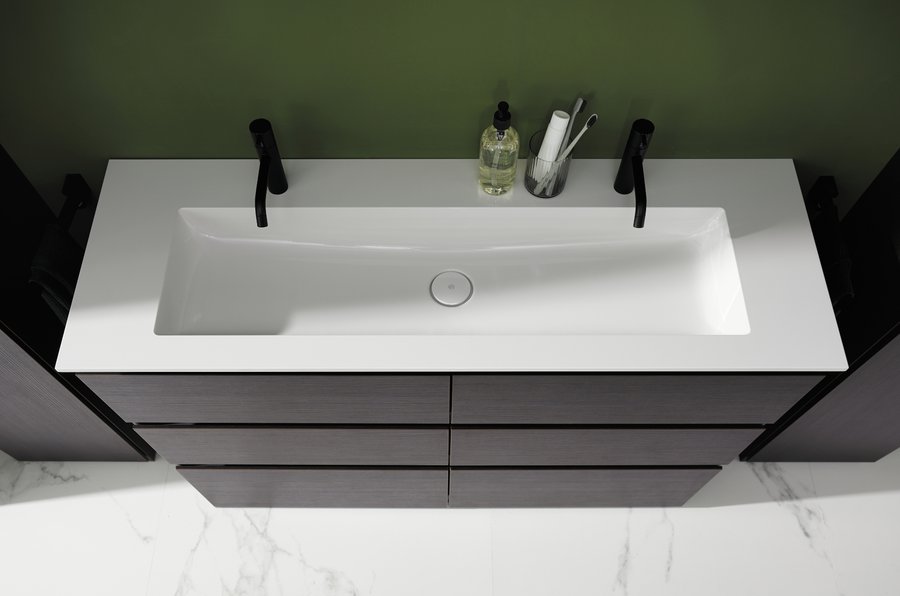 The Lin20 vanity tops and sit-on basins are available in a choice of ceramic or mineral cast. The ceramic versions are available in four widths (630 to 1,230 mm) and three depths (370 to 495mm) in size-adjusted form, and the mineral cast options come in no fewer than six widths (620 to 1,620 mm) and three depth. A guest bathroom solution is also available in each material. All the vanity tops have a simple, straightforward design with a softly rounded bowl, slender edges and convenient ledges.

Depending on the width of the vanity top, customers can choose from wide, centrally positioned bowls, asymmetric layouts with a wide ledge and double vanities with a single continuous basin or two separate bowls. The reduced-depth sit-on washbasin in ceramic is new and was specially developed for small urban bathrooms; its proportions – 630 mm wide and just 370 mm deep – are perfectly coordinated with the Lin20 collection to ensure a harmonious overall look.

Cabinets for all circumstances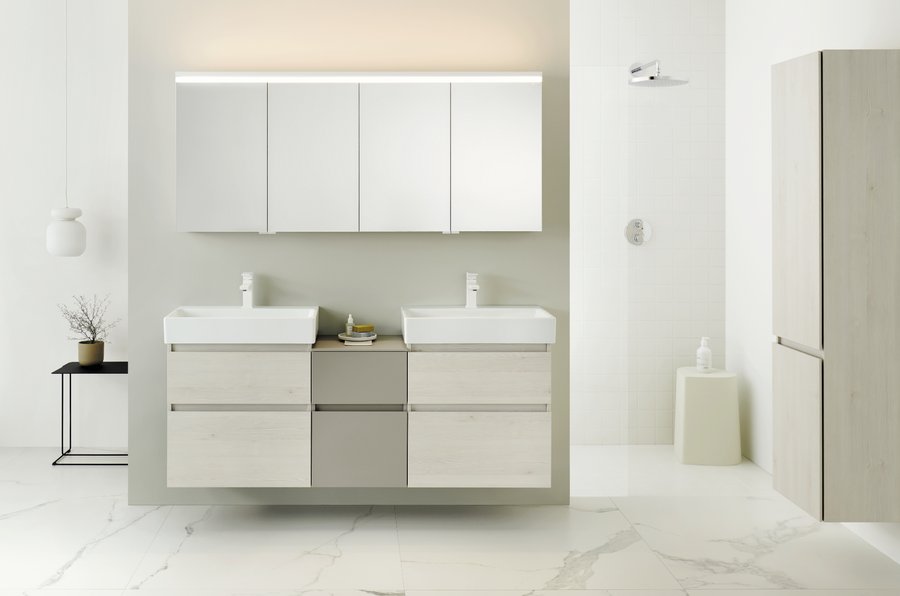 The vanity cabinets and the matching add-on cabinets were deliberately designed without doors. Instead, they are available with an asymmetric arrangement of two or three pullouts: the bottom drawer is always higher to accommodate bulky utensils.

By contrast, the tall cabinets are all equipped with doors. They are available in several versions and in floor-standing and wall-mounted option: a basic model with one fixed shelf and three glass shelves; another version with shelves on the inside of the fronts; a version with a laundry basket; and a model with interior drawers, interior LED lighting, a mirror plus magnifying mirror and a power socket.

The apothecary cabinet is equipped for maximum convenience: its lower section contains a double power socket and hairdryer holder. A full-length mirror with a storage door puts the finishing touches to the Lin20 range and is available with and without lighting and power socket.

Lin20 adds colour and cosiness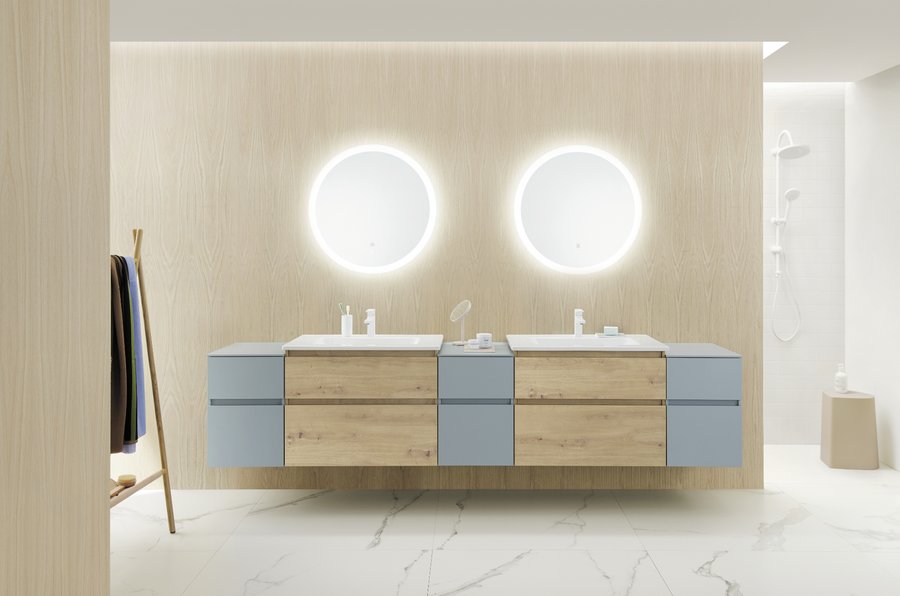 The flexible options for combining the cabinet modules in melamine, acrylic and lacquer finishes open up a great deal of scope not just for simple, monochrome effects but for colour blocking with interesting combinations of colours and materials. Customers can choose from 11 standard colours, 12 trend colours and 10 up-to-the minute wood-effect finishes.

Lin20 is one of the collections for which burgbad offers customised production in RAL colours. But Lin20 offers customers another special option too: the surfaces can be ordered with an ultra matt finish. All the colours from the lacquer spectrum, including the trend and RAL colours, can be ordered with an up-to-the-minute ultra matt coating. Besides allowing the bathroom furnishings to be adapted to their context, this also means customers can design their bathroom in their favourite colour.