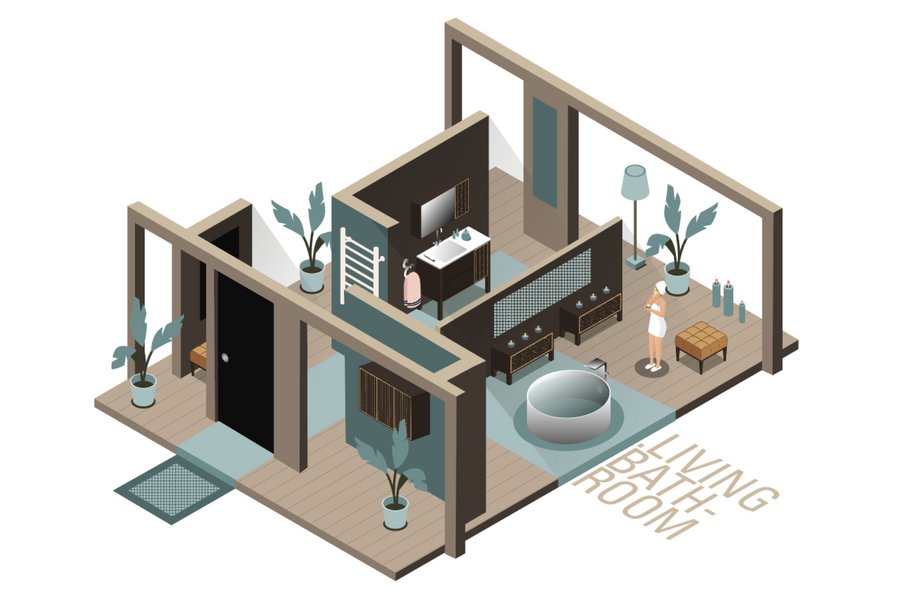 Which factors does on-trend bathroom planning have to take into account nowadays? Or to put it a better way: what kind of bathroom do people want? A Living Bathroom! But what exactly turns a bathroom into a Living Bathroom?

The answer can be found in the various expressions used to describe it, because – from "private spa" and "home spa" to "cosy bathroom" and "lifestyle bathroom" – they all emphasise the comfort, convenience and relaxation provided by this type of bathroom. The common denominator is the desire for an attractively designed space that's a pleasure to spend time in. Accordingly, customers don't just have high expectations of the design, they expect modern functionality as well. Special features add the finishing touches of the Living Bathroom.

1. How "living-space-like" should it be?
In the German-speaking world, bathroom planners are often the first creative service providers consumers have ever entrusted with the professional design of a bathroom in their home. Besides questions of design and individual preferences, planners also needs to ask the bathroom's users about their intimate habits and needs if they are to optimise daily routines and functions accordingly – by no means an easy task. The second challenge: should the design be based on the existing interior design that dominates the rest of the house, or should the new bathroom serve as a reference point, as a basis for an aesthetic update of the entire home? In the planning stage, extensive visualisations (preferably hand-drawn) can help to describe the Living Bathroom and provide a basis for decision-making.

2. Developing a storage space strategy
A cosy bathroom should look neat and tidy. The kind of cosy chaos that might convey a feel-good atmosphere elsewhere can quickly reduce the bathroom's appeal. In this case, hygiene is the prerequisite for being able to "let yourself go" without a care in the world. At the same time, no matter how high its aesthetic ambitions, a bathroom should always remain realistic: in everyday life, a family of four needs lots of towels and accessories, as well as all sorts of care products. And all of that needs a designated place.

An analysis of the old bathroom brings clarity: which products are used regularly, how does the bathroom perform on a daily basis? Which towels, fascia rolls and slippers can disappear into a cabinet? And which tubes and medicines should be out of children's reach? Is there room for a laundry hamper? Or perhaps for a spacious mirror cabinet that disappears into the recess created by the prewall elements, a smart display cabinet with lots of space for displaying decorative items, wide drawers with a functional organiser system or even an innovative compartment under the bathtub? The bathroom planner has to work with their client to come up with a custom-made storage infrastructure and provide sufficient space to implement it. That ensures the bathroom will look less cluttered, and there will be plenty of space for stylish decorative touches.

3. Design-oriented bathroom products promise the biggest feel-good factor
In Germany's bathroom sector, there are few companies that don't rely on professional support from (often prominent) designers when it comes to creating products for "in front of the wall". The decision to purchase a design-oriented product doesn't just ensure good-quality design, it's also a decision in favour of long-lasting, sustainable use. That' particularly important when it comes to bathrooms, because renovation cycles tend to be long. Bathroom furniture, fittings, bathtubs and ceramic products with a high-quality design are the starting point for meaningful bathroom planning. Making an individual selection from among the almost endless choice of bathroom products and collections is the key aspect of a bathroom planner's role as curator.

4. The bathroom planner is becoming an interior designer
Besides selecting the bathroom products and arranging them within usage zones, creating a tasteful style is probably the biggest challenge of all when it comes to planning a new bathroom: which furniture fronts, which colours are a good fit with the client and their idea of cosiness? Which snug accessories can be used to enhance the bathroom? How can more demanding requirements regarding the indoor climate be taken into account without sacrificing comfort? In order to avoid the furniture and equipment being damaged by water and constantly changing humidity levels, the bathroom planner needs to work with the indoor climate, not against it.

Using materials that imitate nature can also be a useful strategy. Wood-effect tiles, innovative furniture finishes that are guaranteed to last or water-resistant photo wallpapers – when it comes to creating optical illusions in the bathroom, anything goes! Using furniture and other items intended for outdoors makes sense too: a weatherproof armchair, a moisture-resistant outdoor rug or a waterproof lamp are all excellent options for the bathroom as well. The connecting thread running through the interior design is the story it tells, the owners' tastes or the architecture.

5. Colours for the Living Bathroom
Since the ISH 2019 and the Pop up my Bathroom motto "Coloured Bathroom", colour has been a trending topic in the world of bathrooms again. Colour is an important design element for bathroom planning and a crucial tool when it comes to implementing the Living Bathroom concept. It's obvious that the kind of all-white bathrooms that used to be the norm are definitely no longer associated with modern cosiness. Which is why, in the Pop up my Bathroom Magazine for the ISH digital 2021, colour expert Dr. Kalthegener appealed to all professional bathroom planners to take a bolder approach to colour. When it comes to interior design, it can be used to create entire worlds. Colour consulting expertise is a skill that can be learned and easily integrated into the planner's design work. As in other areas too, it's the details that make the difference: the professionalism of a colour scheme is never more obvious than in the colour gradations – which often prove more difficult than expected, even when using white.

6. Lighting as a balancing act between function and emotion
A bathroom has to perform various functions over the course of the day, which is why the lighting plays a particularly important role. It provides support for meeting the various requirements a bathroom has to satisfy. During the planning phase, different sources of light should be considered, and the interaction between natural and artificial light needs to be factored in as well. Ideally, colour and material samples should be checked out on site at different times of day. At the same time, the cosiness of a Living Bathroom benefits most from emotional, atmospheric lighting. Staging architectural elements with indirect light can also produce an extremely cosy effect, and playing with different colour temperatures and lighting scenarios has a major impact when it comes to creating a space that's a pleasure to spend time in.

7. The bathroom planner as storyteller
A great many aspects and design elements need to be taken into account in order to come up with a consistent and harmonious plan for a Living Bathroom. Defining a suitable idea or story is extremely helpful for ensuring a holistic design approach and makes many creative decisions easier. With a consistent story, the planner takes the future users on a journey, in the course of which the overall context serves as the basis for much of the decision-making. Whether the customers opt for a sustainable bathroom or an on-trend industrial look, an upbeat family bathroom or a design with masculine appeal, the story should always reflect the needs and preferences of the users. The choice of colours and materials, furnishings and lighting only needs to be factored into the story in the second step of the planning process.

8. Allow for updates: make space for fashionable design elements
Sadly, even for Living Bathroom fans, alterations to water-carrying bathroom products and permanently installed furniture or tubs are difficult to implement. As a result, it's often the decorative elements that have to satisfy the desire for an on-trend update. And by the way: accessorising is very in again right now. So it's a great help if there are plenty of surfaces for displaying such items. A lifestyle update can totally change the look of the bathroom. A new coat of paint, a new rug, pictures on the walls or a new set of towels are just a few of the options for giving the design of a Living Bathroom a makeover from time to time.

For the ISH dig­i­tal 2021, we have visu­alised a Green Bath­room and a Smart Bathroom in a spe­cial instal­la­tion. For a 360-degree tour of the exhibition, click here.

On our YouTube channal you can find the Pop up my Bathroom video of the Living Bathroom.