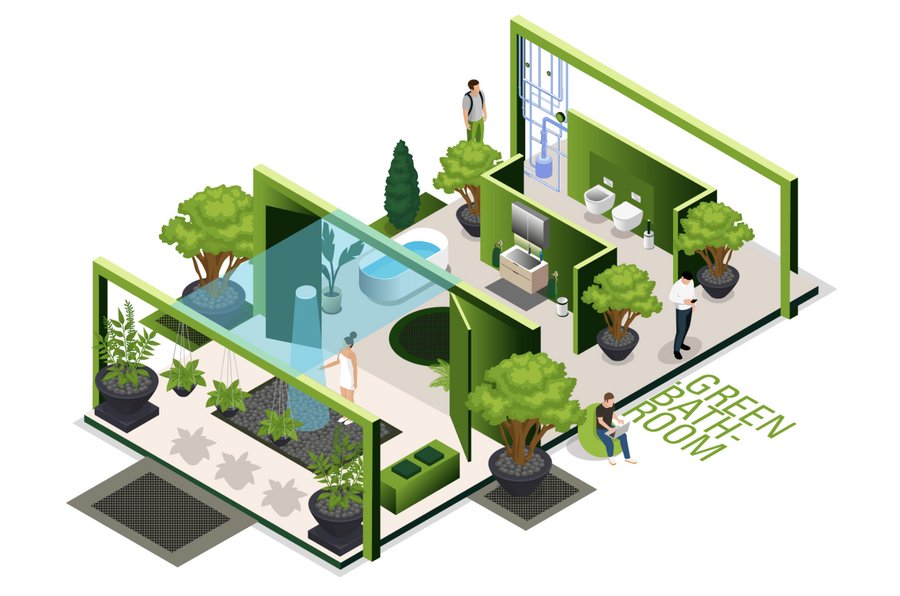 What possibilities are there for planning a bathroom that's genuinely "green" and sustainable? Professionals and customers alike need to be aware that there are two levels to planning a .Green Bathroom: the technical equipment on the one hand and the emotional, creative level on the other. And whereas the one level is all about integrative concepts and hard facts, the other is all about the atmosphere and the sense of being in touch with nature that a bathroom like this can convey.

Today natural materials, enduring design and certified sustainable production credentials are virtually standard for products from Germany's bathroom sector. But up until now, there hasn't been much focus on these aspects in the storytelling that goes with the planning for a new bathroom. That seems to be changing: private home owners are more and more mindful of ensuring a positive environmental footprint and increasingly demanding a "green" bathroom. The Green Bathroom is a top trend and will dominate bathroom planning in the years ahead. Here are the eight most important facts and practical tips about the ISH's key 2021 trend for planners:

1. Storytelling: describe the "added green value"
Bathroom planners and architects should analyse the client's needs and motives in a consultation: how far does the desire to live and build sustainably go? What story can the planner tell? Under pandemic conditions, the members of a family of four wash their hands approx. 50 times a day – which might make a touchless mixer worthwhile, because it reduces energy and water consumption. Sometimes the planner should focus not just on technical features but on emotional aspects too: Should plants be used to optimise the indoor air quality? Does the client feel more at home with regionally made products? How can they be reassured?

2. Credibility: climate-neutral from A to Z
Planners can specialise in sustainability as a way of giving clients much-needed reassurance: the jungle of different areas involved when it comes to sustainable production, laws, norms and certificates is almost impossible for a layperson to make sense of. On the other hand, customers soon realise when brands are merely greenwashing – i.e. using bogus arguments and only pretending to be eco-conscious. A planner who's not just familiar with the background to the individual eco-labels but studies the criticisms of NGOs and corporate sustainability reports as well can present convincing arguments and credible recommendations in favour of certain brands. But planners also need to act sustainably themselves in order to be credible: an electric car, climate-neutral premises or planting trees to offset carbon emissions are great ways to send the right signals. Because when it comes to planning a Green Bathroom, credibility is probably the most important qualification of all.

3. Dream team: hygiene and sustainability
Rimless toilets need fewer cleaning products and produce fewer aerosols; shower toilets rely on water to clean thoroughly and therefore help save toilet paper; a touchless flush plate with a 2-volume function helps save water and cleaning products as well. And touchless taps and easy-clean surfaces aren't just good for nature, they improve hygiene too – a classic win-win situation.

4. Biophilic architecture and building services
A bathroom with a view of the garden, that faces east or overlooks a private section of the outdoor space (possibly with access to the patio or garden), with access to a conservatory or positioned between the parents' and children's bedrooms – if such things are factored in early on, the planner can enhance the bathroom with integrative, biophilic architecture and take ecological aspects into account. At the same time, heat and energy requirements can be optimised by incorporating e.g. underfloor heating, green electricity from the roof, a greywater recycling system or innovative towel warmers. Modern bathrooms have at least 10 square metres of floor space and big windows. Individual solutions are called for – both for single-family houses and show bathrooms for apartment buildings. When it comes to sustainability, the bathroom is a key space.

5. Saving water – a common myth and the challenge of the century
Saving water while maintaining hygiene standards is one of the biggest challenges of all for sanitary facilities – especially in poor and dry regions of the world. In this part of the world, however, excessive water savings can actually be counterproductive: wastewater companies need used water to flush the sewers. Warm water, on the other hand, should be used as economically as possible. Touchless fittings can be a great help in that respect. The current generation of mixers, hand showers and rainfall showers noticeably reduces water consumption – without sacrificing convenience. Today's rimless toilets need less and less water for efficient flushing too. And showering not only uses less water than taking a bath, it saves energy as well – while an on-trend level access shower both increases the attraction of taking a shower and improves the technical standard of the bathroom.

6. Recycling – factor the service life of the products into the planning
Perhaps because a bathroom has an average service life of 15 to 20 years, the end of its life is rarely given consideration during the planning stage. But that's changing, because recycling is one of the main arguments in favour of sustainable planning. Using materials that are unproblematic to recycle is one of the top priorities. And the bathroom sector has good arguments in its favour, because the ceramic or steel enamel used for sanitaryware aren't just extremely durable (and might even end up doing a few years of extra service in a cow field), they're 100% recyclable as well. At the same time, however, there will probably be more focus on the materials that remain invisible or are used behind the wall in future too. And concepts with replaceable components could also provide valuable solutions, partly because they make for greater repairability.

7. Enduring design: timeless, attractive and yet still individual
Ensuring that bathroom products are used for as long as possible is an important aspect of the Green Bathroom. Design that stands the test of time and a high level of product quality guarantee a long useful life. Ideally, the bathroom will change and adapt to users' requirements as they enter different stages of their lives. An up-to-date look and personal style preferences can be implemented by using accessories or renovating the walls and floor. Ideally, the sanitaryware provides a blank canvas or platform on which the user can stage their bathroom.

8. Interior design: floral patterns, natural wood, but all of it water-resistant
In addition to the technical level, the symbolic power of images plays an important role in the design of a Green bathroom too, because it has a considerable influence on how pleasant the space is to spend time in. The interior design of a Green Bathroom can be straightforward, simple and understated to emphasise its sustainability. But it can also reference natural elements to create a green feeling: with floral patterns and wallpapers, for instance, or with natural materials and surfaces, lighting that adapts to the time of day or quite simply with a green colour scheme. Natural-looking premium finishes can be used to imitate nature, and the latest outdoor products look great in the bathroom too. But what all these design elements have in common is that they're suitable for use in warm, humid conditions.

For the ISH digital 2021, we have visualised a Green Bathroom, a Living Bathroom and a Smart Bathroom in a special installation. For a 360-degree tour of the exhibition, click here.

On our YouTube channal you can find the Pop up my Bathroom video of the Green Bathroom.