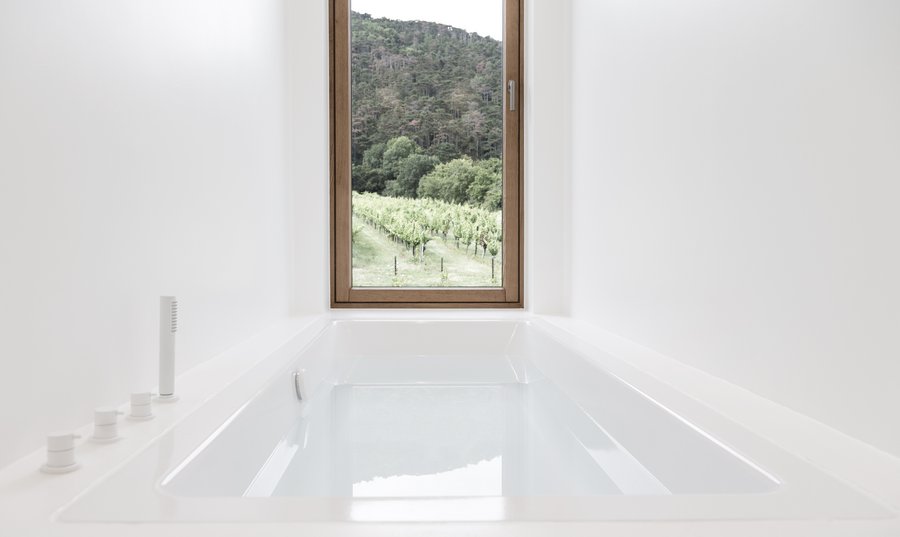 In Austria's Winzendorf-Muthmannsdorf municipality, surrounded by grapevines and set on a sloping plot of around 1,600 square metres, is a detached house in harmony with nature. Here, sustainability meets design. The distinctive and nature-loving architecture is in evidence outside, in the form of the charred larch cladding used on the façade.

"Because the plot is a vineyard that has been family-owned for generations, creating a building that was timeless and in harmony with nature was paramount right from the start," architect Oliver Steinbauer, owner of the firm Steinbauer architektur+design, in Vienna's Neustadt explains. Throughout the light-filled, open-plan house sustainable building methods are demonstrated all the way through to the bathroom. Matching the environmentally friendly overall concept of the family home the architect installed a Kaldewei Conoduo bathtub, made from sustainable steel enamel.

White elegance and sustainability in the bathroom
At the heart of the on a mezzanine floor located bathroom is the sunken Conoduo bathtub from Kaldewei which offers a framed view towards the Engelsberg mountain to the northwest. The bathtub is made of steel enamel, a symbiosis of steel and glass. Manufactured by Kaldewei from natural raw materials at the end of its useful life the bathtub shall be fully recycled. In use the glazed surface of the bathtub is extremely robust, hygienic and easy to clean. Thus the recyclable material and the design of the bathtub – rounded off by a flat waste outlet and a discreet overflow, both enamelled in the same colour as the bathtub, fit seamlessly into this home. "The steel enamel bathtub goes perfectly with the open but varied spatial layout and the property's reduced natural materiality," says Oliver Steinbauer.

Sustainable interior and a subterranean highlight
The sustainable building concept of the single-family house is also reflected in the built-in furniture that have been crafted from brushed wild oak and that are combined with individual pieces made of Engelsberg marble from the nearby quarry. And while the lower levels inside the new-build family home are dominated by sandblasted concrete ceilings, steel, exposed screed and large windows, the private rooms feature white Corian, naturally oiled oak and discreet east-facing light slits. Sunk deep into the earth for optimum temperature control the wine-cellar is another design highlight of the new build family home.