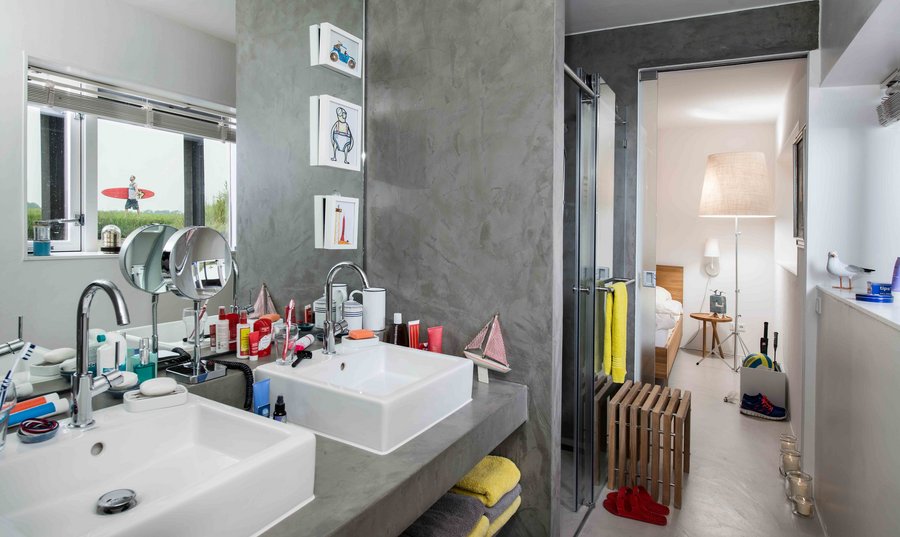 When professional bathroom planners and architects are designing bathrooms, they turn to the imagery of national and international sanitaryware companies for information and ideas. Inspiration for planning a new bathroom often comes from the flood of images on the social web too.

A beautifully plastered wall, a spacious walk-in shower, an LED sky panel with changing motifs, bathrooms that are so big they seem endless: the diversity of the products available for creating high-end and spacious bathrooms seems virtually unlimited and dominates the picture of an ideal and desirable bathroom conveyed by the media. For the most part, however, the reality in German bathrooms is very different. The average German bathroom measures less than 10 square metres, and the occupants of rented apartments in particular often have to make do with less than six square metres. In circumstances like that, it's not actually possible to implement a freestanding bathtub. Nevertheless, when it comes to what people would like to change about their homes, a private spa is often right at the top of the wish list. Contrary to the image conveyed by the media, sanitaryware producers are very realistic in this respect and are increasingly offering product concepts that provide ingenious solutions for small bathrooms while simultaneously enhancing them.

Where are all the bottles, deodorants and electric toothbrushes?
The biggest discrepancy between the stylish photos and reality is the lack of storage space and the way all the accessories, care products, towels, toothbrushes and other personal items are accommodated – and depending on how many people use the bathroom, that can add up to a lot! Even with a professional storage space concept, it's difficult to create order when faced with such a diverse assortment of things – let alone if, as a convinced minimalist, you do away with disruptive shelves and cabinets. So is a good clear out the answer? Then again, it's precisely the users' personal items that turn a bathroom into an authentic, very individual space.

Embellishment by a stylist or interior designer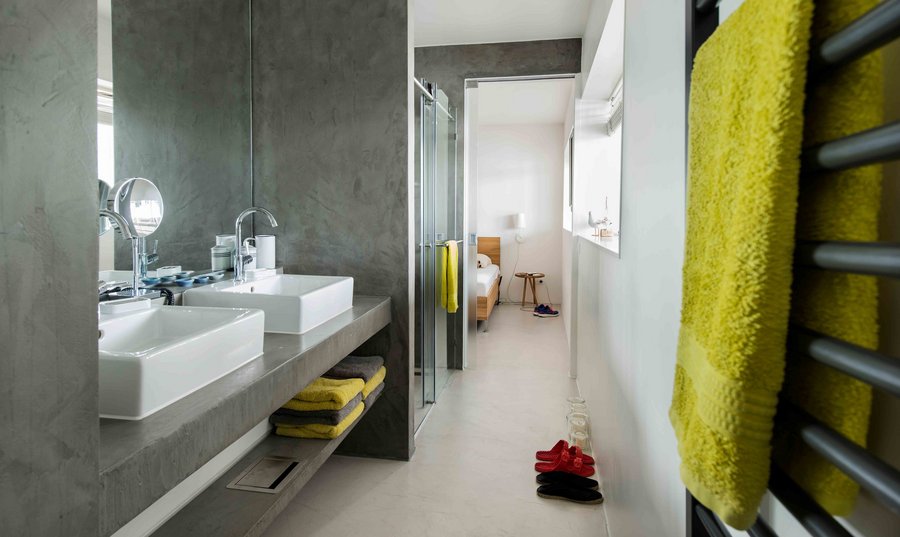 A stylist or interior designer tasked with preparing a bathroom for a photo shoot "embellishes" the bathroom with their styling. The shower gels – if they're in evidence at all – are arranged in a meticulous row in a uniform colour, or at least a uniform look. One or possibly two artfully draped towels adorn the towel rail, and the few carefully selected decorative items are displayed on a shelf or washbasin ledge with plenty of room to breathe.

The magic words: storage space
At the very latest after a family of four has used the bathroom for a week, however, this lovely look is gone: the bathroom "grows" organically and develops its own distinctive style. But that doesn't matter in the slightest – we do, after all, actually live in our home, and we're not constantly taking photos of it for Instagram, Pinterest & co. If that's what you want to do, you just have to straighten things up first. Tidying up is the magic formula: the clean look is a lifestyle trend right now. But even the opposite – an untidy, lived-in look – isn't necessarily considered uncool any more, as the occasional interiors brand is already reflecting in its advertising. It seems as if it's only a matter of time until sanitaryware brands start allowing a bit of disorder in their imagery from time to time as well. Still, because bathrooms are meant to be clean, the reality will probably end up being somewhere between minimalism and pragmatism.

The lifestyle bathroom calls for professional styling
All the same, it's obvious that the trend in the interiors sector is increasingly moving towards the lifestyle bathroom: cosy sanitaryware and furniture is making the bathroom increasingly snug, and the addition of carefully selected decorative items turns it into a proper room in its own right. That means an individual bathroom needs space for the interior design and lots of doors, drawers and storage opportunities for hiding all the little everyday items, care products and cosmetics. There has to be a balanced relationship between "personal" bathroom items and purely decorative objects – and it has to be re-evaluated at frequent intervals. That's why professional bathroom planners and stylists invest additional creativity in "embellishing" a new bathroom, because authentic final touches are the only way to ensure a bathroom will conjure up a relaxed smile on its users' faces on a daily basis.