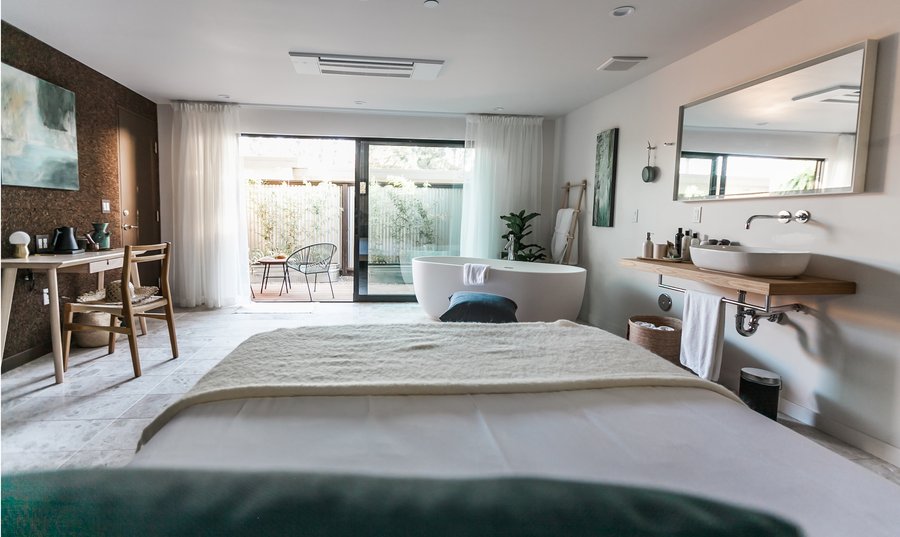 Encinitas is located close to San Diego and is regarded as one of the world's top surfing spots. The atmosphere of the coastal town is imbued with a love of surfing, yoga, health, and getting close to nature. In the surrounding of this surfers` paradise the design hotel Twelve Senses Retreat of Anke Bodack wants to offer its guests the ultimate in relaxation for the body and the soul.

The rooms of the Twelve Senses Retreat are warm and inviting despite their understated design. The four rooms are uniquely designed and each reflects one of the four natural elements – "Air", "Earth", "Fire" and "Water". During the reconstruction of the building, founded in 1958, how to fit a luxurious bathroom into an open room with limited space posed the greatest challenge. Therefore, designer Anke Bodack was inspired by Duravit's bathroom magazine in which she discovered a photo of a Stonetto shower tray, which came to influence the design and the interior decoration of the rooms. Thus, three of the four rooms were fitted with an open shower, in which flush-fitting shower trays create a sense of space in the room. Furthermore, ME by Starck toilets, Luv washbasins and L-Cube bathroom furniture can also be found in the Twelve Senses Retreat. Additionally, a free-standing Luv bathtub with its Nordic purism blends perfectly into the minimalistic, soothing atmosphere in the "Earth" room. At the Twelve Senses Retreat, luxurious minimalism is not a contradiction in terms.

Micro hotel with anthroposophical aspects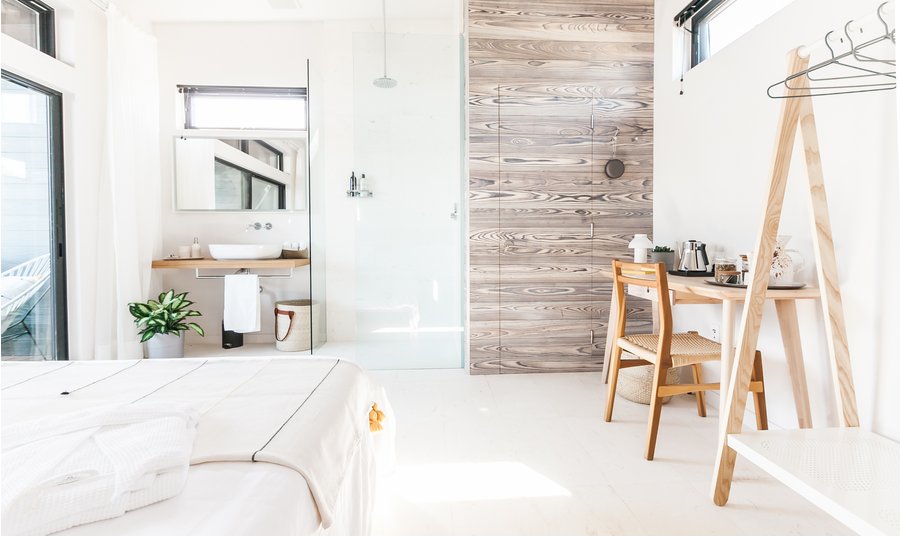 During the design and development stage of her micro-hotel Anke Bodack was supported by Offset Design and Drafting, while the realisation of the reconstruction was made by Alliance Green Builders. In line with sustainable principles the building, originally constructed in 1958, was converted using recycled and natural materials. The tiles in the roof-terrace bar, for example, were made from plastic reclaimed from the ocean. From the roof terrace guests look out on to a lush garden, while the bar offers a view of the Pacific, which is just a short walk away. Also visitors can enjoy moments of peace and relaxation in the hotel's library or around the fireplace in the "Fire" room.

With the Twelve Senses Retreat Anke Bodack has realized her life's dream of a minimalist micro-hotel. Its name refers to the twelve human senses found in the teachings of Rudolf Steiner, founder of the anthroposophy. The Austrian philosopher divides the senses into physical, environmental, and cognitive senses. At the Twelve Senses Retreat, these shall be stimulated through a combination of quality accommodation, a sense of well-being, and sustainability.