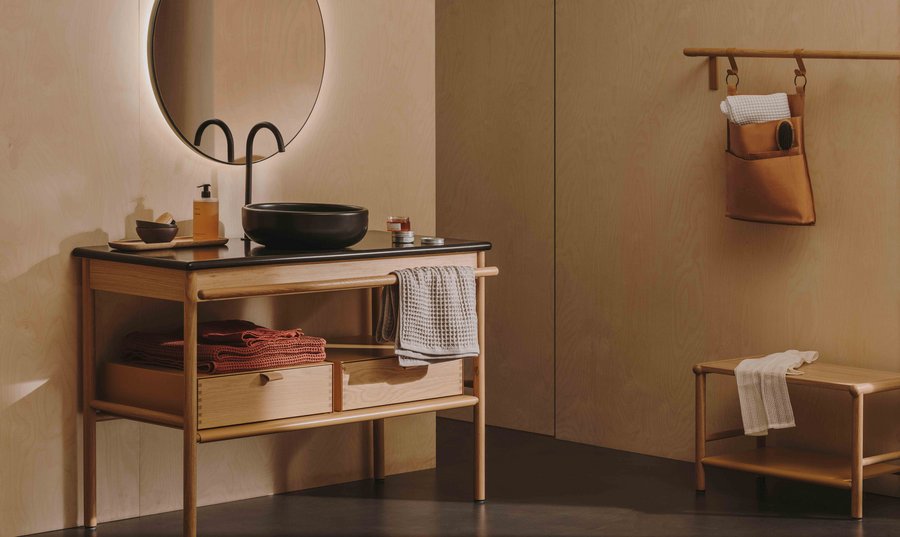 Mya is a collection of distinctive standalone furniture from Burgbad that wants appeal to all the senses: materials that vary from warm wood to smooth metal to soft leather; colours that soothe the eyes; and a design that's highly emotional despite the clarity of its forms and invites associations with the simplicity of nature. Because the open and purist design by the Altherr Désile Park studio from Barcelona doesn't attempt to hide anything, it comes across as authentic and down to earth. Mya combines different materials as if it were the most natural thing in the world, effortlessly creates connections with its surroundings and immediately conveys an atmosphere of familiarity: the feeling of being at home.

Unpretentious oak furniture with an authentic, handcrafted character
With its new capsule collection, Burgbad is presenting a range with an emphatically open storage concept. Made of solid wood, real wood veneer, metal and leather, the series is inspired by traditional Shaker furniture, the aesthetic of which evolved from a combination of craftsmanship, natural materials and an appreciation of simplicity. "This culture is deeply rooted in traditional craftsmanship and was applying the principle of reduction long before the advent of modernism," explains designer Jeannette Altherr. "But in the sense of reducing things to their essence rather than rational omission at the expense of atmosphere. Mya is meant to embody the same tranquil clarity without seeming cold and distant."

The construction principle behind Mya is based on a combination of rounded wooden rods, shelves and storage made of oak or metal, wooden drawers with traditional dovetail joints and light brown metal boxes. In addition, there are bench toppers and accessories in thick, naturally tanned rhubarb leather. Whereas the wooden shelves and frame merge into an almost seamless whole, the metal shelves wrap themselves around the wooden rods. Oak with a matt natural or matt black finish, honey-coloured metal and the light beige of the soft, natural-coloured leather: the subtly coordinated nuanced shades underscore the collection's elegant, down-to-earth character.

Capsule collection by Burgbad: mix-and-match standalone furniture for all areas of the home
The second capsule collection from burgbad evolved from a concept for cosy bathroom design that has been supplemented with storage and seating elements and a series of shelves and accessories to create a furniture range that can be used throughout the home, independently of what purpose the individual spaces serve.

The collection includes lowboards in three widths that are available with or without drawers and can be fitted with an optional leather topper to turn them into a bench, as well as three mid-height sideboards and a taller, narrow shelving unit, all of which are equipped with drawers. The repetition of the 60-cm grid gives the wider pieces of furniture an attractive rhythm that can be further accentuated by opting for a two-colour effect created by combining oak elements with a clear or black finish. Additional accessories like mirrors and metal shelves as well as a vanity unit are also available.

An aura of familiarity: furniture as a steady anchor in fast-moving times
Mya anchors home life firmly in the here and now – as a bridge between tradition and an everyday world increasingly dominated by virtuality. Design studio Altherr Désile Park from Barcelona was commissioned by Burgbad to create a collection of standalone furniture and accessories that can be used throughout the home. "The question was how to create a design that's neutral without being banal," says Jeannette Altherr of the approach she adopted for Mya. "Negotiating that fine line is essential if furniture is to be calm and unobtrusive enough to adapt and enter into a dialogue with other developments – that's the prerequisite for wanting to live with it for a long time. That's a form of sustainability too."

Sitting pretty with Viv
To complement the Mya collection, the Altherr Désile Park design studio created the Viv stool for use in any area of the home: a mobile and versatile plastic element that doubles as a seat and storage container. Viv is robust enough to be used in the kitchen or the shower and exudes such a simple elegance and slightly organic aura that it blends in effortlessly with both traditional and modern settings.