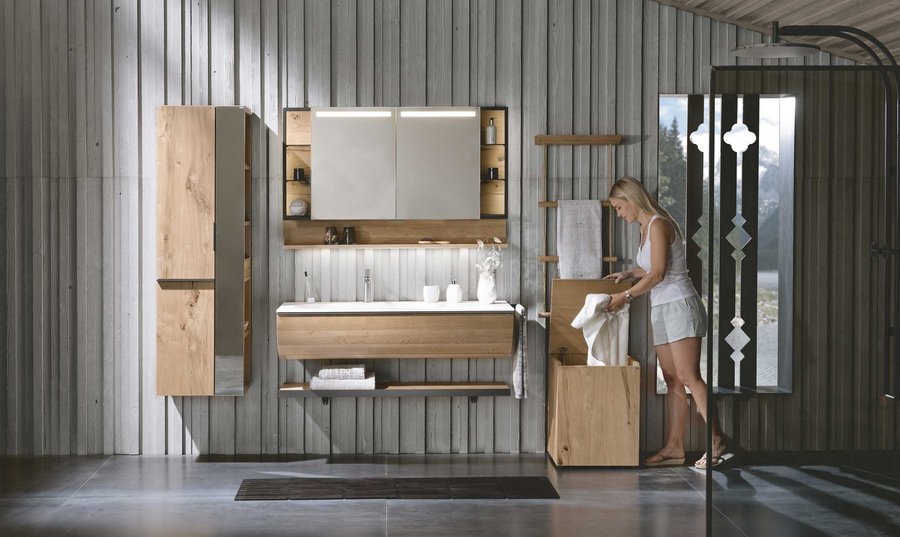 Not just in living rooms, bedrooms or kitchens furniture made of solid wood create a homely and comfortable atmosphere. They also looks great in bathrooms. However, frequent fluctuations in temperature and humidity here result in a room climate that is not necessarily advantageous to solid wood furniture. To enable it to withstand humidity, the surfaces should be treated with an environmentally friendly water-based varnish. With special surface coatings, objects made of natural wood provide a feel-good atmosphere, even in rooms with high humidity.

Just like the kitchen before it, the bathroom is increasingly transforming from a functional room into a living space seeking to radiate a cosy ambience. In addition to accessories such as rugs and armchairs, solid wood furniture also creates a feeling of warmth and has a calming effect on the observer: a characteristic that can also be tapped into in the bathroom.

The quality of the furnishings plays a particularly important role, especially in damp rooms. In the bathroom, washbasins, console tables, base units, shelves and storage racks should be as waterproof, temperature-resistant and easy to clean as possible. Furniture made of solid wood that has been treated appropriately has no problem in meeting these requirements. If a bathroom is regularly ventilated and properly heated, the furniture can withstand permanently high levels of humidity, water vapour and spray. A protective treatment using natural varnishes, oils or waxes is a prerequisite.