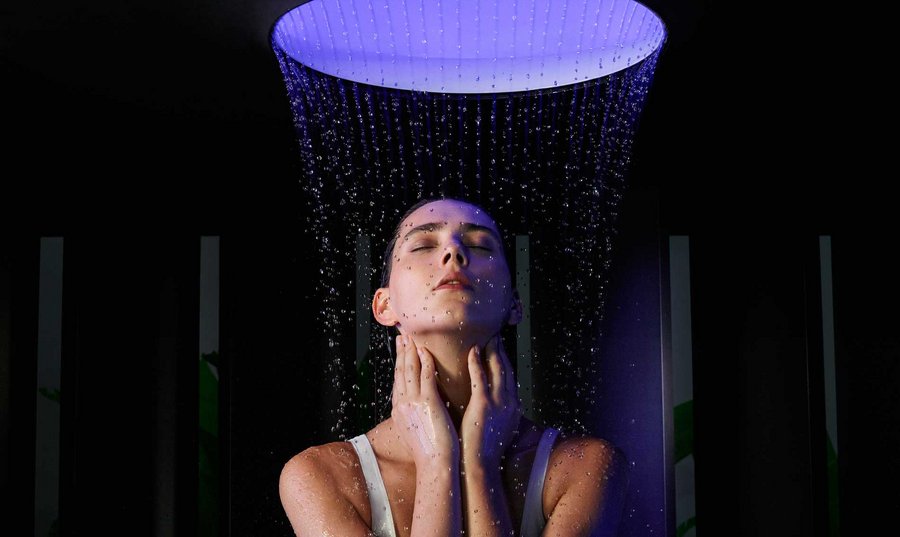 An emotional water experience that touches all the senses with unique Signature Treatments. AquamoonATT combines aesthetic architecture and minimalist design with innovative, ease of use. Just tap the touch-screen to experience choreographies of water, flow modes, mood lighting and fragrance. The reduced form of Aquamoon fits seamlessly and almost imperceptibly into the bathroom architecture.

With AquamoonATT Dornbracht intends to pick up on "healthness" idea again. The effect water has on your body is enhanced by mental participation. "AquamoonATT is our response to the increasing desire for balance and life-force energy", says Andreas Dornbracht, Managing Partner at Dornbracht. "Because we live in an age when speed is everything, in a time of digital transformation and upheaval, people are increasingly pressurised in their daily life. With this in mind, it is increasingly important to maintain personal good health – both physically and mentally. The bathroom gives us the space to develop a personal health strategy."

And designer Michael Neumayr is convinced: "We need personal safe havens, where we can experience moments of happiness. The harmonious interplay of water, mood lighting and fragrance creates this feeling of happiness, that moment of bliss when sensations such as relaxation, revitalisation and security are perceived by the senses."

Choreographies to connect the sences
AquamoonATT has four flow modes: "Aqua Circle" and "Tempest" convey the sense of natural rainfall; "Queen's Collar" recreates an authentic waterfall experience and the "Embrace" option covers your entire body in water – only your head stays clear so that you can breathe. The four flow modes are combined with light and fragrance to make choreographies – Dornbracht calls it the Signature Treatments:

In this choreography Snooth, full, soft drops of water rain over your body like a tropical downpour. Intense blue and violet light evokes the atmosphere of a clear morning sky, combined with the sensuous fragrance of Mediterranean citrus blossom.

A curtain of water droplets envelops your body in the choreography Nurture, accompanied by the calming blue of the ocean and the powerful green of the rainforest. It opens and closes to the rhythm of your breathing, falling alternately in a gentle cone that massages your shoulders or intensifying to a concentrated stream of water.

Bathed in vibrant orange and violet light, the choreography Empower stimulates your body by the varying strength and temperature of the water droplets. Stimulating changes in temperature activate your senses to the accompaniment of the spicy scents of mandarin and rosewood, as a clear, cold covering of water is combined with a warming cascade over the neck and a refreshingly cool stream of water and a warm cascade pour over your body.

Minimalist architecture for a maximum showering experience
The central element of AquamoonATT is a dome set into the ceiling, fitting virtually unseen into the bathroom or spa architecture. Looking up reveals an extraordinary effect of depth. A hidden light strip inside the hemisphere creates a soft light that is inspired by the effect of moonlight. It should evoke a sense of infinity.

AquamoonATT has an open IP-based interface that allows it to network with other digital systems. The shower experience can therefore be enhanced with even more added value, such as by integrating your own favourite music, or by harmoniously adapting the ambient light. The Dornbracht Smart Water app can be used to call up additional Signature Treatments, which can easily be activated from the app or downloaded directly to Smart Tools.