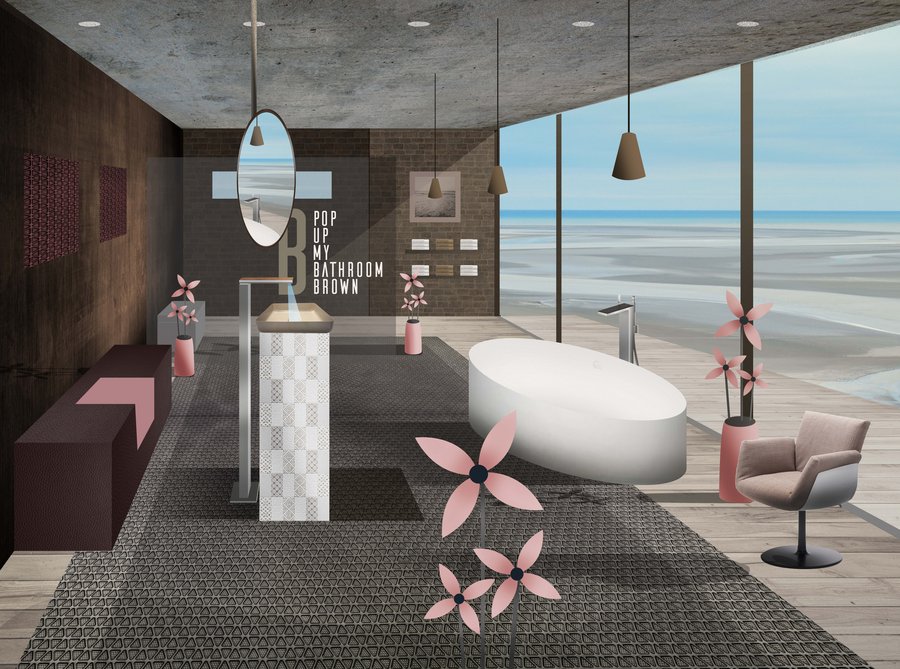 The bathroom increasingly feels like cosy living space and on-trend colours like petrol or ultraviolet can be used to reinforce that impression. But interior designers tend to favour natural colours, which are both warmer and more neutral – the kind of colours that are mainly found in the palette of brown and sand hues. However, the new shades of brown have nothing to do with the old familiar colour known as Bahama Beige – on the contrary: the browns available nowadays add up to a thoroughly modern world of colour. Because similarly to grey, there's just one simple rule: anything goes – as long as it's not boring or devoid of nuance. The secret lies in the subtle tints and shades. Brown can contain hints of mud, clay or terracotta, olive, bronze or rust, pine forest or cedarwood, powder or taupe – the possibilities are endless.

There are two main options for interpreting brown in a contemporary way: either as a colour spectrum inspired by nature, often used in combination with natural materials to create a harmonious colour space, or as an artistic reference to historic styles. Matt surfaces are a popular choice for underscoring the fresh, natural look. And when it comes to materials, wood tops the list of frontrunners for creating a bathroom with a snug feel. Whether it's used for the wall, the countertops or the floor, there's a perennial favourite for conjuring up a pleasant, feel-good atmosphere: oak, preferably with a finish that reflects the current trend towards a light ambience. On the other hand, elegant arrangements featuring darker wood hues from cognac all the way to bog oak are coming in again, especially among the avant garde. In this case, the brown colour scale is used in an emphatically upmarket way to add a hint of art deco and luxury to the modernist bathroom.

No matter what style is preferred, however, the question as to which materials to use is often resolved by means of simulation: shower trays, floor tiles or splashbacks printed to look like wood and countertops made of composites skilfully imitate nature and combine it with the positive material properties of the established product canon. Up-to-the-minute brown hues can transform any bathroom into a lifestyle space, especially when combined with suitable accessories in complementary accent colours – like the petrol shade mentioned above, turquoise, orange, a beige-tinted dusky pink (or Millennial Pink as it's now called), ultraviolet or the odd dash of mustard, which looks great with olive and brown shades.