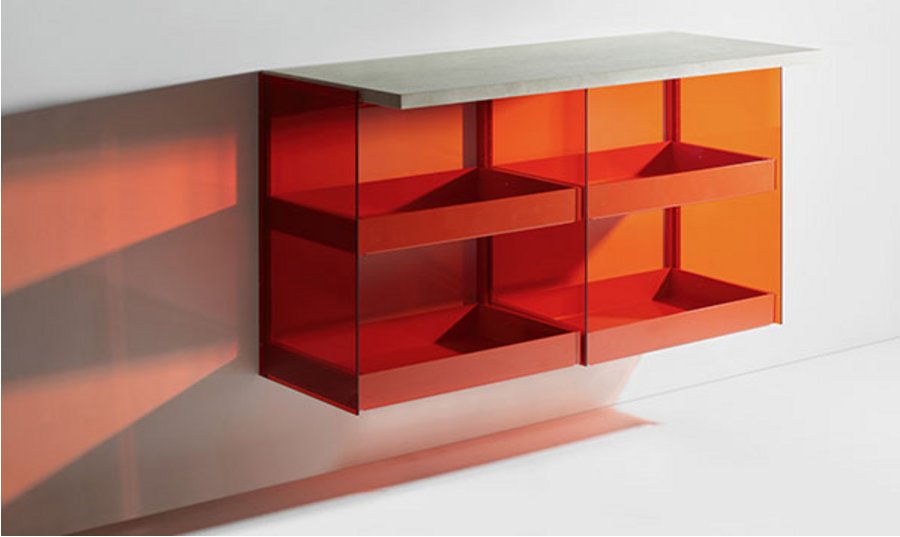 For Burgbad, Stefan Diez has taken the classic bathroom furniture concept apart and put it back together in a new way: instead of a range of different carcasses or a collection of standalone pieces, the Munich designer has developed a system of vertical mounting rails that are used to attach the glass sides of the furniture to the wall. Additional elements like top panels and shelves are then inserted to complete the unit. As a result, rgb can be used virtually anywhere: in the bathroom, hallway, living room or kitchen – wherever users want to combine storage space or work surfaces with transparency and colour.

The innovative mounting and construction system permits extremely flexible use of the furniture modules. While this system-based idea is reminiscent of classic furniture ranges, its uncompromisingly vertical orientation gives the furniture a clearly defined, solitaire-like character. The material defines rgb as a transparent volume: the modules are assembled out of semi-transparent, coloured panes of laminated safety glass and bring a new aesthetic to bathroom design.

Therefore, rgb dispenses entirely with back walls and incorporates the existing architecture instead. As a result, the tiled, wallpapered or plastered surfaces, as well as their colour or pattern, become part of the design concept. The overlapping colours mediate between the wall and the furniture, creating harmonious secondary colours and unique colour chords.

The perception of the RGB colour space is created by mixing the three additive primary colours red, blue and green. The same mixing principle characterises Burgbad's new collection – which is how it came by its name. The semi-transparent furniture elements of the rgb range enter into a dialogue with the space and create new colour impressions depending on the lighting conditions. Whether the room is illuminated by daylight, task lighting or LED-generated lighting scenarios, rgb glows in brilliant colours and reflects the light in all sorts of different shades.

But the material doesn't only add colour to the room, it brings transparency as well. The visual impact of the glass modules is less overpowering and provides storage space without a heavy look and feel. As a result, rgb provides an ideal solution that's particularly suitable for small rooms. The overall impression is neater as well: regardless of what's kept behind the wide-opening hinged doors, the semi-transparent, coloured glass filters out all other colours so that only monochrome outlines are visible. Thanks to this effect, the items stored inside the furniture remain visible but look tidy and homogeneous.