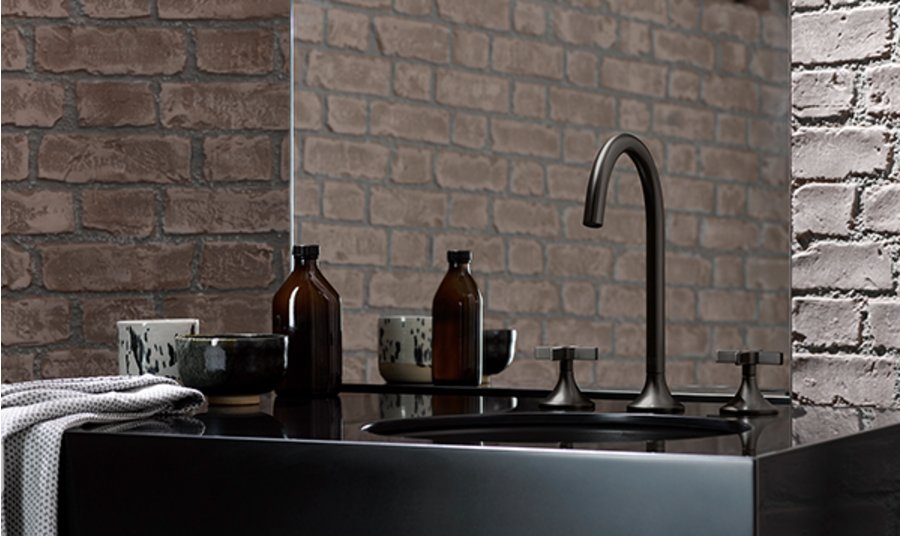 Dornbracht's portfolio of finishes has a new addition: dark platinum matt. Naturalness and originality radiate from the dark, warm colour, thus extending the range of individual design possibilities in the bathroom. Dark platinum matt's distinctive, lightly brushed, silk matt finish has an elegant and remarkable feel that sets a sensual tone in the bathroom. The new dark platinum matt finish will be available from November and will initially be exclusive to the Vaia series of fittings.  
The velvety finish of the new dark platinum matt is achieved by a special matting process that Dornbracht has developed specifically for the delicate, soft shape of the Vaia design. The fitting is made from brass and every single part of it is hand-crafted in a fixed direction before the surface finish is applied. This ensures that the individual particles of the finish reach into the finest recesses of the brush strokes. This processing sequence is preserving the structure and lends it an exceptional look.  
Dornbracht regards finishes, along with the design shape, as an additive dimension of product design. The choice of materials has a significant influence on style and ambience: For instance, the surface characteristics of the fittings in a bathroom can determine whether the interior appears timeless and elegant, cool and modern, or sensual and warm. They can harmoniously accentuate a style, or create a fascinating opposite extreme.  
These considerations are also incorporated into the development of the new dark platinum matt finish. Coordinated to the new Vaia series of fittings, which reconciles classical and progressive style elements, dark platinum matt has a harmonising and grounding effect. The warm colour accentuates the soft, balanced design language of the fitting and works as a linking element between the different style worlds.