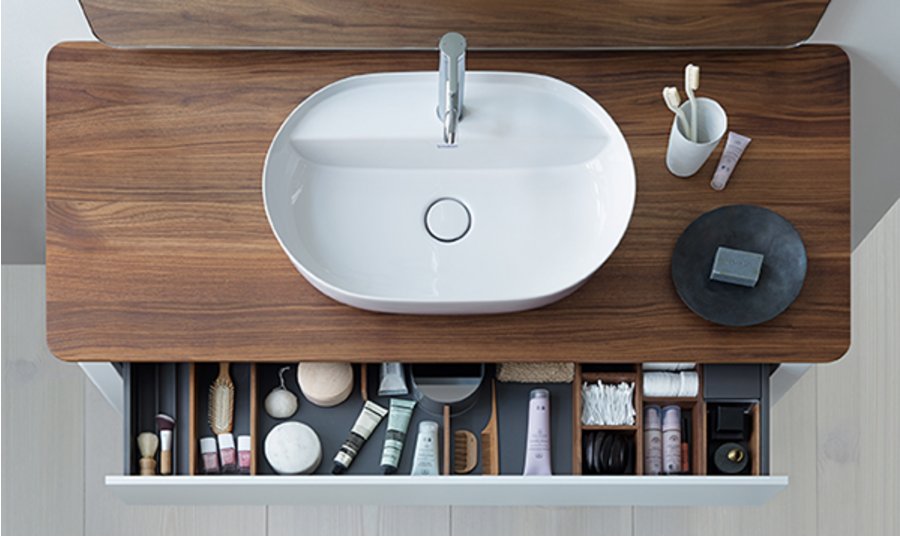 Her design is Scandinavian, timeless, reduced. And this is exactly what Cecilie Manz transports in Luv, her first product series designed for the bathroom sector. "When I was drawing up my design for Duravit, the image in my mind's eye from the very start was a bowl filled with water on a simple table," describes the Danish designer Cecilie Manz her basic idea. "I know this from my grandmother: bowl, pot, towel. With Luv I try to transport this image to the present time." The result is a series that combines Nordic purism and timeless elegance with soft colors. Gentle forms follow a sharp geometry. The color palate of matt lacquers and glazes in soft shades was developed exclusively for Duravit by the designer and emphasizes the fresh character of Luv. 
Three sizes of oval above-counter basins made from DuraCeram draw with their subtle lines a generous inner basin with clean edges. On the variants with an incorporated tap hole platform, the tap fitting is mounted centrally at the rear, and on the small handrinse basins it is fitted on the left or right side. The optionally glazed exterior is available in satin matte White, Grey or Sand, to contrast with the glossy white glazed inner basin. Ceramic drain covers complete and overall harmonious look. 
The washbasin stand consists of a console table on four gently curved, height-adjustable feet. Using this design language, Cecilie Manz skilfully realizes the original image of a table and water bowl. Lacquered in satin matte the console tables are available in white, Nordic white, taupe, stone grey, light blue or night blue and in three widths: 1788 mm for the double washbasin, 1388 mm for the single and 688 mm for the guest bathroom. Quartz console panels in three harmonised colour variants and a solid-wood version in American walnut can be combined as desired by the customer. Storage space is available in the form of handle-free pull-out compartments and drawers, conveniently fitted with tip-on technology and self-closing mechanisms. 
The series is completed by new mirrors in three widths ranging from 500 to 1600 mm with an integrated dimming function and mirror heating. In addition to the standard mirror height of 800 mm, all models are also available in a height of 1200 mm. The glare-free LED lighting at the top edge of the mirror with activated ambient lighting guarantees optimum illumination of up to 700 lux. 
Luv also offers no-nonsense bathtubs that are based on the shape of the wash bowls. Seamless, and made from DuraSolid A, they offer a warm feel and a matte look. They are available in free-standing, back-to-wall and corner (left or right) versions. As a special extra, the bathtub can be equipped with a discreetly integrated air whirl system (exclusive to the back-to-wall and corner version), or with an integrated sound system which can be operated using any Bluetooth-compatible device.