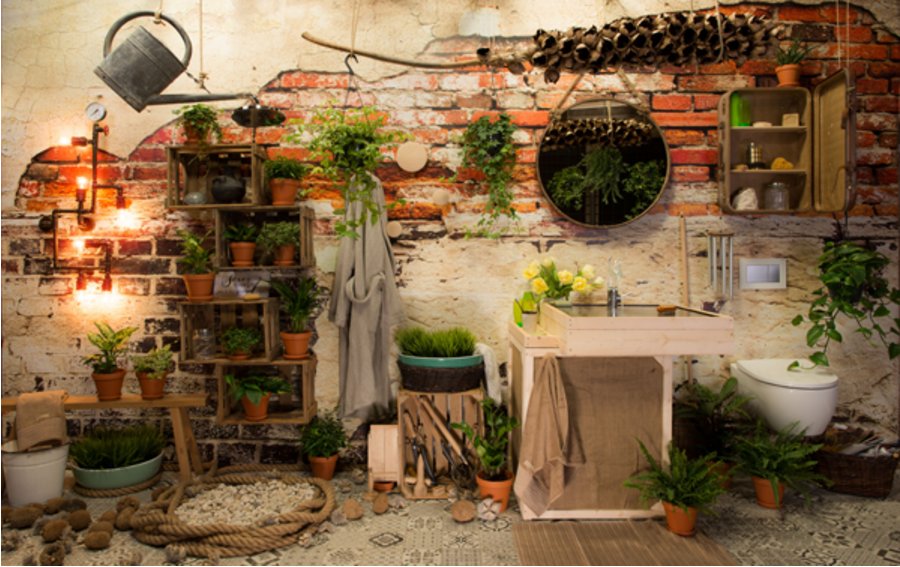 Green living denotes a lifestyle that strives for a more sustainable approach to nature via environmentally aware consumer behaviour. More and more people are trying to reconcile modern life with protecting our ecosystem – anarduous path that can only be negotiated step by step, it would seem. However, the industry has long been responding to consumers' sensitivity to the issues concerned, and in many a case this has prompted brand-name manufacturers not just to develop sustainable product solutions but to adopt more sustainable business practices and eco-friendly production processes as well. 
The path to a sustainable bathroom isn't only paved with highly complex technical products and state-of-the-art technologies; products made of natural materials that can be used for many years also play a vital role.The Nature Bathroom is a future concept that strives for the optimal combination of water- and energy-saving products, eco-friendly industrial production, sustainable materials and enduring design – while simultaneously conveying a sense of being in touch with nature. 
Today's green bathroom has come a long way from the tree-hugging image of the first generation. On the contrary: it is characterised by high-tech products like sensor-controlled fittings that only dispense water when it's needed, water-saving toilet flushing systems and hand showers that provide an impeccable showering experience even at low flow rates thanks to air-filled water droplets – which, needless to say, are always at the optimal temperature the user has selected via the programmable thermostatic controls. Energy losses incurred as a result of adjusting the settings are thus largely avoided. Besides helping to save energy and water, LED bathroom lighting and various technical features increase comfort and convenience as well – and are easy on both the wallet and the conscience. The trend towards the Nature Bathroom is being driven from two sides: on the one hand by rational necessity, and on the other by a general desire for a close-to-nature experience. 
But even if the industry and its designers are coming up with plenty of ideas, it's ultimately the consumer who decides how much convenience they want and how much energy and water they are willing to use to get it.It starts with pressing the economy flush option on the cistern and ends with a question of conscience: should I bath or shower? Luckily, there are now cleverly designed bathtubs with ergonomically shaped interiors that need a smaller volume of water to fill them to the top.Nevertheless, showering is still far more economical.There's no getting round it: a bath is a very special luxury – and not only in terms of environmental aspects. 
When it comes to the water requirement of modern toilet systems, the savings potential has already been pushed to the limit.Modern toilets can easily manage with three to six litres of water per flush without leading to hygiene problems or unpleasant odours.Rimless toilets also make for easy cleaning and thus help save on detergents. 
But there's more to the Nature Bathroom than saving water.Water stands for vitality and sensuousness as well.The popularity of beautifully designed fittings that stage the water in a particularly sensual and natural way indicates just how important contact with this life-giving element is to people.Waterfall mixers – which are now available in economical versions too – and fittings that dispense non-pressurised water make us forget the complex technology they contain and remind us that water is an immensely valuable resource.And a fitting like the Axor Starck V single-lever mixer, featuring a glass body that makes the swirling water visible, symbolises water's power and beauty to breathtaking effect.The Nature Bathroom stages water as a life-giving element and makes it tangible as a precious commodity. 
Because drinking water is not available in infinite quantities, nor is it evenly distributed.Germany, for instance, doesn't need to worry about an acute water shortage despite the drop in its groundwater level caused by increased impervious cover. Even so, says Jens J. Wischmann, Managing Director of the German Sanitary Industry Association, the German sanitary industry is committed to playing a "leading global role" in the development and production of progressive water technology systems. 
The question of which materials to use is another, totally different aspect of planning a sustainable bathroom.For as nice as a soft mossy carpet and wooden floorboards might be, tiles, stone or concrete are far more practical and less sensitive to water.Natural materials like lime plaster, granite or marble cut a fine figure, and even clay paint and clay plaster are ideal for use in the bathroom.As a rule, plastic shower curtains are neither hygienic nor recyclable – a glass enclosure is a far more sustainable option.And by the way: when it comes to saving plastic, little things can make a big difference too, like using a ceramic dispenser for liquid hand wash – or swapping it for a good old-fashioned bar of soap instead. 
Nowadays, quite a few manufacturers offer suitable bathroom furniture in cosy designs and an abundance of variants.Even solid wood furniture is feasible in the bathroom, as demonstrated by the new collections from Keuco (in collaboration with Team 7) or burgbad. 
When it comes to choosing the materials for their sanitaryware, fans of the Nature Bathroom have it pretty easy: after all, what other material is as non-hazardous to produce, as safe for the indoor climate and of such enduring quality as ceramic? And if it's coated with a dirt-repellent finish, it even saves on cleaning products as well.At most, only the steel-enamel tub or shower tray – likewise available with a dirt-repellent glaze – can rival ceramic in terms of robustness and durability.And with some manufacturers offering guarantees of up to 30 years, even the energy-intensive production of steel-enamel appears in a more acceptable light –demonstrating just how important timeless design and top-quality products are in the bathroom.Because ultimately, the most sustainable bathroom of all is one that will last a long time and continue to look just as attractive as the day it was fitted. 
Who wouldn't like to shower in the garden on a warm morning and walk barefoot over smooth natural stones and soft grass before they have to face up to everyday life again?But it's a dream that rarely becomes reality – which is why the desire for an experience that puts us in touch with nature is transferred to creating as natural a feeling as possible in the bathroom.At the same time, the vision of the Nature Bathroom reconciles two very different aspects: naturalness and responsibility for nature, wood and high-tech, authenticity and digitalisation.One side of this equation appeals to the emotions, the other to reason.In future, the aim should be to bring the two together.Besides innovative products, that also calls for courageous concepts and new perspectives on the bathroom as the one room in the home where humans can encounter nature up close on a daily basis.Caring for our bodies, enjoying water on our bare skin and warmth beneath our bare feet, perceiving our surroundings with all our senses – all these things make us receptive to the idea that we can't afford to neglect our environment forever either.