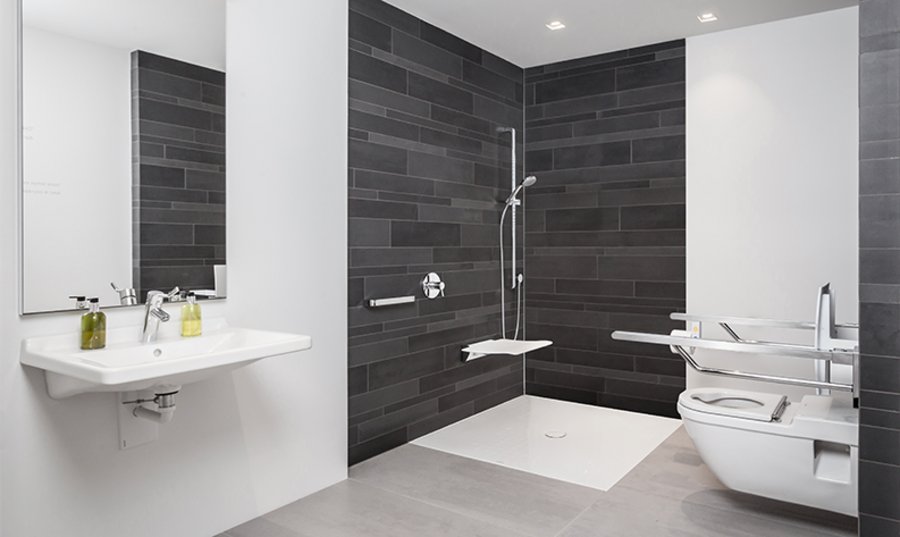 As bathrooms have a long service life, it is all the more important to think ahead and consider future requirements. When planned carefully, the comfortable bathroom of today can meet the needs of elderly users tomorrow or even be completely barrier-free. Comfort, flexibility and safety can exist alongside sophisticated design in a welcoming atmosphere. 
The washing area is the central functional area of the bathroom. It is in frequent use and has to be easily accessible from the front and also safe to use. Consoles with built-in or above counter basins provide in ideal case legroom for comfortable use of the washing area, even when seated. In addition, above counter washbasins enable a raised washing position. Thanks to ample storage areas, all care products can be kept within easy reach. From wood decors and high-gloss varnishes to real-wood veneers, the practical consoles also offer lots of different possibilities for creating an individual look. Particularly flat washbasins, such as the Vero washbasin from Duravit, that is just 165 mm high, are comfortable to use when seated. Moreover, mirrors and shelves should be easily accessible or moveable from different heights. 
Even those with slightly reduced mobility may find it difficult to use the toilet. The SensoWash C and SensoWash Slim shower-toilets are also suitable for people with restricted mobility and really facilitate hygiene: a stainless steel spray arm with three shower types performs the function of a bidet. Operation is easy via remote control. 
The height of the seat is also crucial for optimum comfort when using the toilet. The Starck 3 wall-mounted WC offers a five centimetres higher seated position making it easier for the user to stand up again after using the toilet. As it works with existing connections, it is ideal for renovation projects. 
Sufficient room for manoeuvre in front of the toilet ensures safe and comfortable mobility, even if a walking frame or wheelchair is needed at some point in the future. Handles that can be added at the sides later on, prevent falls, whilst toilet-paper holders and flush plates within easy reach further enhance comfort. Fold-out grab bars that are firmly fixed in position and that have an integrated toilet-paper holder are used as transfer devices. A back support also offers additional relief, just in case. 
A flush-fitting shower tray is not only an attractive solution from a visual point of view but it is also easy to clean, safe and helps to prevent falls. Shower trays with dimensions 120 x 120 cm meet the criteria of DIN 18025/I + II and 18040-2E for barrier-free bathrooms and also offer sufficient room for manoeuvre – even for an additional helper. 
Duravit offers shower trays with different materials: for example with Anti-slip coating made of sanitary acrylic. Other shower trays are made of the materials DuraSolid A oder DuraSolid Q with slip-resistant properties. If desired, the easy-clean outlet is integrated in a slightly raised shelf. A shower seat offers additional safety and comfort in the shower and folds away for maximum convenience. 
Well-planned and well-executed measures for greater accessibility not only improve quality of life and enhance the everyday comfort that is so important to the elderly, but they also increase the value of a property. In addition, thinking ahead when planning a new bathroom also enables its users to live independently for as long as possible.