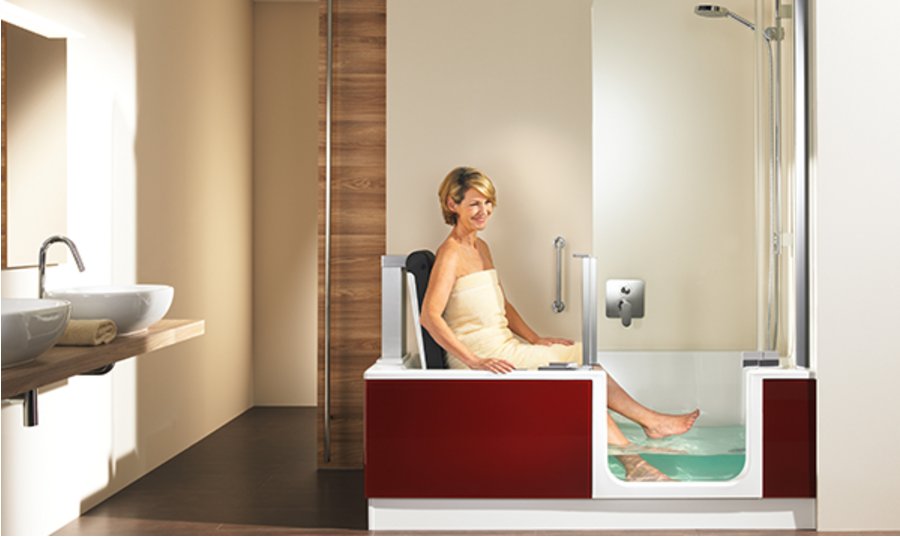 Let's be honest: barrier-free bathrooms don't exactly have a sexy image. Most people associate them with a small, "disabled-friendly" tiled room dominated by grab rails, a minimalist ambience and the dubious charm of hospital furniture. However, it looks as if this image is about to undergo some fundamental changes over the next few years. For one thing, not even bathrooms that conform to the standardised definition of "barrier-free" have to look anywhere near as austere as they did just a few years ago. Because barrier-free accessibility starts well before the specifications laid out in the relevant standards – with an open, spacious design that can be adapted to lots of different individual interests and makes allowances for future care situations with level access showers and modern features like sensor-controlled fittings and lighting systems, programmable water settings or easy-care finishes. But the future is set to be even more convenient, comfortable and lifestyle-friendly. 
Because in a future where 50-year-olds represent a society's average age, living in an attractive home and aging independently should certainly no longer be regarded as mutually exclusive. As the key room for maintaining independence, the bathroom will feature just as much design and convenience as "normal bathrooms" – but probably even more technical equipment and assistance systems. Because they help people remain self-sufficient for as long as possible, products like a level-entry shower and ergonomically designed controls are becoming increasingly popular – and not just amongst handicapped bathroom users. It's often the little things that decide whether we can continue to live in a safe home or need to move into residential care – like a grab rail in the right place, an innovative hand shower with an additional handle for easier use, a touchless faucet, a shower toilet or simply a nightlight that shows the way to the bathroom when it's dark. 
The sector should set itself the goal not merely of making barrier-free bathrooms more attractive and functional, but of designing them as "normal" bathrooms. In an inclusive society, the distinction between "normal" and "barrier-free" will become less pronounced anyway. And working towards that goal is no longer a question of aesthetics and the performance principle – it's a question of our society's survival. The future is barrier-free – and it all starts in the mind: as society's demographic structure changes, elderly people's self-image will change too. They won't just work longer – either because they have to or because they want to – they will see themselves as active and formative members of society for longer too.  
So as to dust off the image of barrier-free accessibility in the minds of designers, manufacturers, bathroom planners and consumers, the VDS used this year's campaign from its experimental trend platform Pop up my Bathroom to put the idea of a life-stage-friendly bathroom up for discussion. And in view of the latest forecasts on demographic change in Germany, bathroom design for the elderly is certainly a topic that deserves special attention.  
Barrier-free accessibility and freedom of movement in the bathroom will therefore be one of the top issues facing the sanitary industry in the next 20 years.