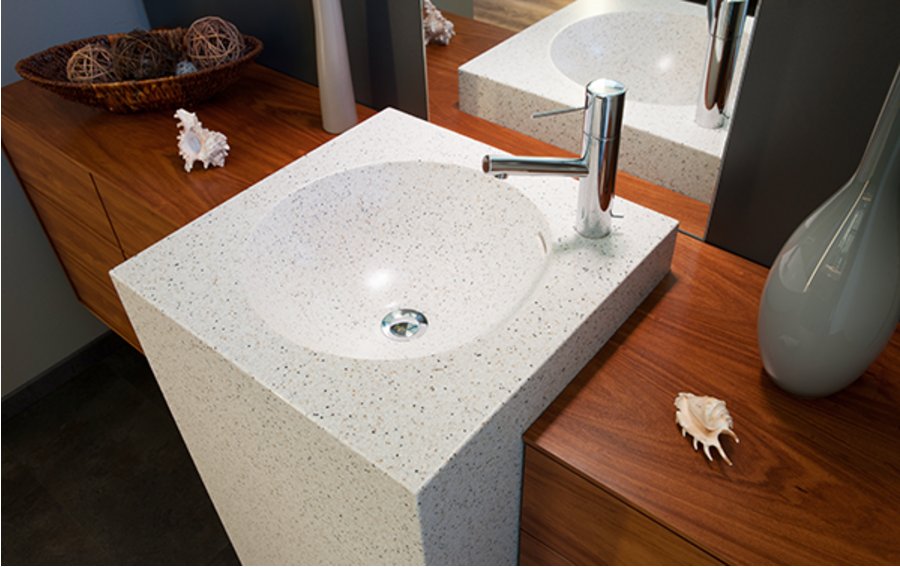 Rauvisio mineral is a through-coloured solid surface material that consists of one third acrylic resin and two thirds aluminium hydroxide with colour pigments. The properties of the individual components combine to create a versatile material with an appearance that resembles stone and a warm, pleasant feel. Thanks to its processing attributes, an extensive range of decorative designs and a wide selection of sheets, basins and sinks, it is suitable for a broad spectrum of applications. The two new design lines Avorio and Cemento aim to expand the range in new aesthetic directions. 
Alabaster is a classic and highly desirable material with a crystalline, translucent and graceful-looking appearance that has made it popular ever since ancient times. It triggers associations with light, velvety skin, ancient sculptures and the warm light of Southern Europe. Thanks to its muted colours and sophisticated texture, the new Avorio design line exudes a sense of timeless elegance. 
Concrete made its breakthrough with the advent of modernist architecture and soon established itself as part of our built culture. As a result of refinements in its appearance achieved by pigmenting or polishing techniques, it has been evolving ever since. Its striking surface texture speaks volumes and, thanks to its plasticity and natural patina, sometimes even takes on a sensuous quality despite its hardness. Cemento's new colour spectrum plays with these fascinating aspects. 
The two new design collections complement the two existing lines: Oro revives the golden age of the Renaissance, when stability and splendour were expressed in precious materials such as gold brocade and damask draped in elaborate architecture. Fine surfaces and deep, dark colours set the tone. In contrast, the Visione design line aims to reflect the many faces of hypermodern architec-ture: the play with light, air and water, as well as with transparent and translucent effects. 
Further information: