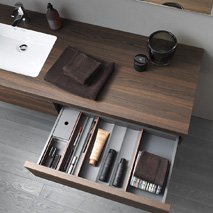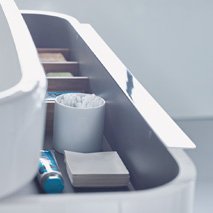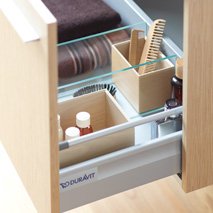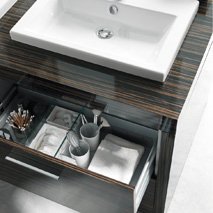 Brushes and aftershave, lipsticks and cotton pads. The bathroom can quickly become full of a whole host of different products. Intelligent interiors for drawers offer individual solutions for well-sorted storage space. 
Every accessory has its place – whether in practical wooden boxes or on wavy, non-slip surfaces. The Delos, Happy D.2, X-Large and 2nd floor series by Duravit are about to keep things tidy in the bathroom. 
The Delos and Happy D.2 furniture series offer particularly high-quality drawer interiors. In order to make optimum use of the storage space, there are various division options: non-slip inlays in diamond black sit between narrow wooden dividers made of maple or walnut. These keep bathroom utensils in their rightful place. Wavy inlays in different widths provide convenient storage areas for cosmetic products or brushes. Matching boxes, either with or without lid, hold cotton buds or similar items. 
A glance inside the X-Large and 2nd floor bathroom furniture series reveals a well thought-out drawer system. Glass dividers and the light interior in shades of white and grey ensure clear partitioning. Handy boxes made of wood or plastic help to keep things tidy and, if required, can also be removed. This intelligent system offers a tidy solution for the whole family. 
Further information: