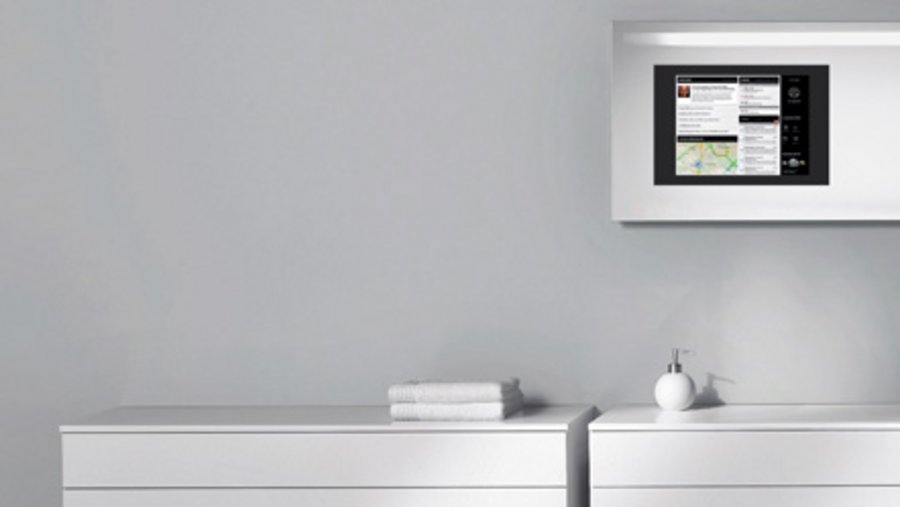 For many people, the day gets off to a hectic start: Shower, shave, put on make up, dress and have a quick roll and a coffee while glancing at the newspaper and the appointments for the day. If you're really in a rush you can now save a lot of valuable time in the bathroom, because while you're checking your face, you can also check the news, traffic, appointments, emails, weather and even your blood pressure at the same time. The new "b in touch" mirror app by burgbad makes it all possible. Developed for the iPhone 4S and iPad2, it bundles together the most important information you need to start your day - all in a single app. It only takes one touch to put the information onto your mirror.  
The convenient infotainment solution is based on the wireless data transfer system Airplay, which allows you to stream media across the room via WLAN. This works in conjunction with Apple's TV box, which is connected to a display behind the mirror and receives the b in touch app over WLAN from an iPhone 4S or an iPad2. But that's not all it can do: Many other functions on your mobile device, such as videos, photos, music, apps, games and much more can be streamed as well. 
To start enjoying the benefits of this application, you just need to go to the App Store on your iPhone or iPad and search for b in touch. Then enter your iTunes password, save the app, select the desired content in the app's settings - and you're good to go. 
The app's functions include: