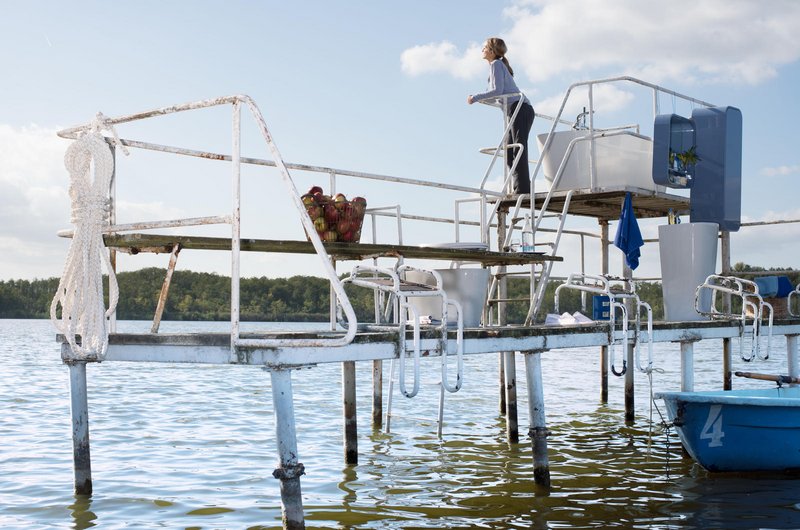 Single_

Freibad

Unlimited freedom: the feeling of being able to let go and live for the moment – a dream that can be indulged in an individually equipped bathroom and private spa. 
An Outfit For The Bathroom
How about a little black number? Or perhaps a classic straight-cut three-piece in white? Maybe combined with a natural shade of brown, or would metal appliqués be better? Seriously, though: even in a bathroom showroom, salesmen sometimes need a keen instinct for fashions and people. 
A bathroom speaks volumes about its users. Take Thomas, for instance, a spartan type with a simple shower curtain and solitary tooth mug; Kathy next door has a pastel vanity overfl owing with tubes, pretty bowls and candle stumps that sometimes migrate to the edge of the bathtub, whereas Margaret downstairs has chosen a turquoise- and-white backdrop for her collection of maritime mementoes. Finally, the mellow sand hues and vintage-style dresser in Alex's bathroom seem to have come straight out of an interior design magazine. 
Singles can indulge their dreams without worrying about other people's tastes, and are increasingly doing so with an eye to fashionable furnishing trends. Many a bathroom collection embodies a fi ttingly self-confi dent lifestyle concept. Even the diff erentiation between product ranges labelled "Elegance", "Classic", "Modern Country" or "Metropolitan" is based not just on interior trends but on the latest developments in fashion as well. 
Many singles consciously embrace the up-tothe-minute aspect and thus the principle of permanent change. Th e recent craze for "white on white", for instance, now needs a little update – a few contrasting touches in black to keep up with the latest "back to black" trend. And although walnut-coloured wood might still be attractive, it's nowhere near as trendy as pastel or limed oak. Or bold splashes of colour. And metal accents are particularly in right now – as are emphatically soft forms that can be interpreted mwith either a retro or futuristic touch. 
Fashion and lifestyle trends are moving into the bathroom – which only goes to show how much we have come to see it as living space. We want to feel at home in our bathroom – and put our own very individual stamp on it.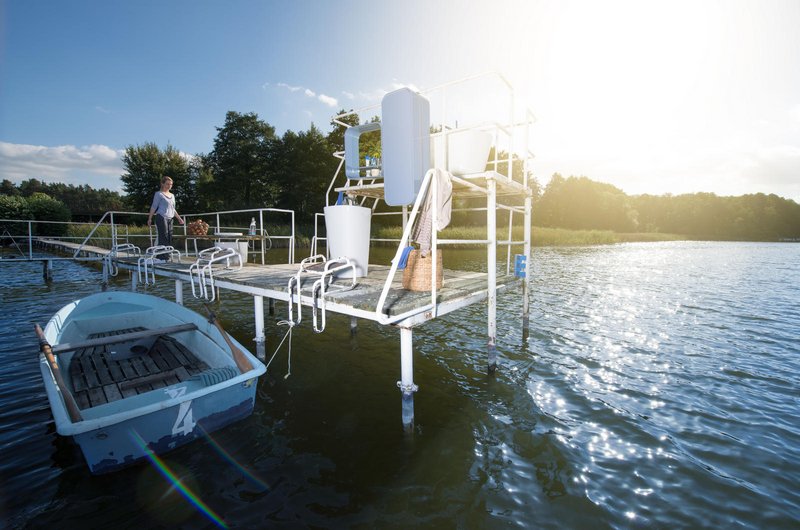 _

Private Spa

Depending on their age, people who live alone might see the bathroom as anything from a testing ground for self-discovery and self-fashioning to the perfect functional space for indulging deep-seated habits. A private spa where they don't need to be considerate of other people's needs. 
Private Spa: A Room With No Limits
Clean water, clear air and the warmth of a summer's day – that's true luxury. Many people associate the feeling of being able to let go completely and enjoy the moment with a wonderful holiday experience. Or perhaps ... with a day in the bathroom. 
A private spa is a splendid place for taking a minibreak in your own four walls – aft er work, at the weekend or while the kids are at the neighbours'. And if an hour is all the time you've got, the bathroom can become a secluded island, a hotel bathroom or a lonely mountain cabin too. Or a place where every morning starts with a quick dip in an icy lake, a walk across wooden fl oorboards warmed by the sun or a one-minute dive into an exotic world. A place sheltered from the outside world, with everything the modern individual needs to relax and find his inner peace aft er a tiring day: privacy, beauty, tranquillity, water. Th e bathroom is becoming the focal point of a hedonistic culture that combines cultural sophistication with sensuousness, aestetics, pleasurable sensations and rituals. The room concepts the bathroom industry has developed for this modern bathing culture exhibit a host of diff erent elements such as cosiness, diff erentiated functions, water scenographies or rainfall showers – things that are not the slightest bit revolutionary on their own but can be meaningfully combined to produce an innovative, ambitious type of bathroom: the private spa. Th e private spa is a bathroom concept that turns routine into ritual and water into an experience. Th e wellness eff ect is created by features such as a rainfall shower, sauna or whirlpool tub, as well as soft factors like the ambience, furniture and a sensuous setting. First introduced by Pop up my Bathroom in 2011, the term private spa meanwhile stands for individual concepts that pursue a holistic approach to bathroom design with the goal of creating a place for experiences. Th ere are solutions big and small for implementing a private spa. Where one person opts for a horizontal shower, somebody else might only need a fountain-like washbasin or an attractive plant to make him feel he's in a special place. But regardless of individual ideas about aesthetics, cosy furnishings, space and staging water, the private spa always means a little bit of luxury. Th e kind of luxury that is best enjoyed alone.