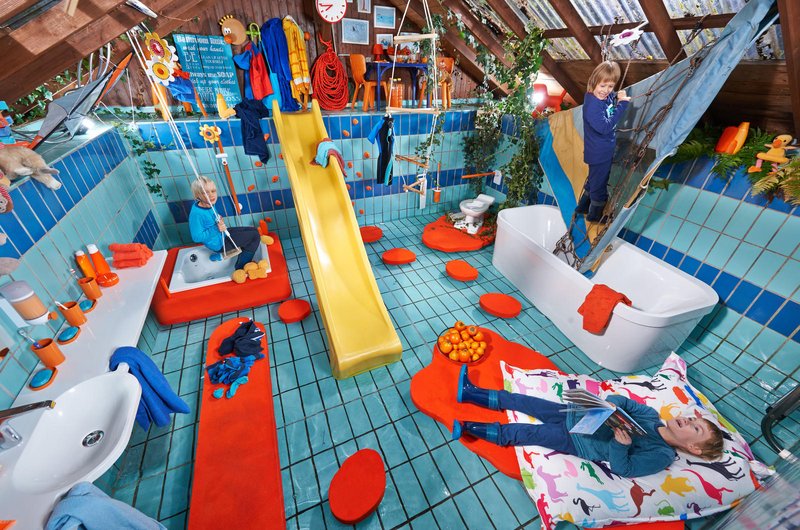 Kids_

Freibad

In the bathroom, sharing playful grooming rituals and daily routines is a way for children to experience the love and care of their family. Besides a safe environment and plenty of space, they need to feel part of what's happening up where they can't reach as well. 
Adventure – children need the bathroom as a space for experiences
For children, the bathroom – at least in an ideal world – is a place for having fun, a place where they can splash around with water and 
mess about with rubber ducks, shampoo bottles and sponges, where mum towels them off and dad gets soaked by their squirt guns. But it is by no means unusual for children to see the bathroom as an anxiety-ridden place too: they might be apprehensive of water, embarrassed about going to the toilet or just fed up with having to clean their teeth. 
In this case, an atmosphere of security can often be far more helpful than a set of colourful plastic beakers, and if anything happens to go wrong it needn't be a problem for either the children or their parents. More than anything else, children need space, safety and security. But they also want to be part of what happens out of their reach. If they are to feel part of things, they need furniture, toilets, and washbasins that are in line with their size. If that isn't possible, helpful aids should be provided so as to bring them up to eye-level with the grown-ups. All it takes to make allowances for this when planning a bathroom is a little empathy – and of course a little more space.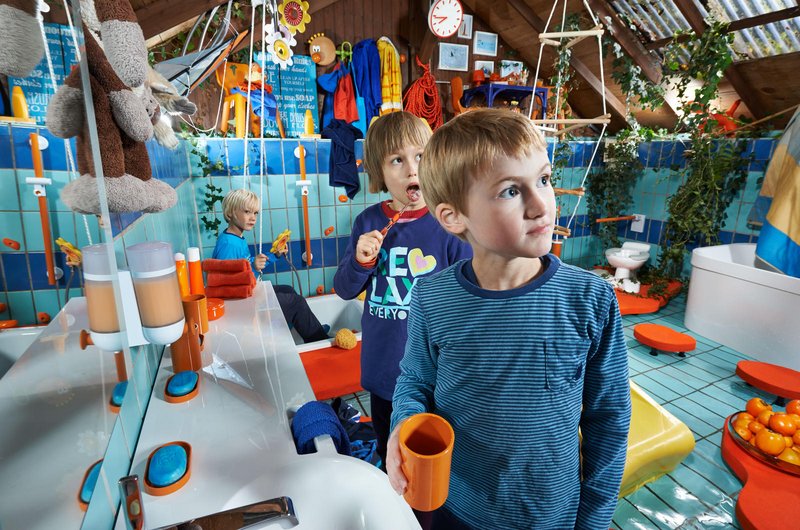 _

A Second Bathroom for a Swing

Sure, splashing around in the water is fun – as long as you don't have to have your hair washed! 
A Second Bathroom for a Swing
There's probably no other room children have such conflicting feelings about as the bathroom. Sure, splashing around in the water is fun – as long as you don't have to have your hair washed! Whilst some children sit proudly on the potty or even the proper loo, others spend years fighting with all their might to avoid turning a trip to the toilet into a relaxed everyday activity. Internet forums are full of posts from desperate parents looking for ways to eliminate their off spring's anxieties when it comes to doing a "number two". Not to mention the tedious task of brushing their teeth... 
On the other hand, the bathroom is a place full of wonders. Important things happen here: daddy shaves, mummy gets all dressed up, and anyone in possession of an old-fashioned "shelf toilet" of the kind still occasionally seen in Germany will be painfully aware of the fascination going to the toilet holds for children. But having a bath or shower is the best thing of all: it involves pirate battles, dolphin-like frolicking, bathing dolls and very special encounters with the body – experiences that are a combination of adventure and initiation. 
But does that mean children actually need a bathroom of their own? No, not really. But it's defi nitely a good idea to give children their own space in the bathroom and off er them safe, attractive aids that allow them to be part of things even in areas they aren't big enough to reach yet: a sturdy step, a box for utensils, their own hooks, mirrors they can see into, a bath that they can have fun in without fl ooding the entire room and a toilet that isn't too high up and is geared towards making them feel comfortable – perhaps with an integrated seat reducer and a stool or step with a bit of extra space for pencils or toys. 
On the other hand, a second bathroom for children is defi nitely more than a by-product of the master bathrooms that are so much en vogue right now, those "en suite" additions to the parents' bedroom that are meant to enhance the attractiveness of many a modern new build. If for instance the parents move into the "studio" on the top fl oor of a new terraced house with a monopitch roof, they're not the only ones who get to enjoy their peace and quiet in the bathroom: the kids on the mezzanine level benefit as well. In this kind of situation, why not pay more attention to children's needs than you can in a bathroom that has to serve the entire family? Th ere is already a wide range of lowheight products geared towards children's size and safety needs on the market. As the years go by, they can either be replaced with bigger models or mounted higher up – these days, that needn't mean a major renovation project. And who isn't glad they can leave the house on time in the mornings while their adolescent daughter occupies the second bathroom for hours on end? Be that as it may: most people see waiting in line for the only bathroom as the main cause of early-morning stress.* 
A second bathroom for children isn't so much a fashionable luxury as a sensible addition for (ever-scarcer) big families. And not just because it takes the stress out of rush hour: it provides scope for creative freedom as well. For parents as well as children. With a little bit of courage, it can turn into something really special.  
So how about putting a swing up in the bathroom? 
*see GfK SanitärPanel, VDS Badstudie 2011/2012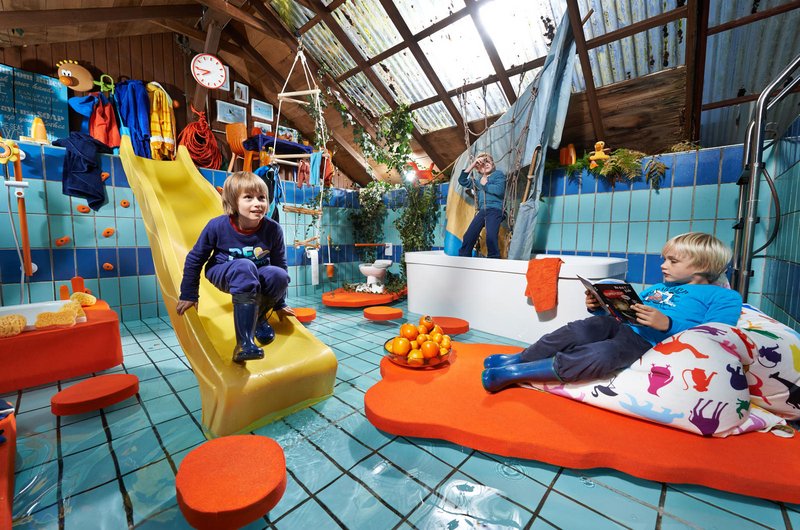 _

Childhood Dreams

Who hasn't ever dreamed of gliding gently down a slide and into a big pool? 
Who hasn't ever dreamed of gliding gently down a slide and into a big pool? Of hanging gardens, hammocks and swings, of an air mattress floating on blue water? And all without stepping foot outside the front door! If Pippi Longstocking can live in Villa Villekulla with a horse, why not? 
Sadly, such dreams are but shadows. And in the harsh light of day, even perfectly normal bathrooms with equipment specifi cally for children – perhaps a low washbasin and a small toilet – are still very much the exception. But what does a child's dream bathroom actually look like? The manswer is often surprising: 
It's only natural for children to want to be part of things, which is why it doesn't really bother them if they don't have the privilege of their own bathroom (let alone one with a slide, pirate ship, crow's nest and swing). On the other hand, however, they do want to have their own territory. Not necessarily in the kitchen, but very defi nitely in the bathroom! Because children have a very pronounced sense of what constitutes privacy, even if doesn't always coincide with adults' views on the matter. Closing the bathroom door, for example, is far less important to most children than having their own towel or the colour of their toothbrush. One seven-year-old boy's spontaneous answer as to what he would like in the bathroom revolves around having his own shelf where he could keep everything that's important to him (even – and especially – in the bathroom): cuddly toys, books, toys, toothpaste, brushes and delicioussmelling soaps, lotions and creams. Plus a few card games, drawing stuff and a games console. Cool! 
Because at the end of the day, there's nothing children dread more in the bathroom than boredom. Boredom when they're cleaning their teeth, boredom on the loo if it takes a bit longer than usual, boredom in the bathtub (hard to imagine!) because there's no plastic beaker, ball or pony in reach. 
That's why, in their dream bathroom, there are steps and tabletops under the washbasin that glide out at the push of the button, as well as room under the toilet for stools or retractable tables for playing and drawing. There are secret compartments in the walls and built-in cabinets, where rolls of toilet paper are thrown in at the top and reappear at the bottom next to the toilet seat in conveniently sized portions. With a pull on a secret lever, fl oor-to-ceiling glass doors glide into place, sealing off the bath or shower so that nobody can complain when the water splashes all the way up to the ceiling. A big mirror would be good too – one that reveals the eff ect facial expressions, poses and clowning around have on other people. What could be more fun than growling, winking and laughing at yourself? 
Having their own special corners and things in the bathroom doesn't just take children's minds off their fears, it strengthens their sense of independence and belonging as well. Because a toothbrush is a badge that identifi es everyone who uses the bathroom as a member of the family. Th at applies to the little partners we share our lives with just as much as to the adult ones.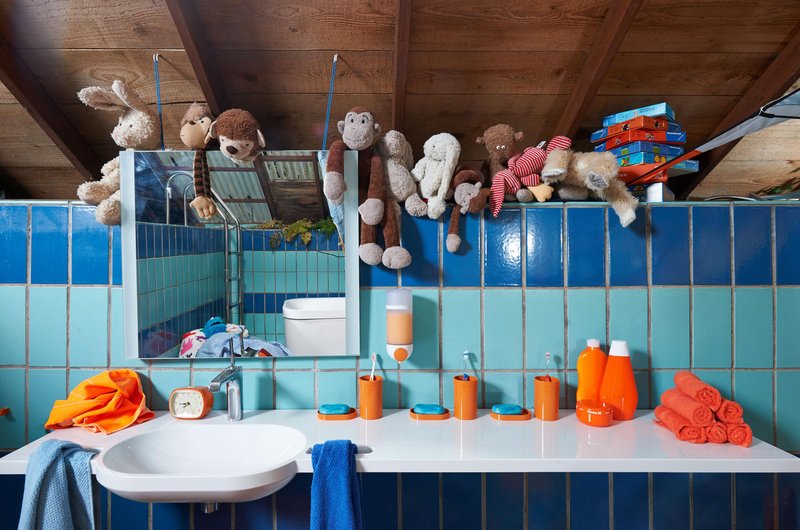 _

Everything In Order

Kids oft en attach great importance to everything being in the right place. A mirror mounted so that they can see into it is just as important as a permanent place for their toothbrush and their own towel. However, "in its place" also means entrusting children with their own things and giving them their own places in the bathroom. Th en keeping a bit of order is twice as much fun. 
Everything In Order: Structures for a children's bathroom
For children, everyday routines are a framework that gives them a sense of security. That applies to bedtime rituals and shared meals just as much as to using the bathroom at certain times and for certain periods of time. However, time passes diff erently for them than it does for adults. They haven't yet developed a sense of how fast time passes or its units of measurement; instead, children measure time based on activities and events. 
Taking the toothbrush out of the mug, covering it with toothpaste and brushing until the sand has run through the hourglass: a teeth-cleaning unit. Sitting in the bath until the water gets cold: a bathing unit. Washing your hands until there's no foam left : a hand-washing unit (which is however oft en extended by the addition of more soap because the bubbles are so nice and it smells so good). A clock in the bathroom helps stick to time limits – although only if parents point it out and translate the progression of the hands into units of time. Aft er all, it's easy to forget the time completely when you're sitting on the loo (and that doesn't only go for children).