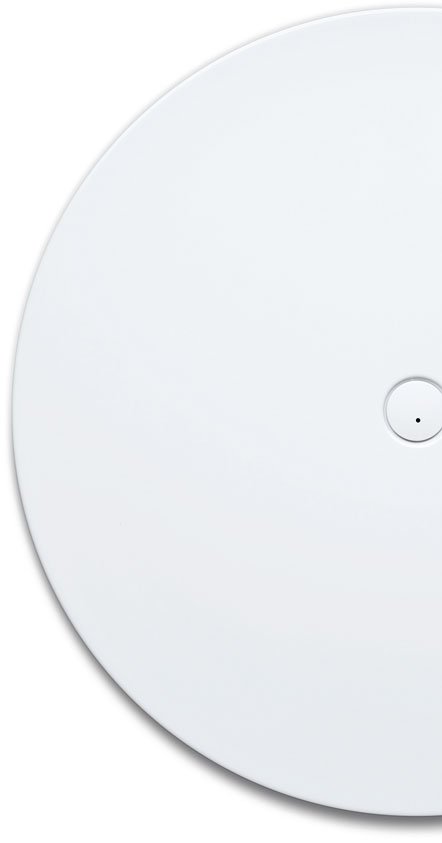 Rather than upgrading like there's no tomorrow, the avant-garde bathroom of the future is soft and yielding. Innovative products are prompting a new way of thinking about the bathroom: in a room where people spend much of the time naked, they should encounter as few hard edges and corners as possible.  
Expectations are focussing less on technical features and more on the use of new or unaccustomed materials in the bathroom: materials that are warm and velvety, thick floor coverings, upholstered pedestals and flexible plastics to foster a sense of security. The soft look pervades not only the design and colours but the lighting as well. The ultimate symbol of the Soft bathroom is a new, softly wrapped bathtub. Manufacturers and designers are looking for new plastics for use in the sanitaryware sector, plastics that are not only soft and yielding but robust and hygienic as well. The trend towards organic, mostly volume-driven design – partly unleashed by sophisticated CAD programmes – is nurturing this "soft" development and mingling with the desire for a natural-looking design.  
It's an unusual idea, but by no means an unpleasant one: a bathroom that yields like a foam mattress. When Grace gets out of bed in the morning, she ignores her warm slippers because the floor she treads on as she enters the bathroom is soft and warm. Not a carpet, but a smooth surface that yields very slightly beneath her feet. At the time, she'd actually wanted parquet, perhaps with a rug in the middle. But now she's glad she plumped for a Soft bathroom with warm gel flooring instead. She clicks on the lights, activating the gentle glow of the indirect lamps over the washstand and the ceiling lamp in the middle of the room with a kind of canvas sail in front of it (because Grace is not a morning person, the lighting is programmed to start off with a dimmed setting before gradually getting brighter). Still half-asleep, she totters into the wash basin, which welcomes her with soft curves and rounded edges. With its soft-brushed surface, gently curving shape and bulbous handles, even the faucet somehow seems friendly and almost human. After splashing her face with a few handfuls of cold water, the world slowly starts coming into focus again and she's looking forward to her shower. She used to have a bathtub with a shower zone, but her new tub isn't that good for standing up in, so she decided on a separate shower – which actually looks more like a corner of the room because the shower tray is level with the floor. This surface too is soft, velvety and non-slip, and pretty much the only thing in the whole bathroom that isn't round. After her shower, she feels wide awake and ready for the day. The soft cascade downpour at the end was just like standing under a waterfall. It always reminds her of scenes from those documentaries of people trudging through the hilly fern forests of Wales or hiking through some Alpine gorge – especially when the wide, soft jet from the mixer splashes into the shallow depression. In the meantime, the sun is shining through the window and she turns the lights off. She thinks fondly of the bath she took the night before to get rid of the muscle tension: she'd never experienced such an intense floating sensation before. And she doesn't even use as much water as she used to! She was in seventh heaven – the way the inside of the tub yielded to and cushioned her body was almost surreal. But seeing as she's the kind of person who normally has both feet firmly on the ground, a bit of dreaming won't do any harm, she thinks, and shuts the door behind her.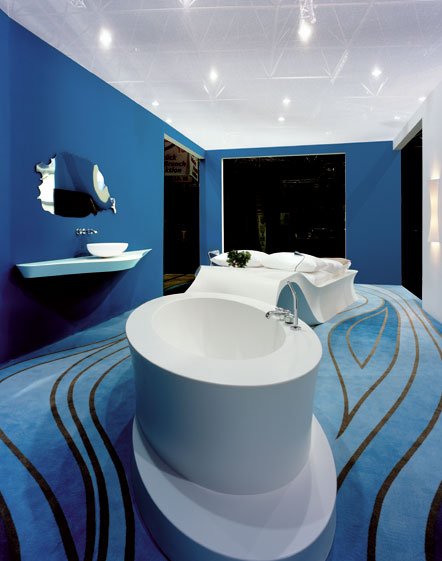 Far from being pie in the sky, dreams like these may soon be a realistic possibility. Up until now, it has mainly been designers who have asked questions like: Why does a bathroom have to consist entirely of right angles? Why does a bathroom have to have so many hard edges that we might bump into? Why does a bathroom have to be hard at all? But all that may soon change. For such questions are in fact fundamental considerations that almost inevitably spring to mind when we think about the future of the bathroom. Designers are constantly coming up with ideas for soft curves and amorphous forms. Their bathroom visions, artistic installations and studies are characterised not so much by graphic lines as by sculptural volumes. And that isn't just because of the now widespread computer programmes that enable the digital design of breathtaking forms. As a place where people spend much of their time naked and need anatomically designed forms in order to relax and feel secure, the bathroom seems to cry out for soft contours. 
The question of materials also remains open. In a few years from now, the search for an alternative to ceramic or acrylic sanitaryware will probably result in plastics that are not only soft and yielding but robust and hygienic as well. Then nothing will stand in the way of a genuinely soft and warm bathroom. A bathtub with a floor that yields to make the occupant feel as if he's floating? A shower tray that is no longer cold and slippery but as soft and warm as a sandy beach? These thoughts are so revolutionary that designers are even envisaging a totally new look for the individual elements. The sanitaryware is no longer harnessed to the wall but can be positioned anywhere in the room. These scenarios are by no means as utopian as they might sound, and the design proposals nowhere near as futuristic as they might first seem. If you look at the furniture by Zaha Hadid, the creations by Ross Lovegrove or the buildings by Frank O. Gehry and Ben van Berkel, these bathroom ideas seem decidedly realistic. 
A challenge for the industry
Up until now, the Soft bathroom approach has only been adopted by individual products featuring an innovative use of materials and an ambitious design – products like Ideal Standard's Soft Bath (design: Marc Sadler). The industry is still a long way from translating designers' studies or Grace's totally "soft" make-believe bathroom into reality. But the desire for organic forms and interiors compatible with "blob" architecture will nevertheless influence the design of bathroom collections. The Soft bathroom constitutes an opportunity to develop totally new product types and innovative technologies. 
However, it is also striking that, in most design studies, the washstand continues to play a key role and give the water centre stage. After 2000 years of bathing culture, it would thus appear that water has lost nothing of its fascination. It remains precious and mysterious, but above all: soft. 
Text: Frank A. Reinhardt