The trend towards using one's prestigiously designed home for virtually all private and some public activities (socialising, home office etc.) has also redefined the bathroom as living space where users are happy to spend time even when not going about their necessary daily routines.  
Homing has enhanced the cultural status of the washroom. The result of its transformation from wet room to bathroom is a space which, although stylistically adapted to the home environment, is nevertheless dedicated to specific functions. Whilst it has been allocated new roles (it might serve as a fitness, TV or music room) and upgraded with new technical features, the transitions to the living space have become permeable. What's new about the modern bathroom is its cosy materials and furniture, its complex technical equipment and its tendency to open up to neighbouring rooms.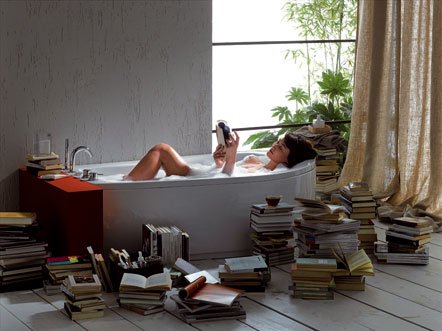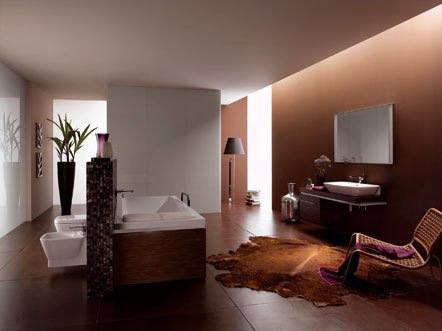 The economic crisis and a general sense of uncertainty are encouraging people to seek security in their own four walls. In turbulent times, the urban cave becomes a tranquil island where we can forget our problems and leave all the stress behind us. The home becomes a castle.  
But in contrast to the Cocooning trend of the 80s, Homing isn't primarily about curling up in your own little shell. Instead, the home is used for cultivating social contacts, thus becoming a presentation platform for self-staging. It is polished to a lustrous shine – partly because of the show effect, and partly because people want to satisfy their own increased expectations. And that not only applies to the kitchen and living room, but to the bathroom as well. Homing dissolves the boundaries between the bathroom and the rest of the home. Although not everybody will plump for a bathtub in the living room, of course, what is there to stop us turning the bathroom into a kind of living room? A room where we feel so secure that we can divest ourselves of our daily armour, our fashionable outfit and friendly smile, and go totally naked whenever the mood takes us.  
Bathroom and bedroom – a perfect couple
What could be more obvious than intensifying the relationship between bathroom and bedroom? The idea isn't actually all that new at all. Sleep and grooming have always been closely related. It was only the invention of the bathroom, of the sterile wet room, that drove a wedge between them. The new interior concepts are rediscovering the benefits of this once common form of cohabitation without adopting any of its drawbacks – such as a cool ambient air temperature when washing, poor functionality and the lack of separation for the toilet. The new living-room-come-bedroom-come-bathrooms are remarkably open whilst nevertheless providing enough space for discretion. At the same time, both areas benefit from the obvious space gain and show their gratitude by providing a thoroughly cosy ambience. And if you want a climatic distinction between the bathroom and sleeping area, wide passages and sliding wood or glass doors are ideal.  
Designers and manufacturers are going to considerable lengths to make sure a sense of wellbeing plays a leading role in their new interior concepts. Ideally, the toilet area is disincorporated. But no open-plan bathroom is complete without a washstand, shower and tub for grooming, regeneration and relaxation. A sauna or steam bath rounds off the ensemble and elevates it to the status of "wellness oasis". Here too, manufacturers have responded to growing expectations and developed some extremely cosy concepts, such as Duravit's "Inipi" sauna. Although roomy enough for two to four people, the transparent cabin measures just 235 x 117 cm. The wooden frame is the connecting element between the bathroom area and living zone.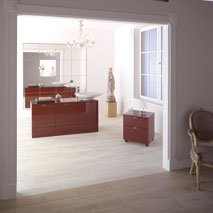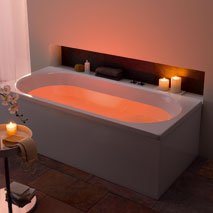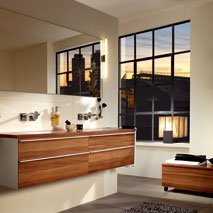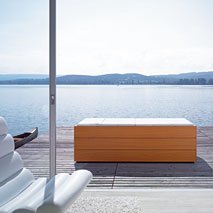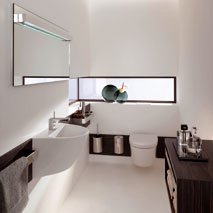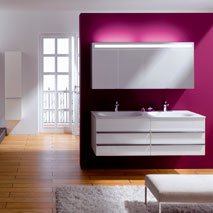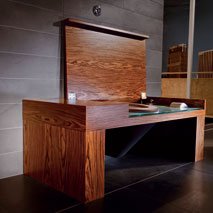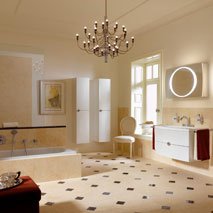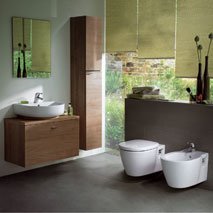 Elegant soloists – sanitaryware is morphing into furniture
Bathtubs are another important relaxation factor. They too are adopting a cosy look and have long since revoked their permanent allegiance with the tiled wall. They are now presenting themselves as independent interior design features and functional elements, preferably positioned near the bed but at the very least within a cosy context that makes bathing seem less like a hygienic measure and more like an evening relaxation programme. And if the tub isn't staged as an elegant freestanding element, it is decked out with attractive coverings that might harmonise with the rest of the furniture. They are available in a wide range of materials – from imitation wood or stone all the way to backlit glass. And when it isn't being used for a bath, Duravit's Sundeck model (design: EOOS) can even be used as a lounger for sunbathing, relaxing or reading thanks to folding panels that can be lowered to cover the opening.  
Showers that no longer bear any resemblance to the cramped glass cages of the past provide a refreshing alternative to the tub – and not only when they take the form of spacious walk-in systems. Rain sprays, showerheads and side jets in an endless choice of formats or programmable "experience showers" with sound and lighting effects offer the fitness fan plenty of options for his individual care and wake-up plan. Straight out of bed and into the shower; out of the bath and straight into bed: a match made in heaven.  
Nevertheless, the main hub of any bathroom is and always will be the washstand. It has long since been transformed from a plain and simple washing facility into a functional centre. Furniture, stools and footrests are useful additions. The furniture is geared towards the looks currently popular in the interior design sector. High-gloss lacquered fronts, often in exciting shades of red or black, or expressive surfaces with a zebrano or olivewood effect cut a fine figure anywhere – not just in the bathroom. As far as their appearance is concerned, they could compete with lounge furniture any time. A make-up table is a nice little extra. One version, geared towards the modern boudoir look, is the "Bellevue" model by Villeroy & Boch, and Keramag's "Silk" line offers a practical beauty module. 
Gateway to the world – the bathtub as control centre
You guessed it: the days when people spent hours "making their toilet" are back. If they don't retreat to go about their daily hygiene and beauty routines, play the lead in a private fashion show involving their walk-in closet or perform their daily yoga exercises, their new lounge is just as good a place for a media centre as the seating area in the living room. For anybody who doesn't like the bathroom/bedroom to be totally cut off from worldly matters is at liberty to install a television, radio or hi-fi system. Sitting in the tub, he can use the remote control to select his favourite channel or choose the right music to go with his mood. Digital control systems ensure a high-end media experience, providing integrated home automation that regulates everything from the TV and music system to the lighting and air-conditioning technology. And because the tub does not provide adequate seating for such sophisticated living space, a pouffe, relax lounger or lounge chair can be placed on the fleecy carpet, tempting the user to stretch out at a safe distance from the tub.  
The choice of materials and colours adds the finishing touches to the cosy impression. Tiles mainly prove their worth in splash zones and as flooring. But the transition to the bedroom calls for an alternative with a little more charm. Parquet, plaster and moisture-resistant painting techniques dispel any lingering associations with a wet room. The "live-in bathroom" is characterised not so much by the softening of its boundaries with the living space as by its design as an independent, cosily equipped recreational space – a proper "room". Even wallpaper has made its way into the bathroom. You can't get much more lifestyle than that.  
Or can you? How about living room lamps for perfect feel-good lighting? Why not hang a chandelier from the ceiling while you're at it? An open fireplace with a crackling blaze and a nice thick rug in front of it would round off the dream of the feel-good bathroom to perfection. With such a snug bathroom, the crisis seems light years away – at least at home.  
Text: Sybille Hilgert