A new outfit for the bathroom
As the bathroom increasingly takes on the quality of living space, it is being given an ever more fashionable touch. It is becoming just as much an indication of its user's personal tastes as the kitchen or living room.  
It is therefore open to ideas for all-embracing design concepts that bring a fashionable lifestyle into the bathroom – from the wash basin, wallpaper and shower curtain all the way to the towels and other accessories. Such concepts are currently being launched by fashion brands from outside the industry, some of whom are collaborating with sanitaryware manufacturers. There is also a demand for pointedly timeless, simple design concepts that provide a neutral backdrop for fashionable accessories.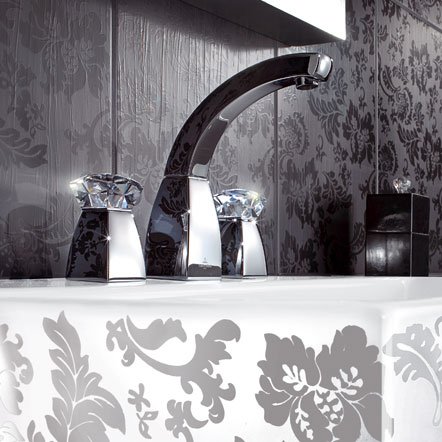 Fashion and design? If you were talking about furniture design, you might get away with saying a sofa wears an outfit (for in this sector, it really is specific fabric fashions that set the trend), or that a certain type of ornamentation or a particular colour is en vogue. But in relation to bathroom design? Nobody can afford to follow short-lived trends towards certain proportions, shapes or colours when it comes to the design of sanitaryware and bathroom concepts. And yet a fashionable touch has nevertheless crept into the design of this particular space. Today, anybody with a liberal attitude towards the world of fashion can turn his bathroom into a stage for pret-à-porter or haute couture.  
There have been signs that the links between fashion and the bathroom are strengthening for some time now. Instead of simply regarding their ranges as series, manufacturers now present them as collections. And, as in the fashion world, a collection is always based on an overarching concept. In the case of sanitaryware, this concept is the attempt to derive an entire series from a single form. And the differentiation of product ranges into style worlds such as "Elegance", "Classic", "Style" or "Metropolitan" takes its cues not just from interior design but current fashion developments as well.  
It's relatively easy to give your bathroom a make-over. Just like belts, It-bags or shoes, bathroom accessories are the icing on the cake. Towels, storage boxes, soap or lotion dispensers – all perfectly coordinated with one another – are not only useful, they look good as well. And what could be simpler than transforming the classic combination of white ceramic fixtures and chrome-coloured fittings with colourful accessories? Towels and bathrobes from the latest Home Collections by renowned designers like Laura Biagiotti, Calvin Klein or Armani lend a helping hand, matching fabrics, curtains or cushions add the finishing touches.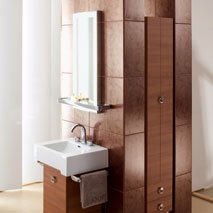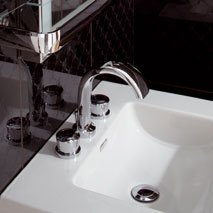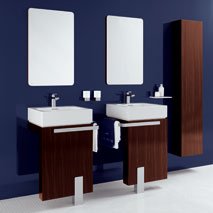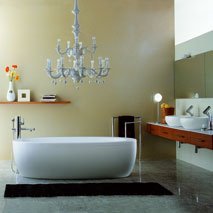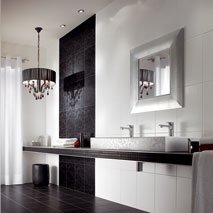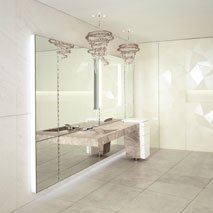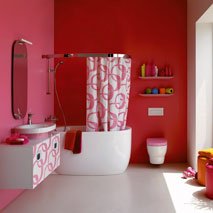 Ever since bathrooms stopped being tiled from head to foot, plaster, wood and other snug materials have conquered the floors and walls, allowing plenty of scope for personal preferences in the choice of colours and materials. Although painting techniques still play a major role, wallpaper has started catching up – even in the bathroom. Wallpaper designs are more exciting than they've been for ages, and creatives like Ulf Moritz are swiftly translating current trends into wall coverings. Depending on tastes or trends, you can give the room a retro look, create an opulent Baroque feel or conjure up Japanese patterns on the walls.  
But patterns are also featuring on the latest sanitaryware, adorning fixtures like washstands and shower trays. Villeroy & Boch's "Memento New Glory" wash basin combines purist lines with a neo-Baroque motif. Its new "La Belle" collection comes with an optional floral pattern, and Phoenix Design have applied a lily motif to Kaldewei's shower trays. 
Many fashion houses still produce their pret-à-porter products very exclusively and in limited numbers. Some sanitaryware manufacturers are collaborating with renowned fashion designers to avail themselves of the same exclusivity. In the 90s (before he sold his brand), Wolfgang Joop was invited to create a series of tile designs for Villeroy & Boch. The result was a shimmering, elegant collection that created some interesting counterpoints to the white ceramic ware. Japanese designer Kenzo has also collaborated with the Mettlach-based company, applying his typical floral patterns to its tiles.  
Several complete collections of sanitaryware have been created in collaboration with fashion companies as well. The "Joop!" range includes bathroom ceramics and furniture by Keramag, shower partitions, bathtubs and shower trays by Koralle and fittings and accessories by Kludi. A specially developed range of tiles by Steuler adds the finishing touches. The designers' brief: to create a convincing bathroom culture scenography that combines luxury with deliberate stylistic counterpoints and allows maximum scope for creative and imaginative compositions. The washstand concept is particularly interesting: the extremely thick materials and precise lines are intended to create a sense of exquisite value. Label aficionados will love the tiles: they feature a stylised thistle – the Joop! logo. 
Esprit is another of the lifestyle and fashion brands entering the bathroom sector. It stands for smart, affordable luxury for a young, free-spending audience. Together with fittings manufacturer Kludi, Esprit developed the "Esprit home bath concept", aimed at style-conscious, wellness-oriented men and women between 25 and 40. The basic equipment includes a square wash basin, a series of fittings, modular storage furniture, accessories and a glass shower. The idea is to permit flexible bathroom interiors that can adapt to changes: from a guest bathroom to a washroom for singles to double basins for a growing family.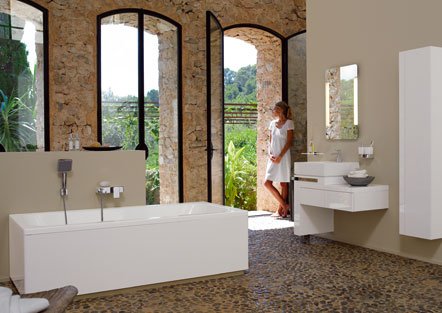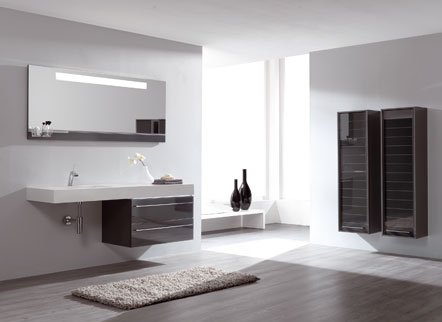 As the crowning glory of fashion weeks, haute couture shows present exquisite, bespoke creations in the fashion capitals of the world. The distinguishing features of these individual pieces: premium craftsmanship and costly materials like lace, embroidery or Swarovski gems.  
The haute couture equivalents in the bathroom sector are likewise characterised by individuality, expensive materials and excellent workmanship. Faucets feature levers in fine natural stone or top-grade porcelain. Here – as in the fashion world – French manufacturers like THG play a major role. The Swarovski bathroom concept, developed by manufacturer Kludi in collaboration with the crystal specialist, goes even further. The space and individual products are intended to embody the vision of a crystalline bathroom architecture: a scenography consisting of water, light and crystal. The concept is so complex that a special showroom has been created for it at Stilwerk in Düsseldorf.  
Classy is also the keyword when it comes to bathroom furniture, which is available with a huge range of attractive surfaces that take their cues from the current home collections. Right now, dark, expressively patterned variants like zebrano or olive are playing an important role. There are also high-gloss lacquered fronts that bring the colours black, red and white into play and underscore the quality of the furniture. Mere storage space is thus transformed into a perfect home accessory that will find plenty of uses outside the bathroom as well.  
Fashion bathroom – kit or freestyle exercise
There's no denying that fashion has conquered the bathroom as well. The Fashion Bathroom is very much the trend and shows just how much we have come to regard the bathroom as living space. Regardless of whether we opt for a ready-styled complete solution from a fashion brand or a "blank sheet of paper" that we can deck out however our hearts and current tastes dictate – we want to leave our own individual mark on our bathroom and feel just as at home there as we do in our living room or kitchen.  
But just for the record: there's no risk of the bathroom becoming a fashion victim. Shortening the current modernisation cycle of approx. 20 years will continue to be the exception rather than the rule. Even so, the examples mentioned here show there are plenty of ways to pep up the look at much shorter intervals.  
PS: By the way: inspiration can flow in the opposite direction too. It would be going too far to say bathrooms are influencing fashion. But fashion is certainly gratefully adopting ideas from architecture and design. And – as the German edition of Elle magazine writes in its Fashion Thriller supplement – that gives rise to "It-accessories for people who appreciate design!" 
Text: Sybille Hilgert