In view of demographic developments, the future task of modern bathroom design will be to make life easier for as many people as possible. The Easy bathroom concept focuses on the human aspect and is meant to appeal to as many users as possible. It pursues the idea of "Universal Design", an approach that maintains nobody should feel excluded – not by their age, not by barriers to access, not by complicated functions and not by stylistic bias or technical jargon. 
A self-determined life is considered the most precious commodity of all. We are determined that neither age nor illness should thwart us. For a society that can no longer afford to exclude elderly and handicapped people from social and economic life, integration is the only solution. The new, barrier-free bathroom is convenient, versatile and smart. It is characterised not so much by special aids as by simple functionality, a high level of error tolerance and a well thought-out design that permits flexible usage. Special aids can be integrated unobtrusively if needed. In terms of style, it is indistinguishable from conventional, design-oriented bathrooms. Rather than striving for specialisation, the Easy bathroom aims to create normality.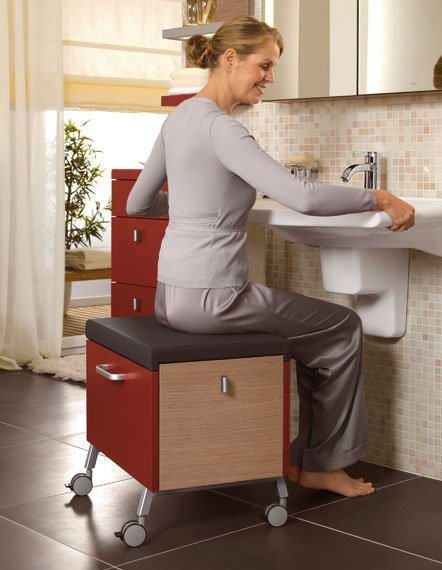 Ben gurgles enthusiastically. Both hands are playing with the soft gush of water. He doesn't notice that his rolled-up sleeves are getting wet. He's much too wrapped up in an entirely different problem: he can feel the water, he can see it, but he just can't get hold of it! No matter how often he kneels up on top of the washstand next to mummy and leans over the slightly higher edge of the basin … he never tires of turning the tap on and gaping in amazement. The wide counter next to the basin is familiar territory – mummy sometimes changes his nappy on it, or sits him down on it while she's getting him dressed in the mornings. For some time now, he's been able to climb up onto the counter all by himself and wash his hands. Mummy was really proud that he managed it all on his own. Yesterday he stood under the shower for the first time. That didn't involve any climbing. Daddy fixed the water right at the bottom of a long pole that he could use for holding on to as well. He was allowed to turn the thing the water comes out of back and forth and even pick it up. That was easy. Then he made the see-through wall all wet, and then his daddy – that made mummy laugh.  
Ben is 2 years old. 
Thomas loves taking a nice long bath. The wide, elegant ledges come in very useful. His towel, a cold drink, the newspaper and a photography magazine are spread out over the steps and on the platform that surrounds the tub on two sides. Amy has come into the bathroom and sits down on the edge of the tub. Ben is already asleep, otherwise he would be busy climbing up the steps to the platform and splashing around in the water. They talk about their day and plan a weekend outing. Thomas is enjoying his bath and tops it up with a little warm water out of the thermostat faucet. They mainly bought it because of Ben – it comes with scald protection. Just a few months ago, Thomas found it pretty difficult to get in and out of the tub – even when he leaned on the platform railing and faucet for support. So for a few weeks after his operation for a slipped disc, he had to make do with a shower. And even though he hadn't needed a wheelchair, he was surprised how helpful the different-height ledges had been. The ergonomic shape of the basin and the stool that can be pushed under the washstand were a godsend – not to mention the level-access shower. Up until then, he'd never realised just how well thought-out the simple and timeless design of their bathroom was. Amy didn't even have to help him. That made what could have been a very difficult time much easier. 
Thomas is 41  
Helena loves the time before going to bed: she creams herself generously, brushes her hair and goes through all her other beauty routines. Just like she used to when she still had a dressing table in the bedroom. In the meantime, she actually almost prefers the spot in front of the washstand: the light is good, it's nice and warm and there are plenty of cabinets and ledges. But the best thing of all is the big, low-hung mirror. It means she can sit on the stool in front of the basin and adjoining counter, both of which offer plenty of legroom. In contrast, it took her a long time to get used to the shower. She'd never really enjoyed showering, preferring to take a bath instead. But now she's quite taken with the gentle, rain-like flow. At her age, the shower was simply more practical, and she can even sit down in it if she wants to. She hasn't slipped on the natural-looking floor tiles once, and the low basin and hip-height towel holders next to the washstand, bath and shower provide plenty of support if she needs it. That makes her feel safe. How practical it will all be, she thinks, when I get really old.  
Helena is 77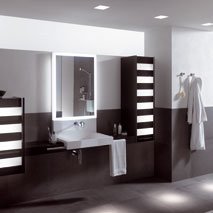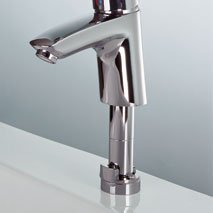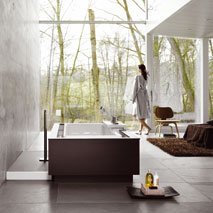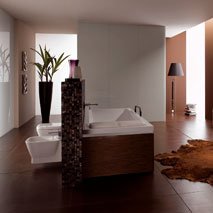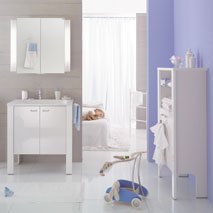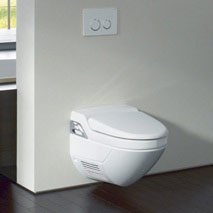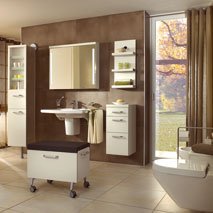 Easy bathroom for an easy life
Ben, Thomas, Amy and Helena all use the same bathroom – even though they have very different needs: easy accessibility and usability for small children, timeless design and convenience, barrier-free access and assistance for those with a weak physical constitution. It is all made possible by the design principle of the Easy bathroom. This concept neither pursues a certain stylistic orientation nor strives for technical sophistication, nor does it attempt to accommodate the needs of a particular target group. On the contrary. It wants no more and no less than to satisfy everybody – or at least as many people as possible. The Easy bathroom combines safety, ergonomics and contemporary aesthetics and enables our four protagonists to use their bathroom independently at any stage of their lives. 
The Universal Design approach of the Easy bathroom goes far beyond the creation of a barrier-free environment. Rather than eliminating barriers, Universal Design attempts to ensure they never crop up in the first place. The design tries to ensure the easy handling of products and fixtures whilst being attractive to people of all ages.  
In a reversal of the technisisation process, which turns the kitchen, living room and even the bathroom into networked and functionally upgraded control centres, a growing number of people are reflecting on the advantages of a simple life that is not unnecessarily complicated by gadgets and multifunctional equipment. They want to use their cell phone for making calls, not for googling recipes on the Internet. Life is, after all, complicated enough. They expect bathroom design not only to simplify their everyday lives, but to anticipate and simplify difficult situations as well – as good design should. How can such elemental but by no means simple requirements be satisfied? 
It's often the simplest things that present the greatest difficulties – and then omission is sometimes the best solution. The recipe that designers and sanitaryware manufacturers have come up with could be summarised as follows: a product and a space are reduced to their basic functions and their quality and aesthetics perfected right down to the smallest detail; after that, other characteristics are added sparingly – characteristics that correspond to the fundamental requirements of all those outside the statistical norm – i.e. the young, the old and the disabled. Who says the height at which light switches are installed should be based on what's convenient for middle-aged, able-bodied grown-ups? The aesthetics of the Easy bathroom are based firstly on the kind of straightforwardness that conforms to the simplicity principle and ensures a timeless look, and secondly on conventional tastes. It is, after all, meant to appeal to as many people as possible.  
Products with more value for more people
The Easy bathroom is meant to offer users various forms of assistance whatever their age, gender or situation. At product level, that means models that combine convenience and versatility with simple usage and safety aspects. The Smartshower system by Hansa, for instance, is practical for any age group: besides an overhead shower and body sprays, it also has a flexible hand shower attached at an easily accessible height. Seventy-seven year-old Helena can sit on the integrated folding seat and use the little handheld attachment or let the water wash over her from above. The ergonomically designed folding seat ensures her safety and comfort. The thermostat variant avoids both the risk of scalding and the bother of letting the water run until it reaches the right temperature, something that often puts less agile users off of showering. The flat form with rounded edges gives the shower system a distinguished look and its simple pushbutton operation – for selecting different kinds of water flow, for instance – couldn't be easier.  
Whilst practicality is important, it certainly isn't everything. Why should somebody that opts for an Easy Bathroom miss out on the kind of luxury available in other, less universally valid bathroom concepts? Steam bath cabins with various sprays and jets, different steam settings and fold-out seats in moisture-resistant wood or artificial stone provide plenty of wellness for anyone. Users can move around freely, stand or sit. The newer models even have jets for a "rain shower", mist nozzles, an audio system and/or a fragrance bowl for various scents. There are both classic and more experimental functions that can be set according to individual preferences.  
Several of the tub/shower combinations currently on the market have watertight doors for ultra-easy access. A separate and particularly comfortable bathtub, like Keramag's Silk model, should provide sufficient space and be convenient for all age groups. In the case of Silk, the overflow is located beneath an integrated pillow that can be folded up to create a headrest. An elegant handrail mounted on the side of the tub and a movable step make getting into a nice hot bubble bath very much easier. The range offers an extensive collection of ceramic ware, storage solutions and furniture, including a height-adjustable stool, integrated make-up table, towel rail and convenient ledge next to the toilet – all in a subtly elegant design. Duravit's Mirrorwall range, on the other hand, is a collection of compact bathroom furniture in which the fittings and cabinet elements are installed on a wall of mirrors. So Thomas could get a full-length view of himself, Helena and Amy could cream themselves sitting in front of the mirror and little Ben could watch himself as he cleans his teeth. The mirror wall is illuminated by a lighting system installed on the sides and operated by touch LED. Two Akzent Integra wash basins (Keramag) installed next to one another also offer plenty of storage, providing enough space for toothbrushes, mugs, tubes, soap or pots of cream. When it comes to the toilet, the main thing is to adapt the height of the seat to individual needs. Models like Geberit's AquaClean 8000plus offer an extra luxury: at the push of a button, a shower arm extends and cleans the nether regions with warm water. This function is already standard in countries like India and the USA and is not just hygienic but refreshing as well.  
In today's modern and spacious bathroom designs, what used to go by the name of "barrier-free" and actually referred to a tiled corner of the room with a curtain has evolved into a design principle that is almost taken for granted and has come to stand for both a sophisticated lifestyle and convenience: the level-access shower. Innovative shower trays – like those by Bette – make access child's play and create a cosy feel. 
In the modern sense, however, barrier-free refers not only to level-entry installation but to unrestricted concepts and design as well: Universal Design aims to make everybody feel welcome so that nobody feels excluded – not even because he's being given special treatment, no matter how well-meaning it might be. Accordingly, the Easy bathroom looks perfectly normal: classic or modern, fresh or elegant – but always contemporary. The displays are large, the handles easy to use, the edges slightly rounded and the basins and shelves sometimes mounted with nothing underneath so as to accommodate a wheelchair or stool. Wherever possible, there should be at least 1.5 x 1.5 metres of manoeuvring space, and all the installations and products are geared towards the ergonomic requirements of as many people as possible. And there's just one more thing: the Easy bathroom doesn't just make life easier, it makes it more attractive as well.  
Text: Claudia Wanninger