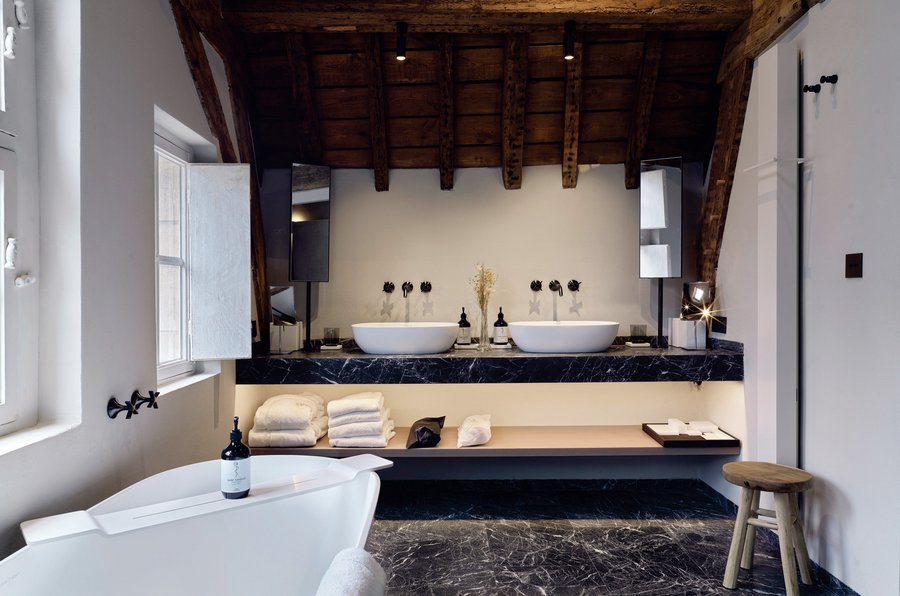 Antwerp, home to Europe's second largest seaport and the world's most important centre for the diamond trade. Just outside, hidden behind the walls of the Botanic Gardens in time-honoured buildings, is a five-star jewel: The Hotel Botanic Sanctuary Antwerp. The history of the building complex dates back to 1238, when an infirmary was built at the gates of the city, with the later addition of a monastery and a chapel.

In the sixteenth century, the famous pharmacist Pieter Coudenberg established a monastery garden there – thus laying the foundations for the Botanical Garden that still exists today. For the Botanic Sanctuary Antwerp the buildings have been restored. The challenge was to preserve the historic fabric of the building and at the same time, conform to the highest technical and ecological standards. What has emerged from this is a tranquil and extremely comfortable retreat, where craftsmanship, innovation, ecology, and tradition, go hand in hand. Fittings and shower solutions from Dornbracht, created by Sieger Design, contribute their very own part to this in the bathrooms and spa area of the hotel.

When designing the interiors of the hotel, only materials that reflect the special spirits of the buildings were used: natural stone, warm wood, wrought iron structures, and fine fabrics. An unassuming, yet cheerful colour palette underscores the historic dimension of the location and takes up the green of the plants that can be found everywhere. This creates a light and peaceful ambience that ensures well-being and profound serenity.

Purist bathrooms in a peaceful ambience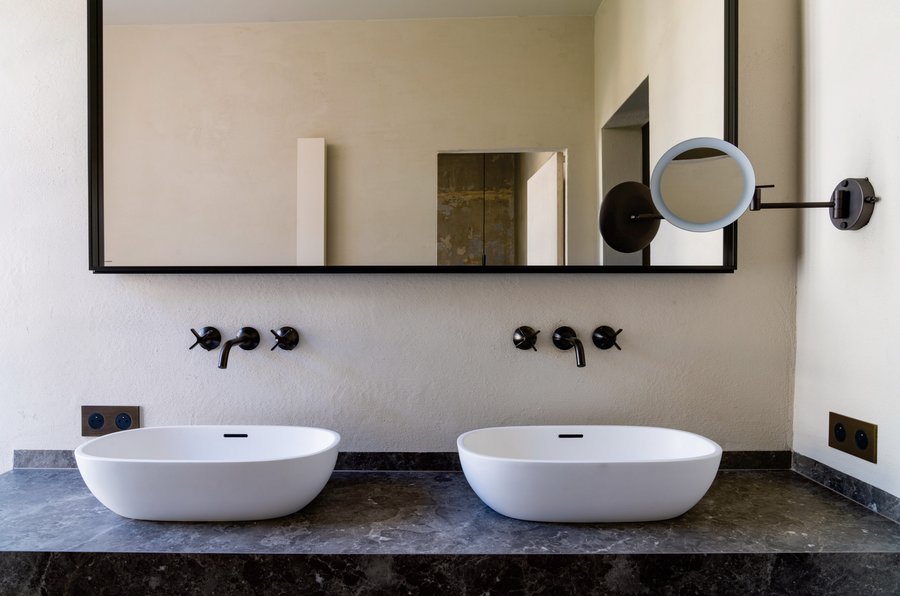 Fully in keeping with the cloistered surroundings, the bathrooms of the comfortable rooms have an understated design: the walls are plastered in plain white, while the washstand and floor are made from anthracite-coloured, natural stone. Above the white dish basins two Vaia fittings from Dornbracht have been installed in the bathroom. Their classic, cross-handle look connects geometric and soft contours, while tapered rosettes create a smooth transition to the wall. The Brushed Dark Platinum finish again contrasts strikingly with the light-coloured walls, yet has a soothing effect on the texture of the natural stone. In the shower and on the rim of the bath more matching Dornbracht products can be found.

In the spa area, Vaia fittings also have been used in the changing rooms, that are predominantly warm grey in colour. The touchfree version was chosen also in Brushed Dark Platinum. Thus, the earthy tone of the finishes also accentuates the understated interior there, and the colour is also precisely coordinated with the large mirror and cylindrical pendant lamps. The same combination can also be found in the massage rooms. By this, the Dornbracht fittings, with their balanced design language that combines classic and contemporary style elements, harmoniously augment the concept of the Botanic Sanctuary Antwerp: bound by tradition, but firmly anchored in the present.