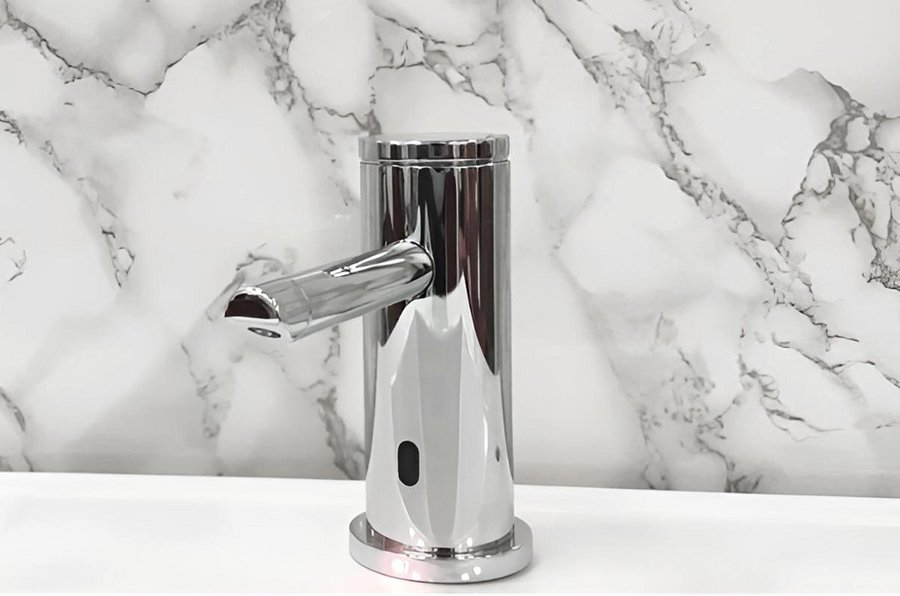 Modern technologies are designed to make our lives easier in many areas - including restrooms. Touchless fittings, for example, enable better hygiene, which is particularly important for public sanitary facilities. They also increase comfort and support ease of cleaning. All this also applies to the Topfill soap dispensers from Benkiser.

Equipped with cutting-edge sensor technology, the soap dispensers, which are aesthetically similar to touchless taps, ensure cleanliness and hygiene at the public wash place. As you approach the sink, an infrared sensor detects your hands within range and triggers the soap dispenser - no more pressing buttons or turning knobs. The touch-free operation, on the other hand, prevents bacteria and germs on surfaces and creates a clean as well as hygienic environment.

Low maintenance and easy to handle
One of the standout features of the Topfill is its easy maintenance and minimal need for manual intervention. According to Benkiser, the Topfill was designed with the intention of saving time, money and effort, it does not require frequent cleaning and refilling to ensure proper functionality. Sensor and automated dripless mechanisms reduce wear and tear, resulting in less downtime and cost savings over time. It is equipped with intelligent refill indicators making it easier to monitor and replenish supplies. Subtly placed LED indicators signal when it is time for a top-up. The dispenser cap conveniently opens to allow a soap refill from the top, hence the name Topfill. The reusable soap tank reduces waste by avoiding single-use plastics, while the top-filling mechanism is said to simplifies refill and maintenance work.

We appreciate a certain aesthetic in public WC and washrooms. That's why the touch-free soap dispenser can be adapted accordingly depending on every room design. The colour finishes Polished Chrome, Brushed Nickel or Matt Black contribute to a harmonious the room concept.