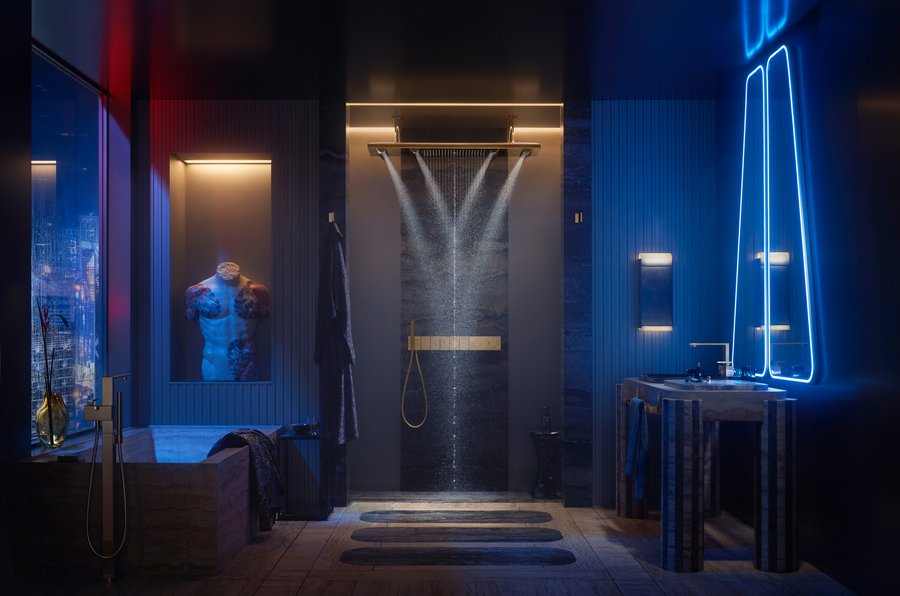 Normally, Paris-based architect Tristan Auer, who describes himself as an "interior and emotion" architect, creates singular interiors for his clients, tailored to their individuality. But what happens when the distinctive individual is bathroom planner and client at the same time?

An answer to this question is the unusual bathroom concept that Auer has developed as part of the Axor Distinctive project: a bathroom inspired by the aesthetics of the 80s and the film Blade Runner."For me, it was a gift to be able to do this project because it's always very interesting to work for myself," the architect explains and goes on: "I could be crazy and not have to please anybody or seduce anybody or teach anything."

Inspiration and implementation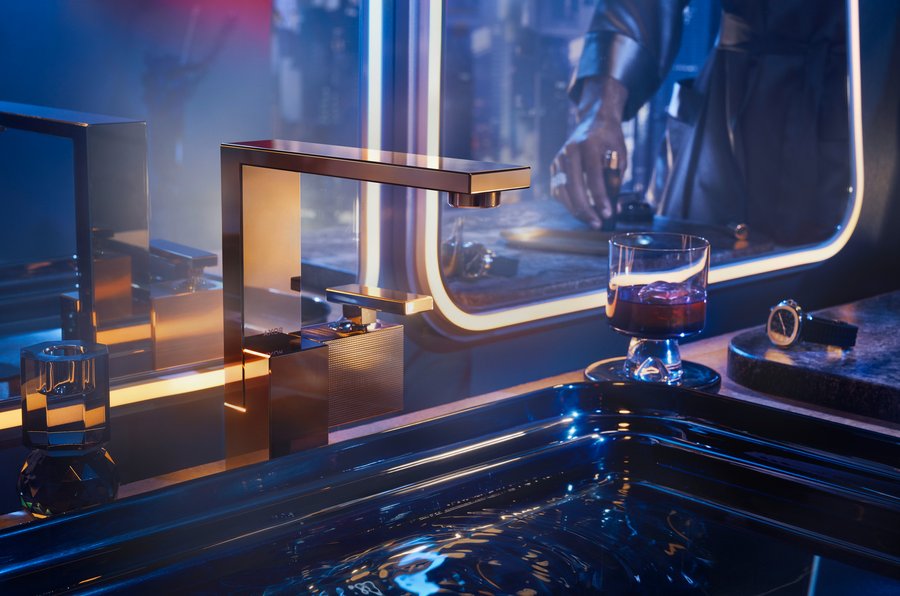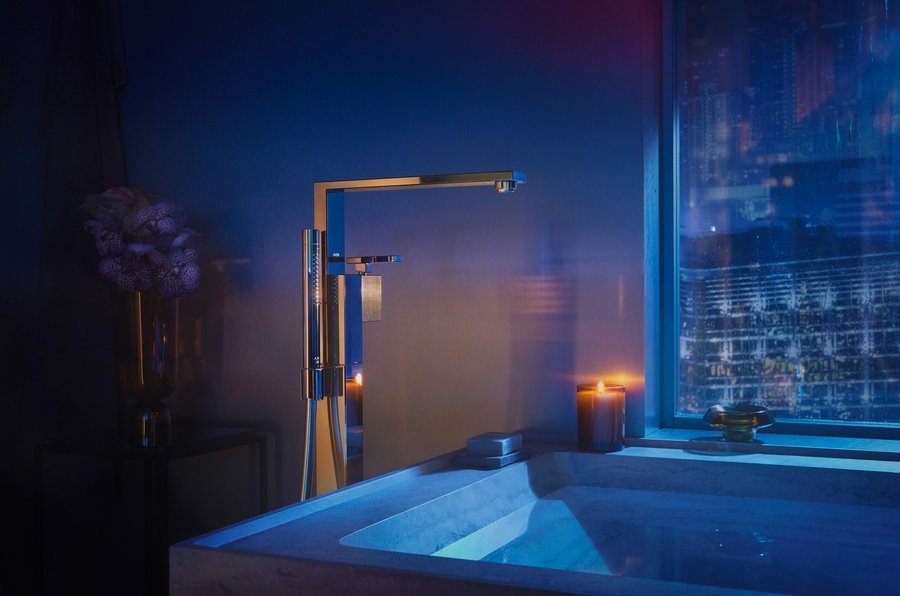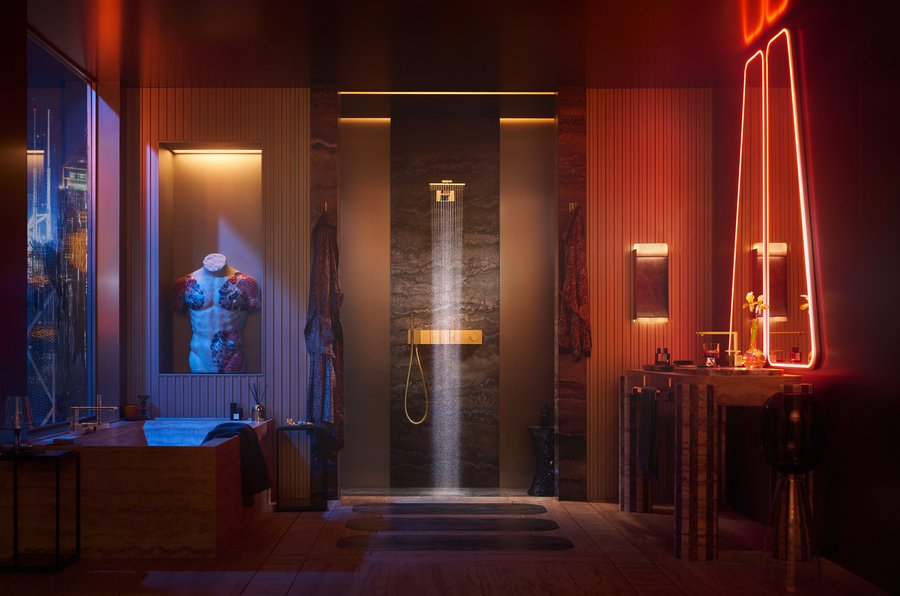 As someone who takes inspiration from place — not just the sights but the sounds, smells and textures — Auer was particularly excited about the brief's suggestion of a high-rise apartment in Hong Kong. It reminded him of a film from 1982, which has now become a cult: "You know 'Blade Runner' from Ridley Scott?" Auer asked. "Hong Kong is like that — something which is building on top of itself. Different layers. You have the crowd on the street level, and then, as you elevate, it's more and more futuristic. It's why I combine old antiques pieces with very modern textures."

One of the textures that Auer chose is the diamond-cut pyramidal pattern of the Axor Edge faucet by Jean-Marie Massaud. Finished in Polished Gold Optic, the Edge washbasin faucet and free-standing bath faucet set striking contrasts to the surrounding materials. The ShowerHeaven and the Edge thermostat on the other hand provide cutting-edge functionality within the shower area. And the use of the new Universal Rectangular Accessories designed by Philippe Starck adds a timelessly modern touch to the bathroom.

Building on the bold, clashing 80s aesthetic, the architect combines reflective stainless steel with neon lighting and offsets it with a graphic mix of light and dark travertine stone. "It's disruptive and very masculine," Auer says of the travertine and adds, "It's very 80s, as well. You know, you had some perfumes that were very strong in their masculinity. It was a little bit of a reference to this period." The personality that Auer's design applies to is unambiguous: "It's for a man. Definitely selfish. The guy is only thinking about himself. He likes to collect. He's a hedonist."

Bathrooms are rooms with a bath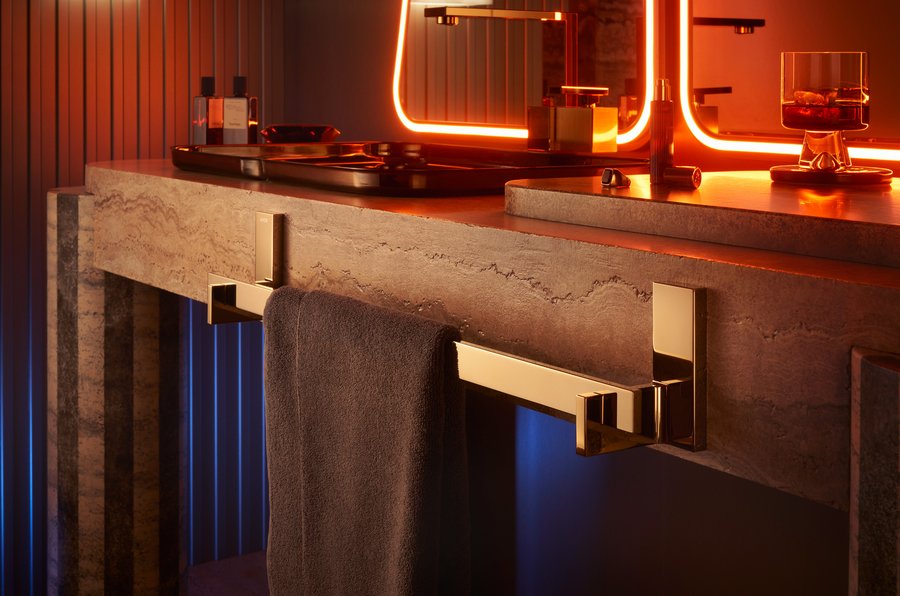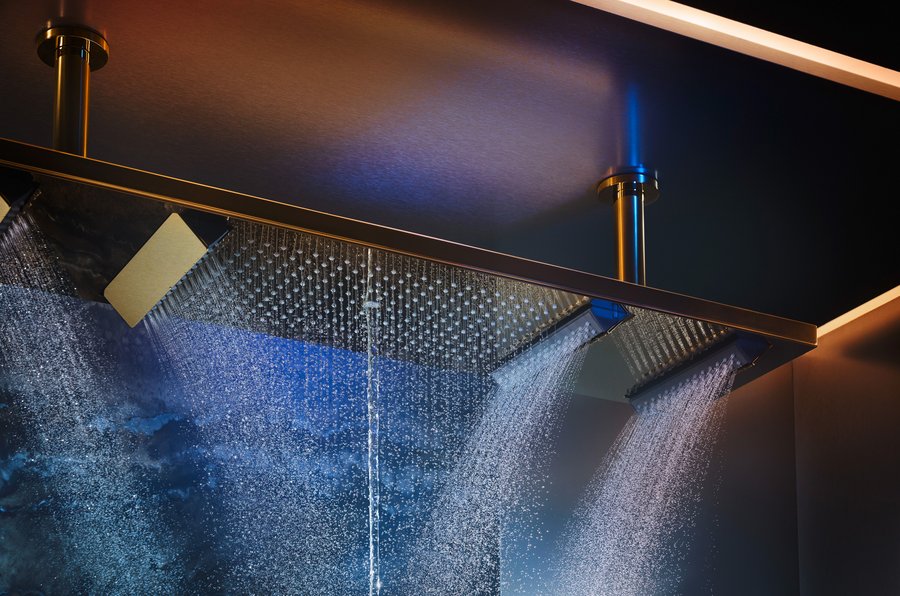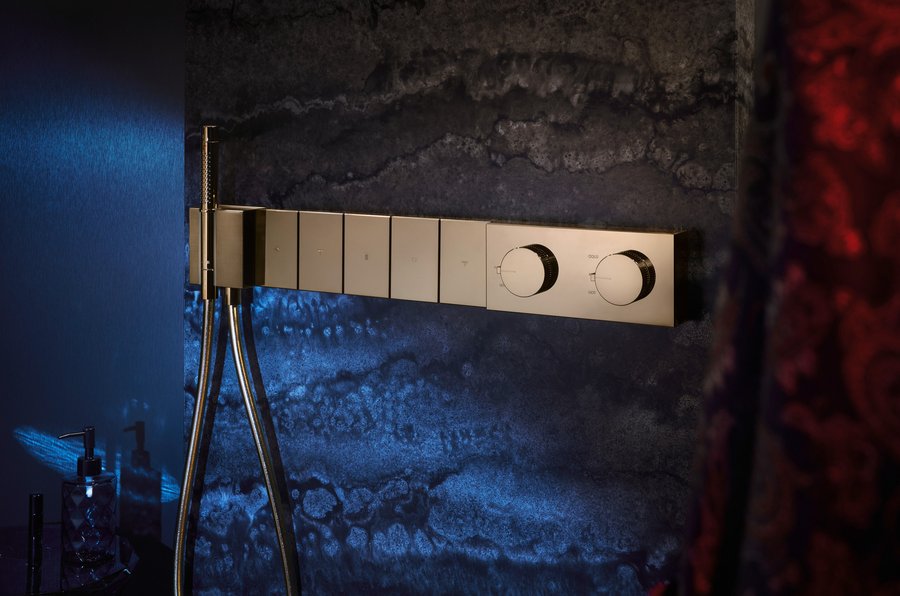 Been asked about his approach to bathrooms in general, Auer replies, "I prefer to say, 'room with a bath.' It's a real room where you do something — you live in it. That's why you need to have a niche for arts — maybe a painting, maybe some object that's usually found in your living room. So, let's bring it in the bathroom! That's also why I design freestanding washbasins — it's a piece of furniture."

But whatever space Auer is designing for, from bathrooms to tailored car interiors, he makes clear that individualization is at the heart of his process. "I started my career first with Christian Liaigre, which was totally bespoke at that time, and I learned to design everything — every single door handle. I know the artisans. I know the process. And individualization is very interesting because, for me, that's luxury, to have something made for you. And that changes everything. When you have something made for you, you just need it once. So, it's going in the right direction for not consuming too much. And you're working with the people who have the know-how, who are artists and craftspeople."

Auer, who is renowned for the sensuality of his designs and for his vibrant mixing of colours, lights and eras, never imposes a style on his clients, among whom are some of the world's most famous — and distinctive — personalities. Rather, he studies them and draws inspiration from them for his designs. At the end, "Distinctive" to him means being an influencer and not a follower; to trust oneself, ones own taste, and to assume and show it, but more in a sort of dandy approach, so that it´s not about showing off and telling people, "I'm better than you", but just to say, "Okay, I'm like that".