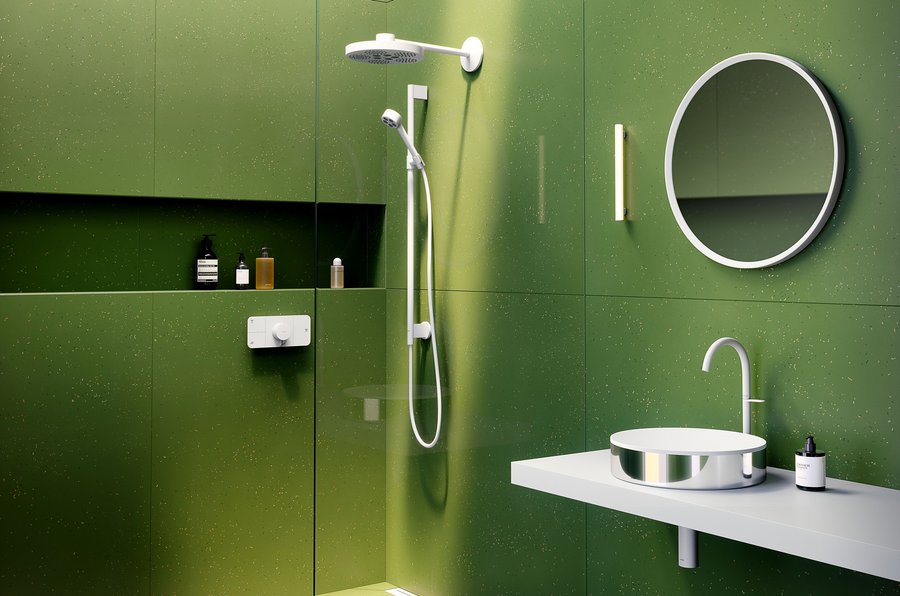 How can a bathroom convey spaciousness and luxury on a small floor plan? Axor posed this question to the London-based design studio Barber Osgerby. The answer: "Skyline", a concept for a narrow, elegant bathroom in a penthouse flat in London. Fitted with Axor One bathroom mixers and Universal Circular Accessories, which they designed, Skyline embodies a personal version of well-being in a small space.

Skyline is just seven square metres in size and designed as part of a London penthouse. "The project was inspired by the move towards more compact living," Jay Osgerby, one half of the acclaimed design duo, explains. "It's a move away from the huge, lounging, spa-style bathrooms that we've come to know from the top-end of the market over the last few years, into creatively addressing compact spaces, particularly in urban environments." To maximize the sense of spaciousness, Barber Osgerby have relied on natural light, so that the bathroom features a floor-to-ceiling window, as well as a large skylight above the shower. "It's about being clever with the space, by flooding it with light and offering views," Osgerby says.

Creatively addressing compact spaces and bathrooms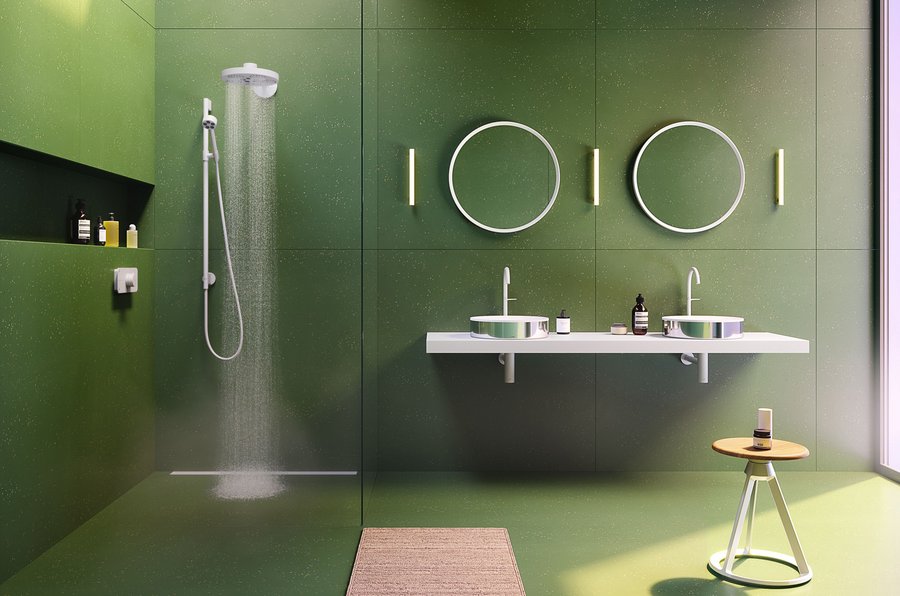 Colour also plays an important role in the Skyline concept, although Barber Osgerby have departed from current trends in their thoughtful use of it. "The tendency is often—particularly at the moment—that you paint one wall in one colour, you leave another wall in another colour, and you have a big picture on the other wall," Osgerby notes. "And in a compact space, it doesn't really work." As an alternative, the designers went for an all-over monochrome green, created with tiles from their Primavera collection for Mutina. The tiles' soothing tone assumes multiple roles: "In terms of colour theory, green is obviously the most calming colour," Osgerby says. "It's a reference to nature. But at the same time, in this instance, it gives us the ability to have one palette which unifies the entire space."

The green of the tiles allows for an astonishing visual contrast with the all-new Matt White surface finish of the Axor One fixtures and Universal Circular Accessories. In the context of the bathroom, white has long been identified with hygiene and cleanliness, and the Matt White finish infuses these associations into the fixtures. "With Axor One, we've taken what's really needed and made it into the most refined object we possibly can," Jay Osgerby notes, "and for us, the Matt White finish actually exemplifies this in terms of its purity, simplicity and calmness." Both collections, the fixtures and the accessories, are now available in an array of colour finishes, all curated by Barber Osgerby, but Matt White was particularly suited to the sense of serenity that Skyline aims to conjure.

Choice of colour as a central theme of individualisation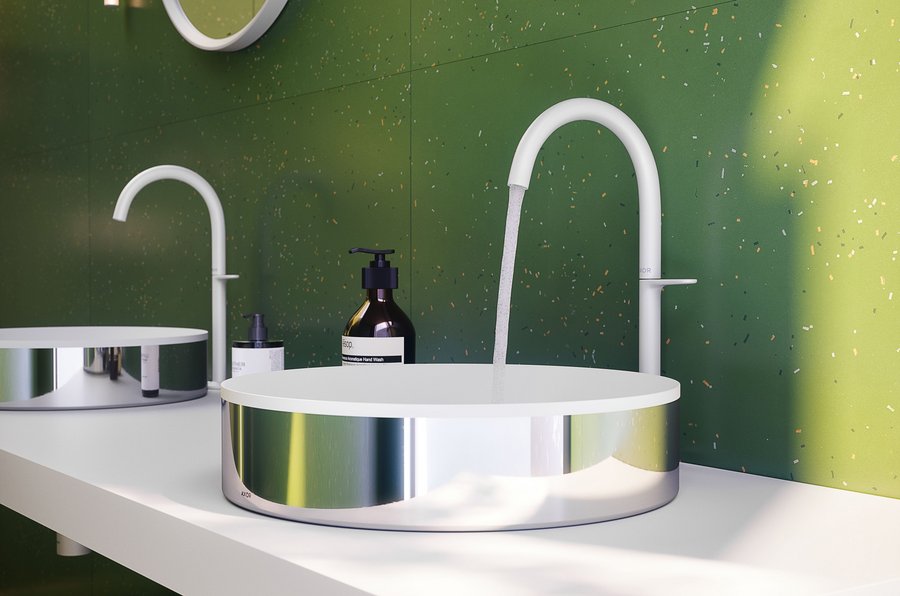 Axor's "Make it yours!" campaign, which includes the Skyline bathroom, addresses colour selection as a central theme of the megatrend individualisation. The choice to use the colour Matt White across the bathroom, as Barber Osgerby have done with their Skyline concept, aims to allow for a truly individualized expression, without compromise: Matt White appears not only on all fixtures, from washbasin faucet to showerpipe to thermostatic module, but on all accessories, as well, from towel hooks to shelves to mirrors and the Drain. This results in a unified aesthetic in service of the overall sense of calm the designers sought to create as Osgerby adds: "The bathroom has always been talked about as being a sanctuary. And I don't feel like that's really gone. These spaces are one of the few spaces that give you sanctuary from the craziness of life."

A personal vision of luxury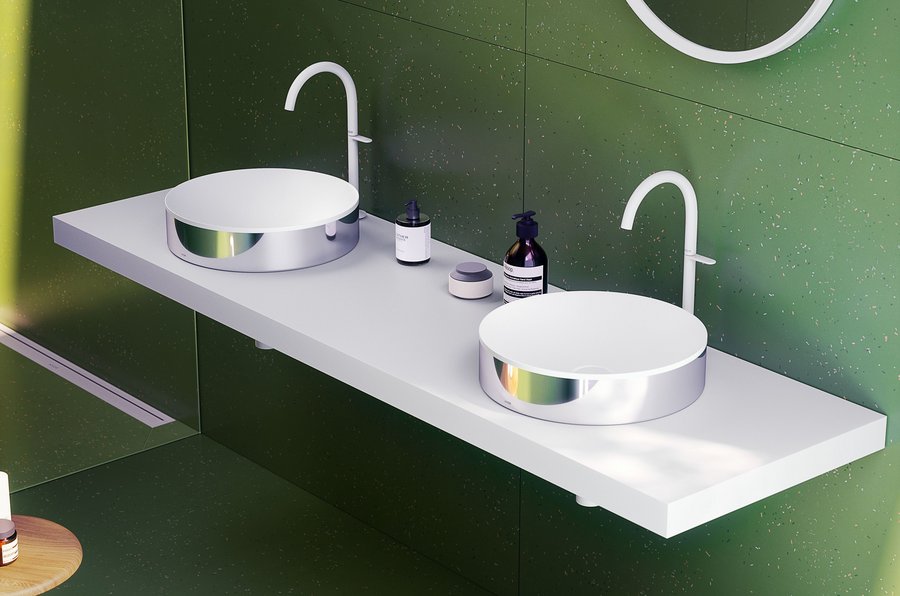 A harmonious space of understated beauty, offering retreat from the busy metropolis, Skyline speaks directly to Osgerby's personal idea of luxury. Thus, the designer declares, "Luxury is time, advancement, space and travel. And some of those things we can get in [Skyline]. The idea of being able to remove yourself — of having time and space to think — it's luxury." And when asked how personalisation plays into this idea of luxury as well-being, Osgerby replies: "If you're able to be in a lucky position to create your own environments, then you're living in your own painting, you're living in your own artwork, aren't you? And hopefully, if you're happy with what you've created, you can feel content, which naturally means that you can relax."

Asked about the client Barber Osgerby had in mind with this highly personalised bathroom concept, Jay Osgerby says: "I think a lot of designers spend a lot of time saying how they design for the market, but we can't really do that." And he continues, "Actually, we design for ourselves. In our studio, I think we're all unified in this. If we don't make something or produce something we wouldn't want to live in or use, it just doesn't happen. We're not a design consultancy, you see. We're people who design things that we love."