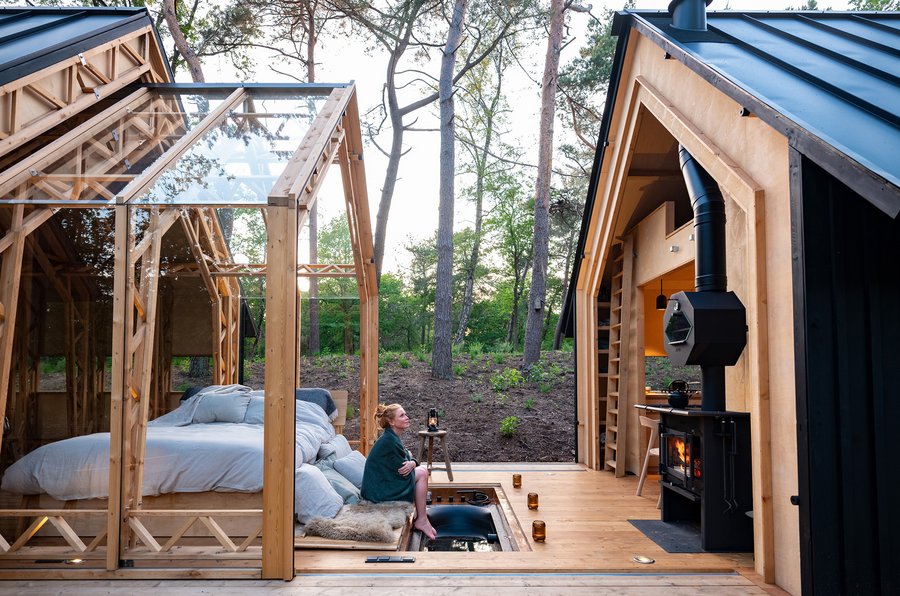 During his time as a scholarship holder in London, the designer Caspar Schols had the idea for a new house design. Based on his "Garden House", which he had designed for his mother, it was to be a fully habitable house that could be built and rebuilt anywhere in the world. The original spirit of flexibility and connection to the environment was to be preserved. After some experimentation, the Nature House "Anna" was born.

Equipped with two protective sliding shells, Anna allows you to open up and become part of your surroundings. An inner shell is made of double glass, with an outer shell made of wood. By adjusting the two shells, Anna changes and adapts to weather, moods, or occasions, making it possible to connect to a reality in which in Schols` eyes we naturally belong. The cabine has a fixed part which houses a kitchen, shower, toilet, and storage space. The bath in the main space is the heart of the cabin.

Bathtub as the focal point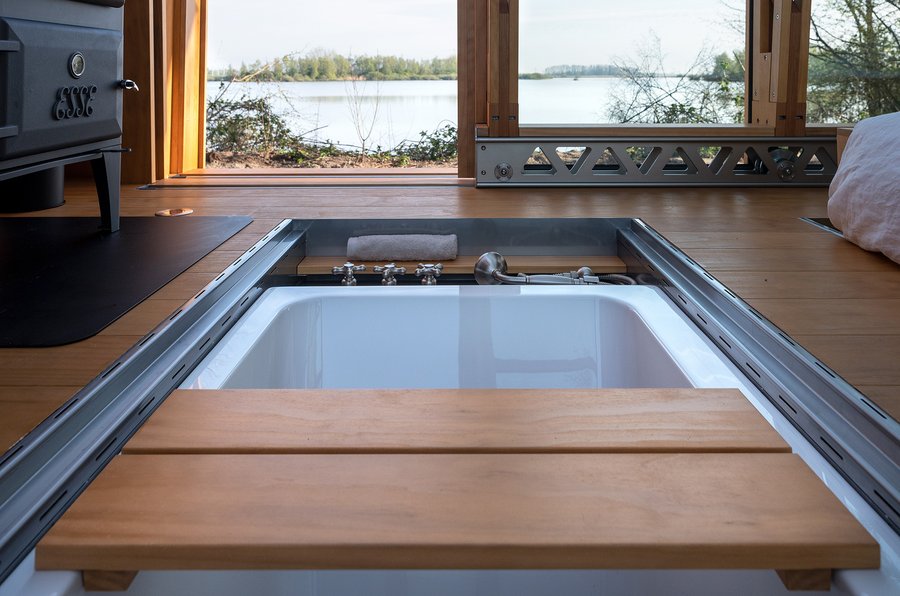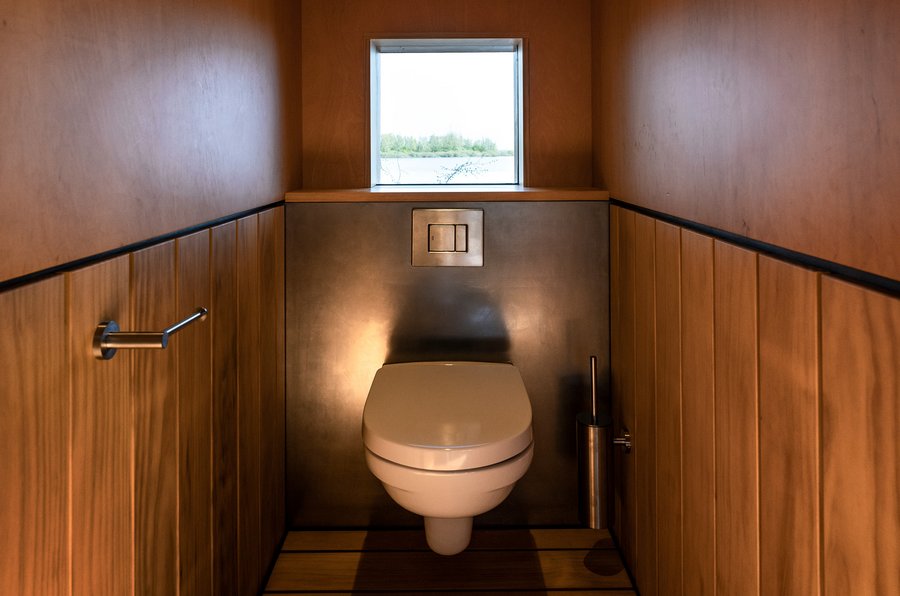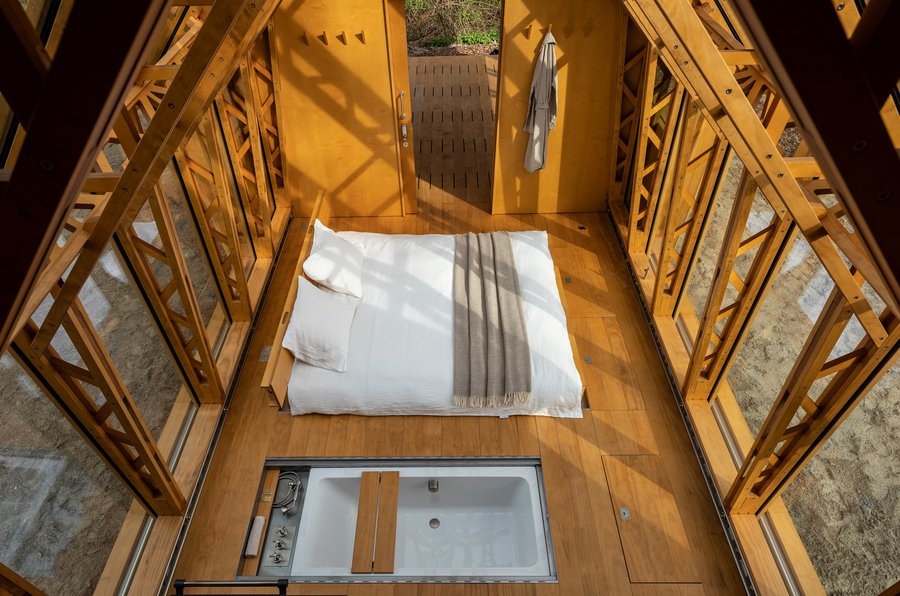 Anna has an indoor bathroom with shower and separate toilet. The bathtub with fittings is fully integrated into the floor area. Providing a feeling of security, as people experience as babies in their mother's womb, but also for the feeling of reconnecting with Mother Nature on a deeper level.

For a natural experience and an embraced feeling, the shower and toilet area is also finished of sustainable Accoya wood. In the toilet area, the O. novo toilet by Villeroy & Boch was installed in combination with the Grohe Skate Cosmopolitan actuator plate, which offers not only its classic design but also the latest flushing technology. Thanks to the offered 2-volume rinse it is possible to choose between a rinse volume of 3 or 6 litres.

Anna is finally an open dynamic platform that allows users to play with its configuration, depending on their needs or moods. The cabin features three main shell configurations: closed; open center; and open center with glass roof. Users can decide on the amount of space they want to have exposed, covered or just transparent.

Sustainable design for natural recreation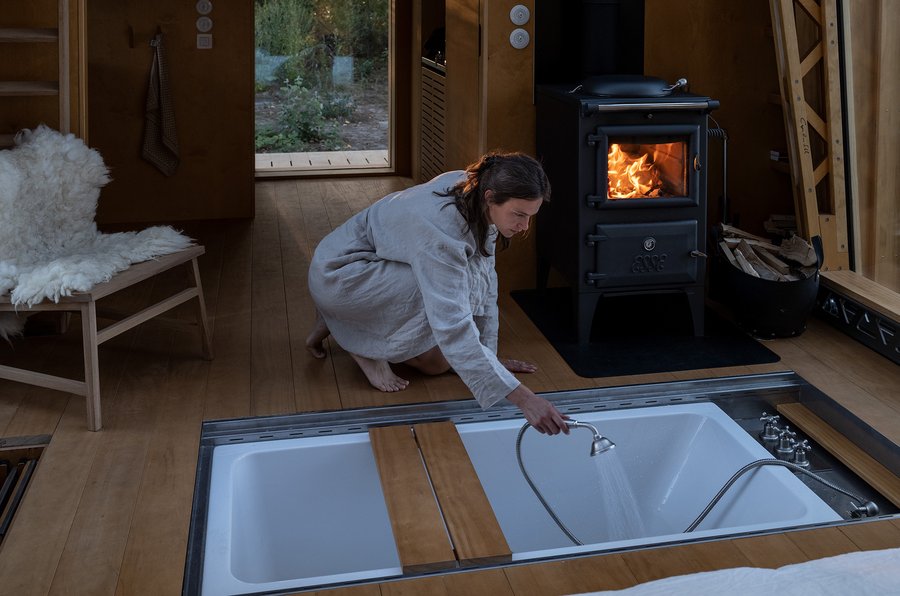 For the building for Anna Schols used Birch ply for its high quality and light colour, insulated with five centimeters of sawdust. The cabin is heated by a wood stove, but there is an option to install electric heating. Overall, Anna Stay can accommodate up to two king-size beds. The cabin is also available in a self-sufficient off-grid version with a fire-heated boiler, solar system and wastewater treatment plant. The off-grid version is currently only available in the Netherlands. In Addition, the cabine is modularly developed, which results in short construction time on site and minimal ecological disruption.

Anna not only wants to connect people, but also to establish a relationship with nature. In our hectic times, which can increasingly lead to exhaustion, burnout and depression, a stay close to nature without barriers such as walls or roofs is intended to get recovery processes going faster - living as a natural antidepressant, as it were.