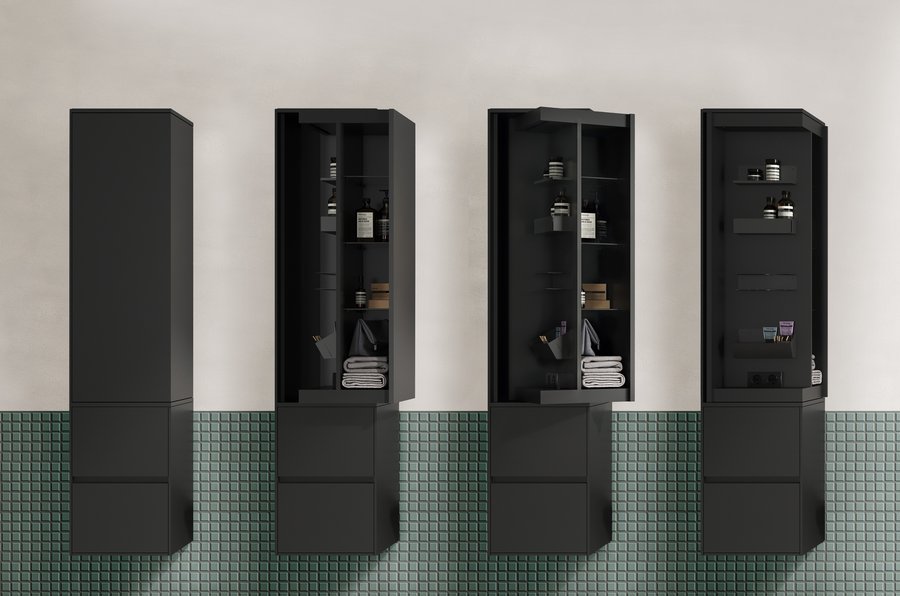 One finger is all it takes to turn a closed bathroom cabinet into a shelf. The prototype of the revolving cabinet from Burgbad presented at ISH 2023 in Frankfurt is set to become a storage revolution. A new fitting technology developed in cooperation with Hettich, will increase the scope for personalisation of the rc40 range with a feature that allows bathroom accessories to be hidden out of sight, staged as eye-catchers or kept within convenient reach in one easy move.

The modular system rc40 was originally developed to give the bathroom a cosier feel and create fluid transitions with neighbouring areas of the home, and Burgbad has been constantly updating and enhancing the collection since 2005. Now the cabinets in the range are getting a further update with the FurnSpin fitting from Hettich:a curved guidance system means that the tall or side cabinets can rotate their interior around its own axis and swivel it to the outside, thus permitting convenient access to the rear sections of the cabinet – and therefore to the bottles, baskets and utensils that were not so easily accessible until now. And the interior can be concealed again just as quickly as it was exposed. Then all you see is a totally inconspicuous, handleless cabinet front.

Optimised storage space: an innovative mechanism brings even the most inaccessible corners to the front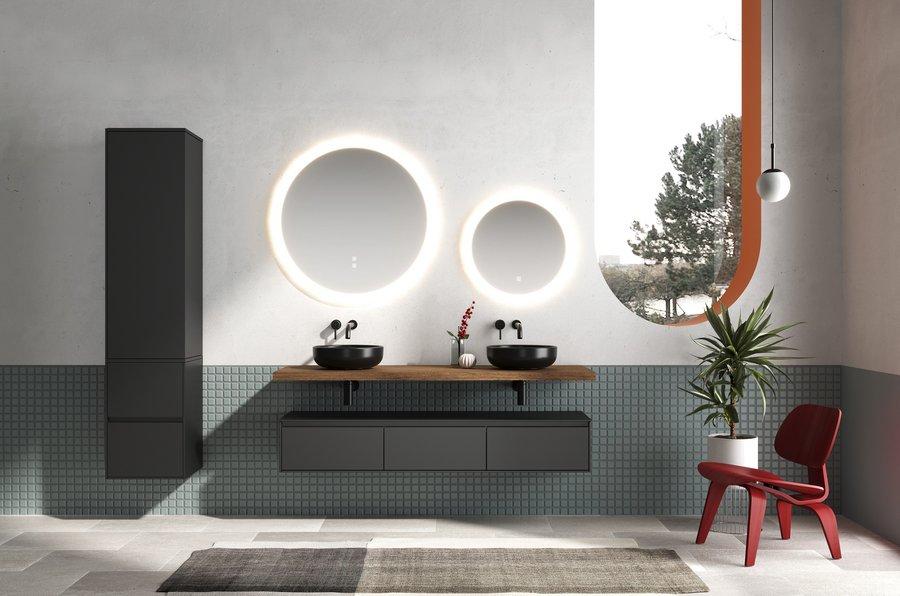 The principle behind the innovative opening mechanism is both simple and astonishing. With an effortless rotating motion, a square cabinet interior turns 180 degrees, only veering minimally from its vertical axis. The torque is so well calibrated that not even precious items like bottles of perfume slide out of place. It's all possible thanks to an innovative patented mechanism that is concealed in the double base and top panels. Because the interior only veers minimally to the front and side when swivelled, the wall-mounted cabinet can be added to other elements and integrated into the overall arrangement – on either side of the vanity unit, for instance.

Personalised storage: the 3-in-1 cabinet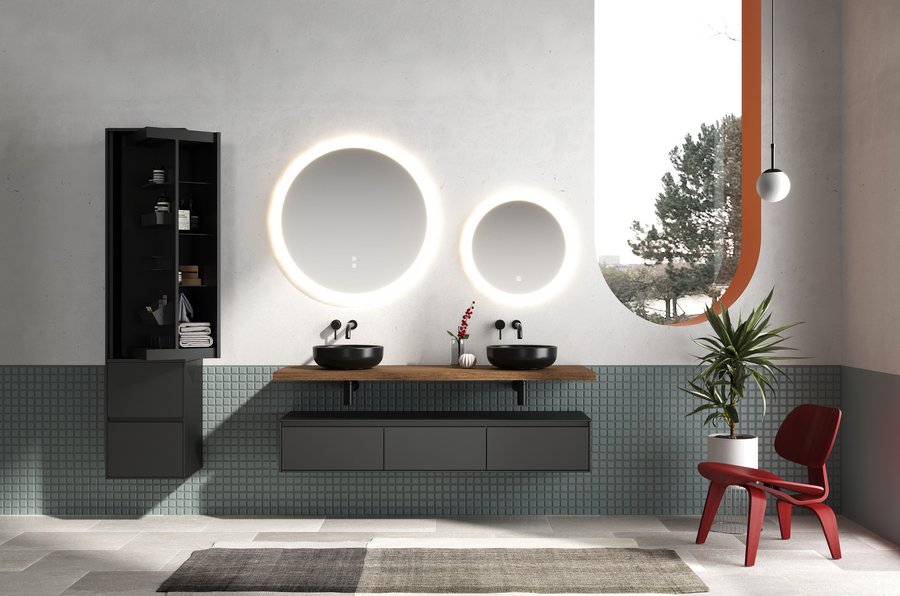 The new rc40 cabinet will be available both as a mid-height model and a tall unit – in both right-opening and left-opening versions. Two different designs are available for the interior: the more classic version features open shelves with lots of space for towels and utensils, while the other option has a vertical partition that divides the module into two asymmetric sections. On one side there is a single deep compartment for storing tall items and textiles, while the other side is equipped with shallow shelves and storage boxes. In both cases, opening the cabinet moves the rear section to the front and brings the entire contents of the cabinet within convenient reach. Optional lighting that switches on or off automatically when the cabinet is swivelled stages the contents to great effect, simplifies daily grooming routines and can be used to provide emotional ambient lighting.

Creative solutions for bathroom planning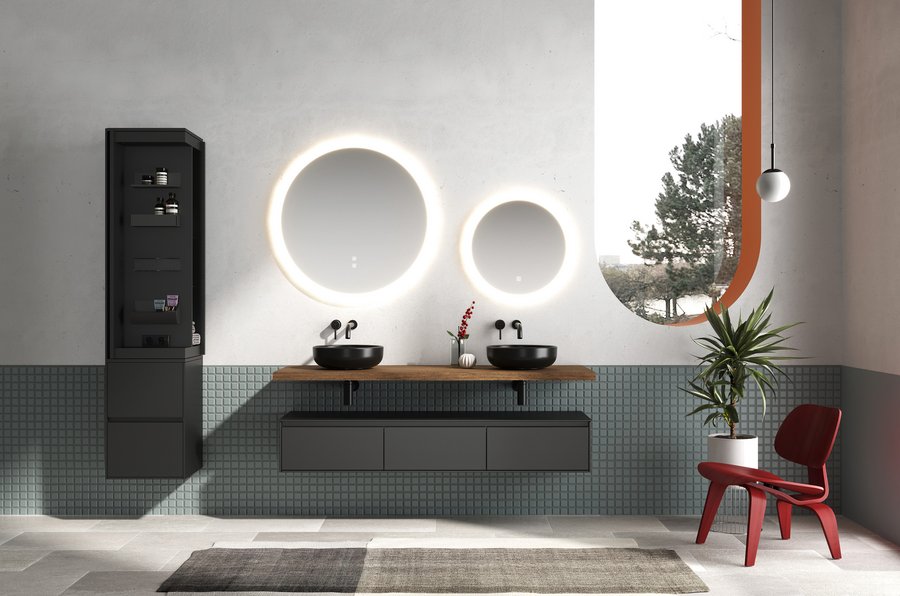 The swivel cabinet from rc40 Solitaire cuts a fine figure in any setting and is just as suitable for small bathrooms as it is for large, impressive spaces. Because it provides a space-saving option for optimising storage, it brings a new level of design to professional bathroom planning and is ideal for individual solutions and challenging layouts.

"The new cabinet module from rc40 Solitaire isn't just a storage revolution, it also stands for a new kind of collaboration and innovative development processes that bring us closer to our partners and customers," explains Sabine Meissner, head of marketing at Burgbad. "The cabinet module was developed in a co-creation process with Hettich, for instance, and we've decided to preview it at ISH 2023 before it's launched on the market. This approach means we can take our customers' feedback into account when we're working on complex innovations and user-centred design." The new cabinet in the rc40 Solitaire range is expected to be available in the first quarter of 2024.