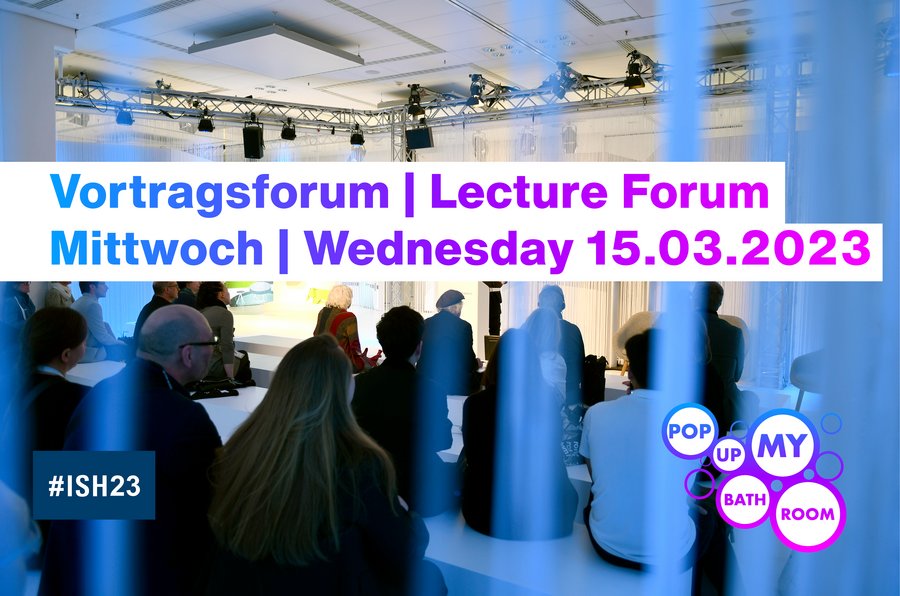 In the middle of the week, the Pop up my Bathroom Atelier lecture forum at ISH 2023 is all about emotions. Be it in terms of bathroom planning, lighting design or bathroom exhibition. Our bathroom professionals will show the emotional side of the bathroom. But the importance of showrooms for the trade and retail sector will also be highlighted. In addition, the focus is on sustainability in relation to home and building technology. The CEOs of burgbad and Kermi will be guests at the CEO Talks. But as usual, we start the day with the 10 most important trends in the bathroom.

10:00-10:30 h: The 10 most important trends in the bathroom
Speaker: Frank A. Reinhardt (FAR.consulting)

With the daily lecture on the 10 most important trends in the bathroom, the Pop up my Bathroom Atelier starts its fifth edition. Which trends influence the function and appearance of the bathroom? Trend researcher and design journalist Frank A. Reinhardt describes the four current ISH trends - Emotional, Sustainable, Wellbeing and Tiny Bathroom - and identifies the developments that are relevant for the bathroom.

10:45-11:15 h: The bathroom showroom as a success factor for the trades and dealers
Speaker: Christian Wadsack (Hofmann + Wadsack Innenarchitektur)

What makes an exhibition successful? Does it fulfil the customers' expectations? How can it profitably support sales? And what role does the product on display play in this? Questions upon questions that interior designer Christian Wadsack will answer in his lecture. He also takes a differentiated look at the differences between showrooms in the trade and in retail. His current ERFOLGS_RAUM system shows the future of the bathroom showroom. With almost 30 years of experience in the industry, Christian Wadsack can draw on the planning and realisation of numerous sales and presentation rooms.

11:30-11:50 h: CEO-Talk with Stefan Sallandt (burgbad)
Host: Nikolaus Klein (SHK-TV)

After starting his career at an e-commerce start-up, Stefan Sallandt joined Procter & Gamble as Key Account Manager in 2001. His many years there took him through several stations in sales and marketing. Since 2019, he has been active as a company founder and contributed his sales and marketing expertise to various companies as Managing Director and Senior Advisor. On 1.7.2021, he took over the management of burgbad AG. At the CEO Talk, Stefan Sallandt talks about burgbad's pioneering role in sustainability, individualisation, architecture and interior design in the bathroom.

12:00-12:30 h: For a better future: Responsible use of water as a resource
Talk guests: Susanne Petry (Pier F), Leona Vervoort und Marcus Staudt (beide Duravit)

Host: Dennis Jäger (SBZ)

In 2015, the UN adopted the so-called Sustainable Development Goals (SDGs), 17 goals for sustainable development. Goal No. 6 states: The availability of clean water and sustainable sanitation should be ensured for all people. Against this background, Susanne Petry, Leona Vervoort and Marcus Staudt discuss topics such as water scarcity, the responsibility of business and urban planning, sustainable bathroom and sanitation planning - and what, for example, the Frankfurt Sustainability Centre PIER F and the complete bathroom manufacturer Duravit are already doing today.

12:45-13:30 h: Industry talk: Creating a bathroom showroom with emotional appeal
Talk guests: Christian Wadsack (Hofmann + Wadsack Innenarchitektur), Philipp Beck (atelier 522) und Christian Zinser (TCZ), Thorsten Moortz (handwerk.live)

Host: Jens J. Wischmann (VDS)

With the development of the bathroom from a purely functional to a lifestyle space, the aesthetic performance component has increased significantly in recent times. Circadian lighting control, multi-sensory shower experiences and smart networking make the bathroom an increasingly technical space that simultaneously conveys emotions. How can this emotionality be implemented in showrooms in trade, industry and commerce? And what technical aids support this?

13:45-14:15 Uhr: Emotional lighting design in the bathroom
Speaker: Thorsten Moortz (handwerk.live)

Creating a completely new living ambience in the bathroom with different, even coloured, light sources - a few years ago, this was only possible with a great deal of planning effort and a high budget. Today, it is very easy to combine different luminaires and to control them via a programmable scene. Even the planning effort can be reduced to a few minutes with the appropriate know-how. In his lecture, Thorsten Moortz shows exactly how this can work. Light thus becomes an added value for customers and a unique selling point in bathroom planning.

14:30-14:50 h: CEO-Talk with Reiner Habermann (Kermi)
Host: Inga Wegemann (SHK-TV)

Reiner Habermann has been appointed Managing Director of Kermi GmbH for Marketing and Sales of the Glass Solutions Business Unit with effect from 1.1.2022. Employed by Kermi since 1993, he has held various management positions in national/international sales - the last few years as Head of Sales Kermi Sanitär worldwide. In the CEO Talk, Habermann talks about the relevance of glass quality in shower enclosures, shower design solutions and the Central Association of Sanitary Heating Climate campaign Time to Start.

15:00-15:30 h: Age-appropriate, barrier-free, care-friendly: three models for bathroom remodelling
Speaker: Daniela Heinemann (ABB)

Many demands are made on today's private bathroom: It should be just as suitable for comfortable and long-lasting self-determined use as it is for the care of young or elderly people. All of this should be achieved in a small space and with a pleasant design, so that concerns such as relaxation and well-being are not neglected. How can the conversion to such bathrooms succeed and what needs to be considered when it comes to age-appropriate, barrier-free or care-oriented wellness oases? Answers to these questions will be provided by Daniela Heinemann, speaker for the Barrier-Free Bathroom Campaign, in her lecture.

15:45-16:30 h: Trend Talk: Emotional Bathroom
Talk guests: Torsten Müller (TM Designbad), Dirk Engelhardt (Geberit) and Andre Höbling & Tanja Maier-Römlein (DeinCreativLab)

Host: Jens J. Wischmann (VDS)

The bathroom has long since become a place of well-being in our homes. However, planning and implementing a bathroom is a complex process that is traditionally technically determined. But ultimately, bathroom use is about one thing above all: pure emotion. The panel discusses how these emotions can be realised in terms of lighting, product use and bathroom design.

Here you can find the other daily schedules: