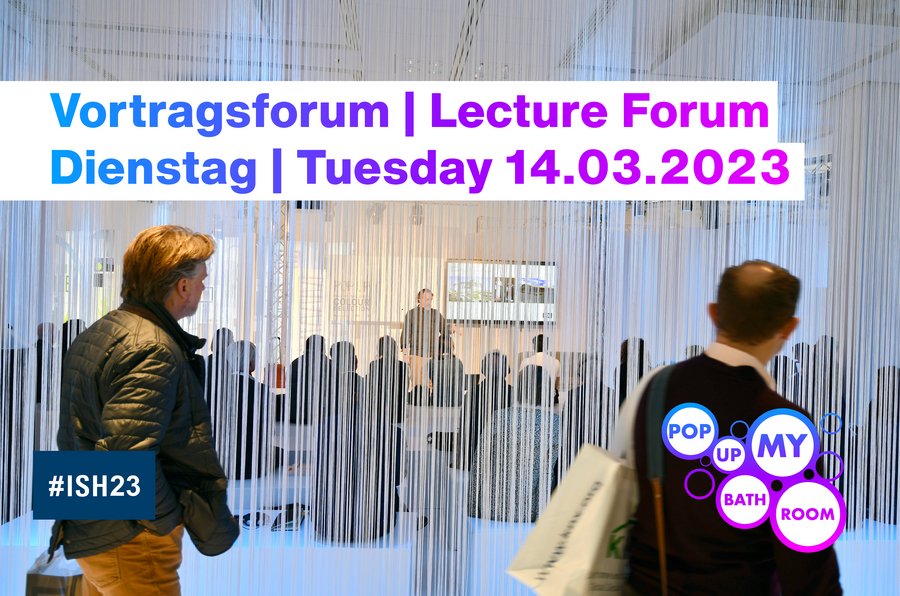 On the second day of the ISH, the Pop up my Bathroom Atelier lecture forum will once again offer a full programme. Today's focus is the Speed Briefing, where 10 exhibiting companies will have the opportunity to present their ISH highlight in a short presentation. The programme will also begin today with the 10 most important trends in the bathroom. In the CEO Talks on Tuesday, the CEOs of hansgrohe and Duravit will answer the questions of the SHK-TV presenters. The Trend Talks will focus on wellbeing and colours in the bathroom, a topic that will also be treated as an impulse lecture. A lecture on bathroom design in different cultures rounds off the day's programme.

10:00-10:30 h: The 10 most important trends in the bathroom
Speaker: Frank A. Reinhardt (FAR.consulting)

With the daily lecture on the 10 most important trends in the bathroom, the Pop up my Bathroom Atelier starts its fifth edition. Which trends influence the function and appearance of the bathroom? Trend researcher and design journalist Frank A. Reinhardt describes the four current ISH trends - Emotional, Sustainable, Wellbeing and Tiny Bathroom - and identifies the developments that are relevant for the bathroom.

10:45-11:15 h: The latest colour trends in the bathroom
Speaker: Dr. Hildegard Kalthegener (Farbstudio Dr. K.)

Gentle, sweet and soft or as strong as stone, playful and feminine or functional and minimalist, mysterious and rich in atmosphere - the enormous potential of colour design in the bathroom can be lived in an extremely versatile way. Dr. Hildegard Kalthegener (Farbstudio Dr. K.) provides current insights into colour developments for walls, objects and fittings: a basis on which the audience can decide which trends suit them individually and which they can safely skip.

11:30-11:50 h: CEO Talk with Hans Jürgen Kalmbach (hansgrohe)
Host: Inga Wegemann (SHK-TV)

Hans Jürgen Kalmbach has studied business administration and began his career in the Hansgrohe Group in 1998. Since then he has held several national and international management positions. In 2015, he was put in charge of the global project business. At the CEO Talk Hans Jürgen Kalmbach talks about Celebrate Change, collaborations with renowned designers and his company's "green vision", among other things.

12:00-12:30 h: Bathroom design in different cultures
Speaker: Erdem Akan (VitrA Bad)

Bathing culture can be traced back to very early ages of human history. The inventions in the last two centuries led us to the modern bathroom as we know it today. Bathroom design has been shaped by many factors, mostly technical limitations. However, it is important to take cultural aspects into consideration as well. Every country has its own traditions and take on self-care. In his lecture, Erdem Akan takes a look at the different bathing cultures.

12:45-13:30 h: Trend talk: Colours in the bathroom
Talk guests: Eva Marguerre & Marcel Besau (Studio Besau Marguerre), Dr. Hildegard Kalthegener (Farbstudio Dr. K.) und Saskia von Schroeter (Wohnidee)

Host: Frank A. Reinhardt (FAR.consulting)

In 2019, the Colour Selection at the ISH heralded a new colour era for the bathroom. Since then, the industry has responded to the desire for individually designed bathrooms with a growing variety of surfaces. In addition to wood, natural stone and new types of metallic surfaces for fittings, furniture and accessories play a particularly important role. But lacquer finishes in all RAL colours in matt or high gloss are also quite common. In the Trend Talk Colours in the Bathroom, we take a look at current developments and venture a glimpse into the colourful future of the bathroom.

13:45-15:30 h: Speed briefing: 10 exhibitors from The Bathroom Experience present their ISH highlights
Host: Lars Mörs (FAR.consulting)

10 exhibitors, their ISH innovations and 8 minutes to present them. Whether in front of the wall or behind the wall, whether a new furniture collection, an innovative fitting or a groundbreaking new material: the speed briefing offers a perfect overview of the highlights of ISH 2023 in a compact form. Who will all be there? Let us surprise you.

15:45-16:05 h: CEO-Talk with Stephan Tahy (Duravit)
Host: Nikolaus Klein (SHK-TV)

The Supervisory Board of Duravit AG has appointed Stephan Patrick Tahy as CEO of Duravit AG as of 1 July 2022. Previously, Patrick Tahy was CEO of De'Longhi GmbH Germany and Vice President and General Manager at Mattel Inc. The father of two was born and studied in Heidelberg. In an interview with Nikolaus Klein (SHK-TV), Stephan Tahy talks about the trade fair motto "extra colours. extra materials. extraordinary design.", digitalisation in the bathroom and dealing with the Corona pandemic, among other things.

16:15-17:00 h: Trend Talk: Wellbeing Bathroom
Talk guests: Arndt Papenfuß (Kludi), Ute Wanschura (BV Schwimmbad & Wellness), Wolfgang John (Port 1)

Host: Jens J. Wischmann (VDS).

Wellness has been a keyword for years when it comes to turning one's own bathroom into a private spa. However, if you look at the bathroom holistically, other components are added to "wellness": mindfulness, taking time, being active, a tidy home, healthy eating, simplicity. The panel discusses wellbeing as a lifestyle trend that not only seeks relaxation but also promotes meaningful activities and how the home bathroom can support this trend?

Here you can find the other daily schedules: