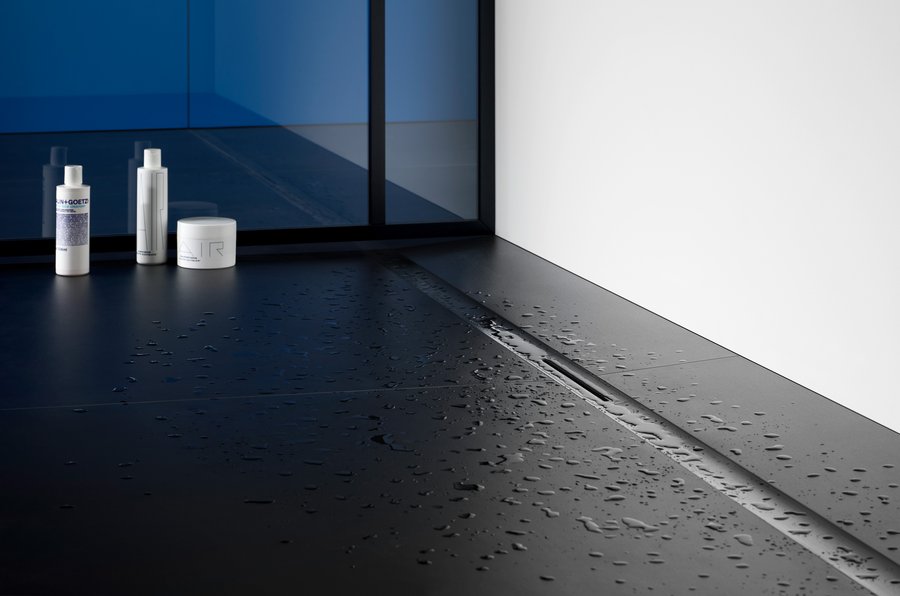 Whether fittings, bathtub or washbasin - black in the bathroom remains trendy. That's why a black eye-catcher should not be missing in the shower area either. The shower channels and grates from Dallmer's Black Edition are designed to add another element to the black bathroom.

Dallmer achieves the elegant black using different techniques, depending on the product: the resistant black PVD coating of the CeraFloor Select and CeraNiveau shower channels from the DallFlex shower channel family was originally developed for heavily stressed parts of sports engines. Now it is to show its strengths in the bathroom as well.

The CeraFloor Select Duo is the first black stainless steel shower channel that can be produced in lengths of up to two metres with a high-quality PVD coating. This means that Dallmer now also offers the option of adding a coloured accent to extra-wide shower areas - whether as a central, decentralised or wall-mounted installation within the shower area. In combination with the Duo drainage housings from the DallFlex system family, safe drainage with increased drainage performance is guaranteed. The already integrated cross slope directs the water on the rail directly to the drainage point.

Black matt lacquered grate for point drainage
Those who opt for point drainage in the shower do not have to do without black either. Dallmer also offers grates in matt black to match the latest DallDrain floor drain range. The coloured grates of the DallDrain ColourCollection are available in the dimensions 100 x 100 mm and 120 x 120 mm. They extend the range of attachments of the system family. Even those who have already installed a DallDrain system can add a visual accent with a black grate.