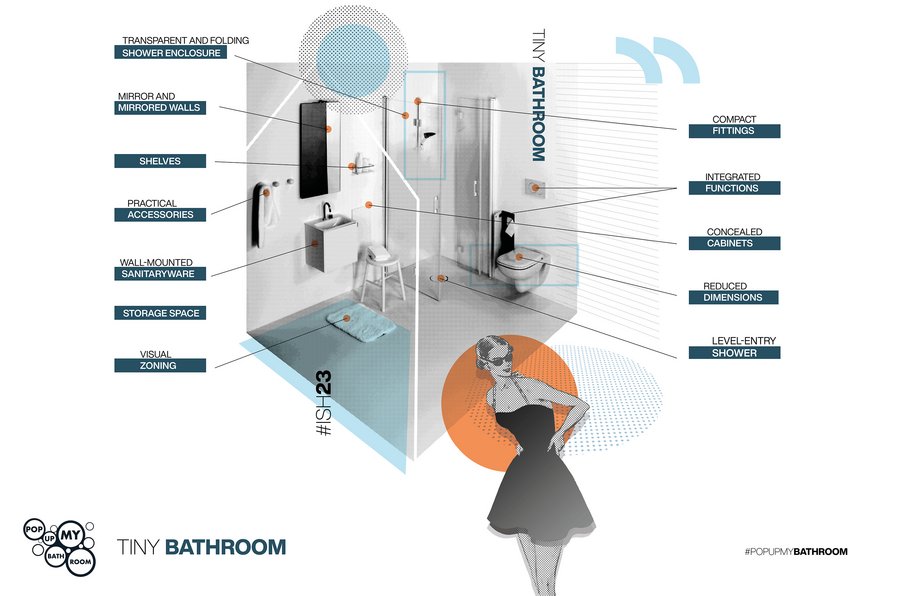 The trend towards compact bathrooms for urban homes is prompting the industry and bathroom planners to develop innovative solutions specifically tailored to small spaces. Combining the highest standards of comfort and convenience with a new modesty, the Tiny Bathroom is emerging from its niche to become an on-trend model for a large number of consumers. Its distinguishing characteristics are a simple aesthetic, new, scaled-down product categories, smart solutions, comfort and convenience, as well as a high degree of customisation.

The digitalised production of made-to measure components for the vanity unit, bathroom furniture or shower & Co. provides the necessary technical capabilities. At the same time, a Tiny Bathroom calls for a great deal of precision, as well as meticulous planning and workmanship. Tiny Bathroom is one of four trends for modern bathroom planning that Pop up my Bathroom will be presenting at ISH 2023.

In a Tiny Bathroom every surface is used, sometimes in multiple ways: folding and sliding elements or reduced installation depths – when you're planning a Tiny Bathroom, creativity is key. Modern installation systems don't just integrate important functions, they also serve as a mounting system for the products in front of the wall. And more so than with any other bathroom trend, the interior design plays a crucial role in creating the impression of a larger space. Below you'll find some of the most promising tips and tricks for making sure a small bathroom makes a big impact.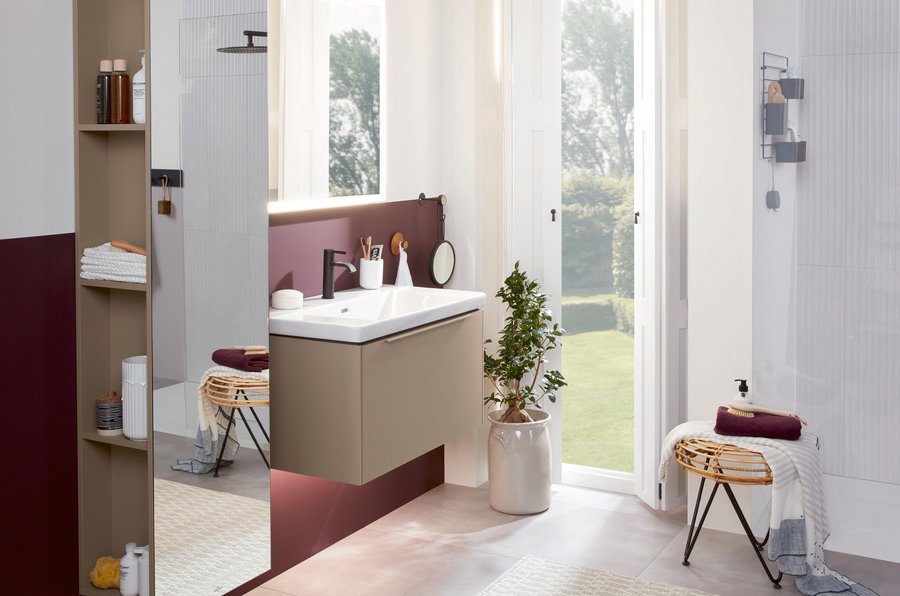 The three-door mirror cabinet isn't only popular because it means you can see yourself from all sides – a mirror is a well-known trick for making a room look bigger as well. As a rule, the washbasin wall is the most practical place for it. But in a Tiny Bathroom, it can also make sense to cover one or even several walls with mirrors. Shower enclosures or the inner side of the door can also be equipped with a mirror to add more depth to a small bathroom. The only surface that interior designers don't recommend using a mirror on is the wall opposite the door because it interferes with spatial perception.

Wall-mounted bathroom products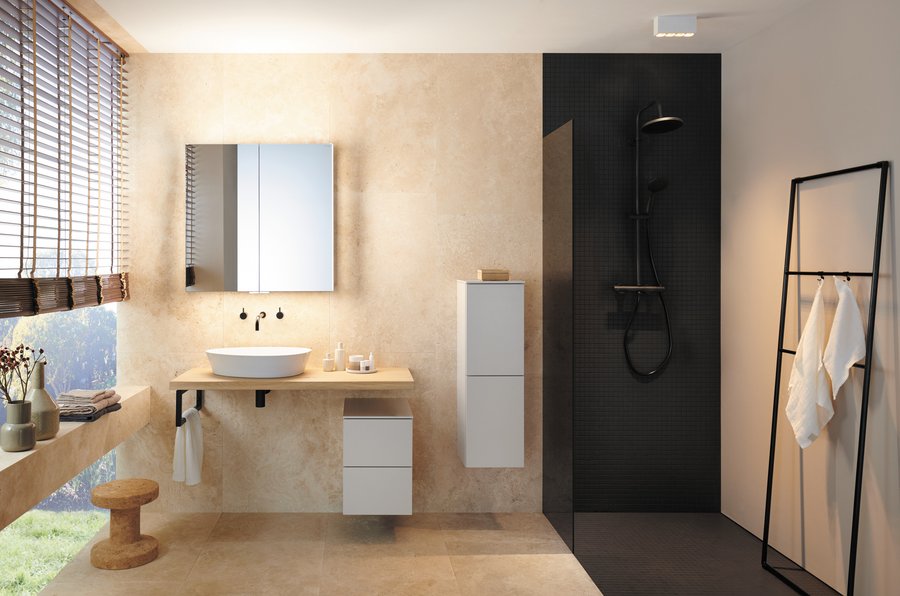 Wall-hung toilets have long been standard in new builds. Modern technology behind the wall ensures the necessary stability. Wall-mounted variants are becoming increasingly popular for bathroom furniture too. "Floating" furniture and sanitaryware isn't just easier to clean, it also creates open spaces (at least on a visual level) in the small bathroom. This same lightness should be reflected in the furnishings themselves. Besides providing lots of storage space, wall-mounted tall cabinets can be used to create the optical effect of stretching the small bathroom upwards. And if the pipes and components can't be fully integrated into the wall, they can be concealed behind a mid-height false wall that delivers the added benefit of an eye-level ledge for storing accessories and everyday essentials.

Integrated shelves and niches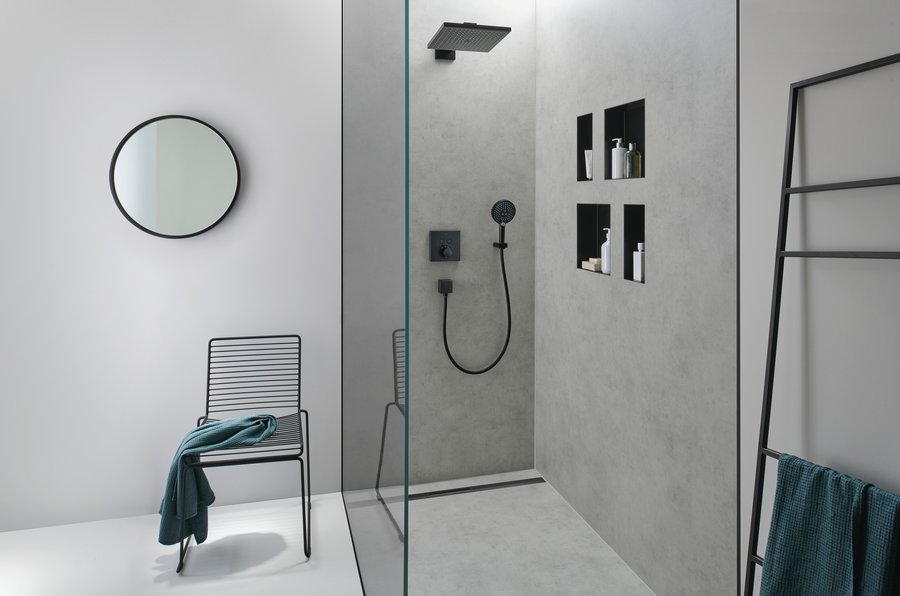 Niches in the shower area aren't just ideal for keeping shampoo, shower gel and other necessities within easy reach, they're an eye-catcher too. Integrated shelves and niches create useful storage space and a stage for displaying decorative items. The niches are easy to integrate into false walls because, as a rule, there's plenty of empty space inside the cavity if the pipes, components and wiring are sensibly positioned around them. Whereas in the past niches like this had to be built out of masonry and lined with tiles, bathroom manufacturers now offer ready-made elements in metal or plastic that aren't just easier to install but ensure a waterproof result as well. Modules like this, which are also available as lockable cabinets or shelves, are implemented as an integral part of the false wall that conceals the technical installations. Solutions for sealing and effective soundproofing are also available from the manufacturers. And thanks to LED technology, it's generally possible to integrate indirect lighting as well.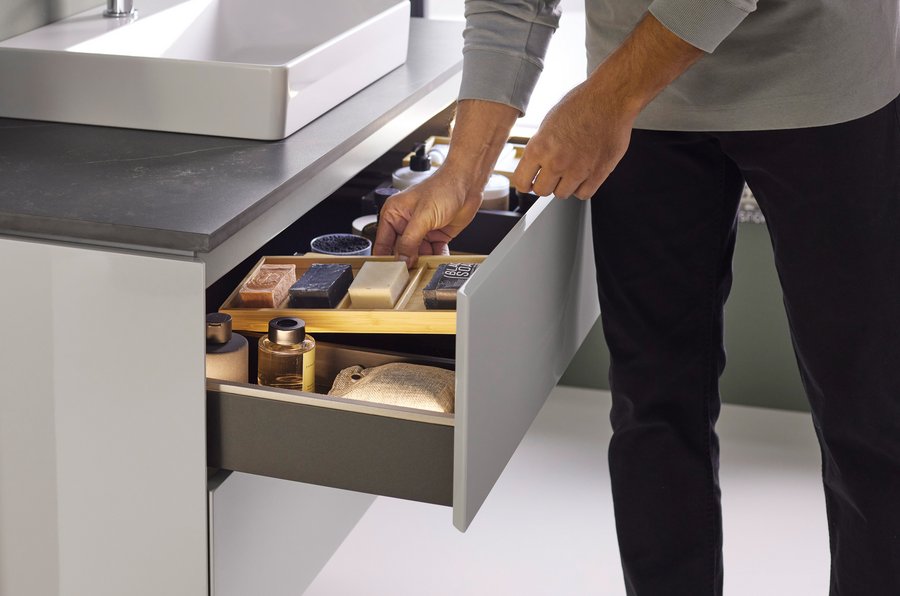 Creating and optimising storage space is the biggest challenge when designing a Tiny Bathroom and should be the starting point of all the bathroom planner's considerations. In keeping with Marie Kondo's philosophy, the clients should provide a detailed description of their daily bathroom routines as a basis for initial analysis. Unimportant items and things that are no longer required should not be taken into account when planning a new bathroom.

Bathroom furniture is increasingly being optimised to maximise the storage space it provides. The trap, for instance, is hidden inside the furniture and hardly takes up any room in the vanity unit at all. An innovative drawer system makes the most of every centimetre and creates lots of well organised storage space. Tall cabinets provide miraculous amounts of space and can make small rooms seem higher. Shelves over the toilet or in an extended false wall create indispensable display surfaces. Custom-made solutions built into recesses, under the bathtub or in a platform are another way of gaining additional storage space. The inclusion of neighbouring spaces is another potential approach – there's no faster and more efficient way to solve storage problems than with a built-in cabinet that integrates space from the room next door. A laundry chute system that transports washing straight to the utility room is a particularly exclusive feature. And it isn't just practical: it saves space by making big laundry baskets superfluous.

A shower instead of a bath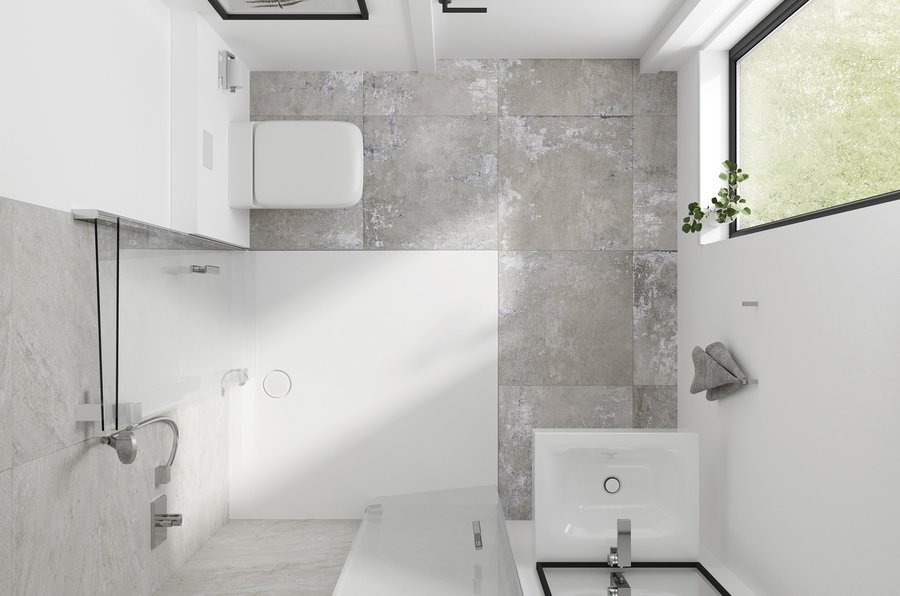 It's not always an easy decision: for a lot of people, taking a leisurely bath after a stressful day is both a highly enjoyable luxury and a great way to unwind. A bathtub with a shower zone is a compromise. But in a Tiny Bathroom where every centimetre matters, opting for a level access shower instead isn't a step backwards, it's an advantage: in addition to the space gained, it serves as a wellness centre and "battery regenerator" in one. And when it's equipped with a large-format overhead shower and a combination of side jets, the water experience is particularly enjoyable. A level access shower opens up the space. Using transparent and frameless shower enclosure elements ensures that important sightlines remain unobstructed and allows the daylight to reach all the way into the room.

Clever and custom-made bathroom products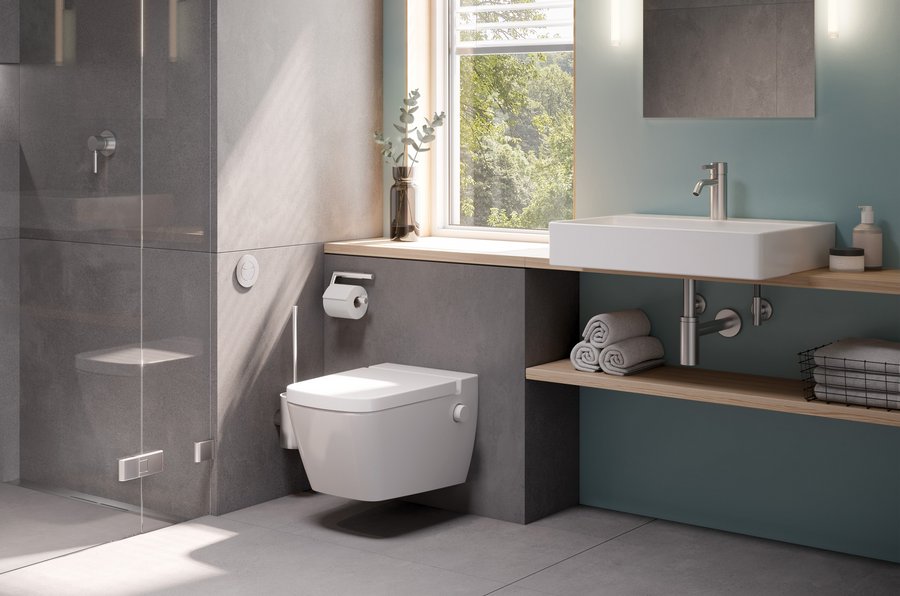 Recessed mirror cabinet variants can be built into the false wall and save space. Some manufacturers also offer solutions for fitting the washbasin waste pipe into the false wall, which creates more storage space in the vanity unit. The toilet brush and toilet paper holder, the bin and even entire cabinets can be integrated into the wall as well. There are even toilet variants that save space: a number of manufacturers offer model variants with a reduced depth. Planners designing a Tiny Bathroom can also fall back on the numerous solutions available for guest bathrooms – although they often have serious limitations when it comes to storage space. In principle, a minimalistic design is a considerable advantage when it comes to fitting out a Tiny Bathroom. Ceramic washbasins with slender walls or concealed handles are just two examples of small details that make a big impact.

In the Tiny Bathroom, meticulous workmanship is the guarantee for perfectly fitting bathroom products. Bathroom furniture is increasingly available in custom-made versions that are sized to order, for instance. The customising principle even extends to the actual basin, which is either purchased as a countertop model or together with the vanity cabinet as a complete unit. Nowadays even ceramic basins can be factory cut with millimetre accuracy – in some cases even with glazed edges all round.

Pale walls for more light in the small bathroom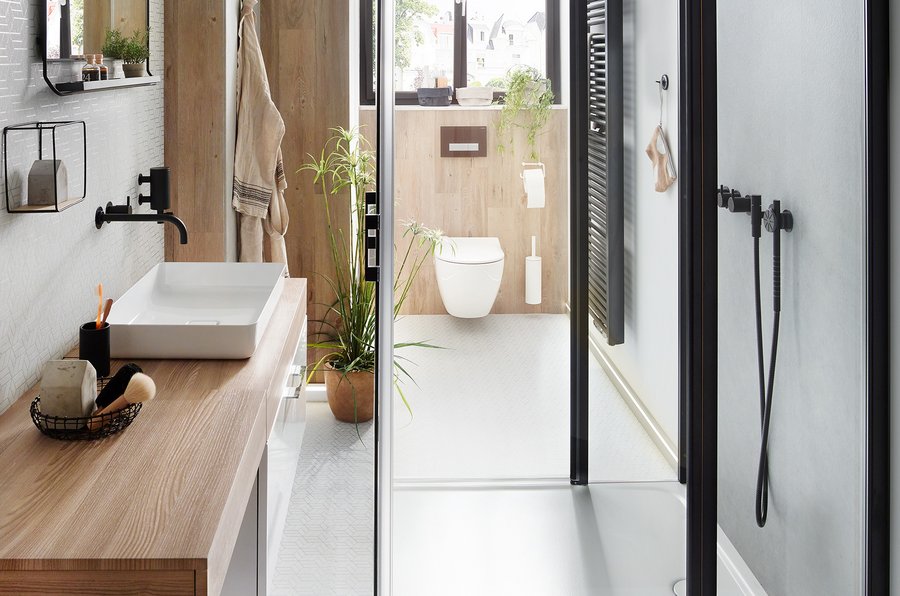 Dark walls swallow light and make rooms look smaller, whereas pale walls reflect it. That's why light colours for the walls and tiles are important when designing small bathrooms because they create a more spacious feel. But that doesn't mean white is the only option – the pastel shades that are popular right now intensify the daylight, emphasise the brightness and strengthen the contrast. The result is a neater, tidier look – a factor that plays an important role in turning any small bathroom into a feel-good space. Light shades of grey or beige for the floor reinforce the impression of "lightness". Mellow green, gradated blue or sunny yellow are popular pastel choices right now – and look great in combination with white. For the more courageous, the Tiny Bathroom can be decorated in a tone-on-tone colour scheme featuring numerous gradations of, say, yellow or green. Hip wallpaper designs with lavish floral patterns aren't such a good choice for small spaces – whereas decorative items in matching colours, miniature plants or little picture frames are perfect for adding stylish touches to a Tiny Bathroom.

A continuous floor surface and homogeneous walls for a spacious look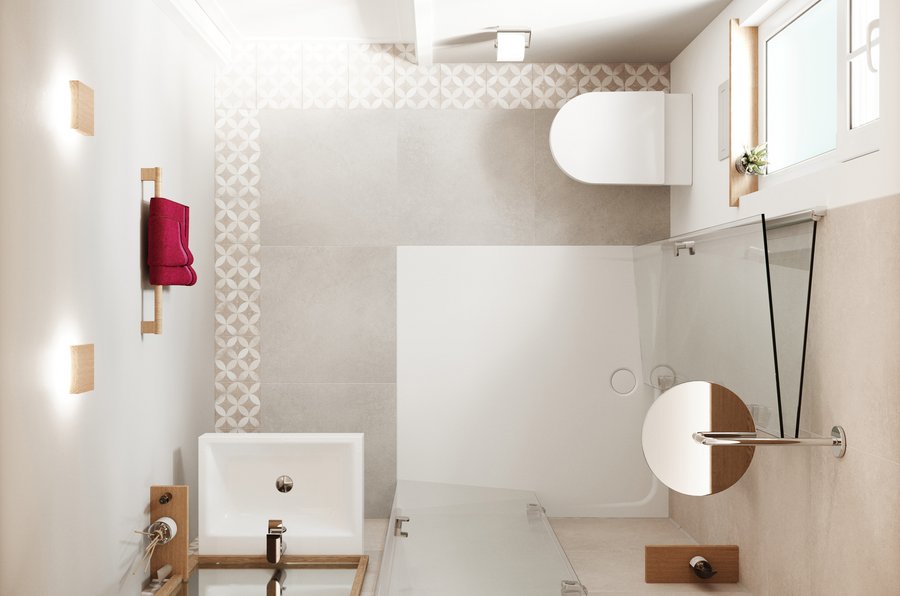 A level access shower permits greater freedom when planning a small bathroom. A continuous, homogeneous floor doesn't just make the space look bigger, it makes it accessible too. As a result, rather than being a "foreign body" in a clearly separated zone, the shower is an extension of the floor space and results in more room to manoeuvre. A level access shower opens up the space. And because the mineral cast or steel enamel shower surfaces are extremely robust and hardwearing, the shower space can also be used as temporary storage for useful items or pieces of furniture like a stool or chair. If the drain is integrated into the wall, the necessary technical components disappear into the background. Continuous flooring combined with a shower surface in the same colour reinforces the impression of a larger room. The same optical trick can be applied to the walls, and the same colour can even be used for the door.

And by the way: a door really is indispensable for a Tiny Bathroom. However, sliding doors are a good choice if you want to make the most of the floor space available. A wall of custom-made built-in cabinets provides maximum storage space, and there are also a few bathroom furniture manufacturers with modular systems that can be used to create similar solutions. Keeping the walls as homogeneous as possible and avoiding small-format tiles also helps make the Tiny Bathroom seem bigger. Stucco walls or large-format tiles are both good options for creating a virtually seamless look.

Use lighting to create the impression of depth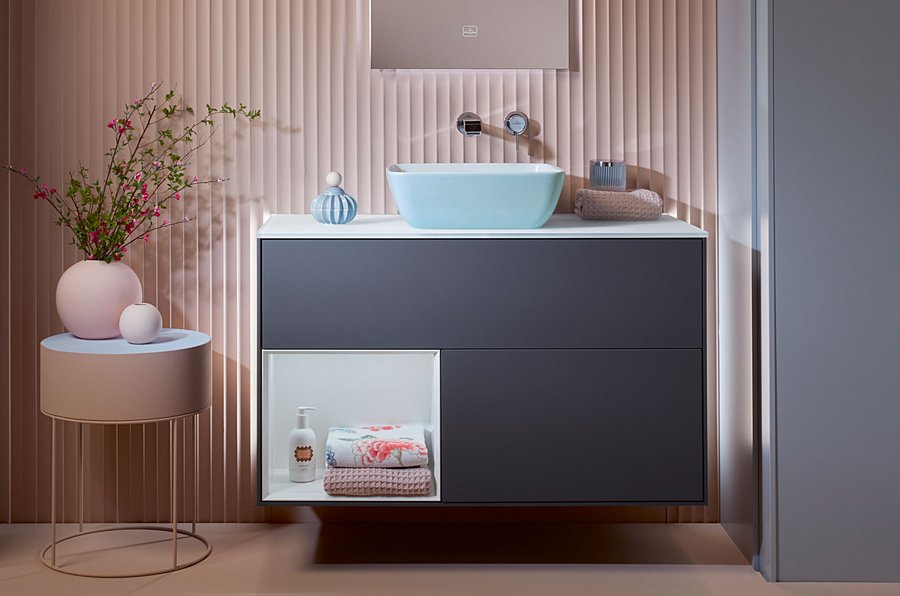 The days when the bathroom was illuminated by a single light source are over. Thanks to innovative products that not only permit different lighting scenarios but allow the colour of the light to be varied as well, today's bathroom lighting can be adapted to suit different times of day. Incorporating as many different light sources as possible – from bright task lighting in the morning all the way to emotional lighting for winding down in the evening – adds depth to the Tiny Bathroom. Indirect lighting – integrated into bathroom furniture, niches, steps or under the toilet – reinforces the impression of depth.