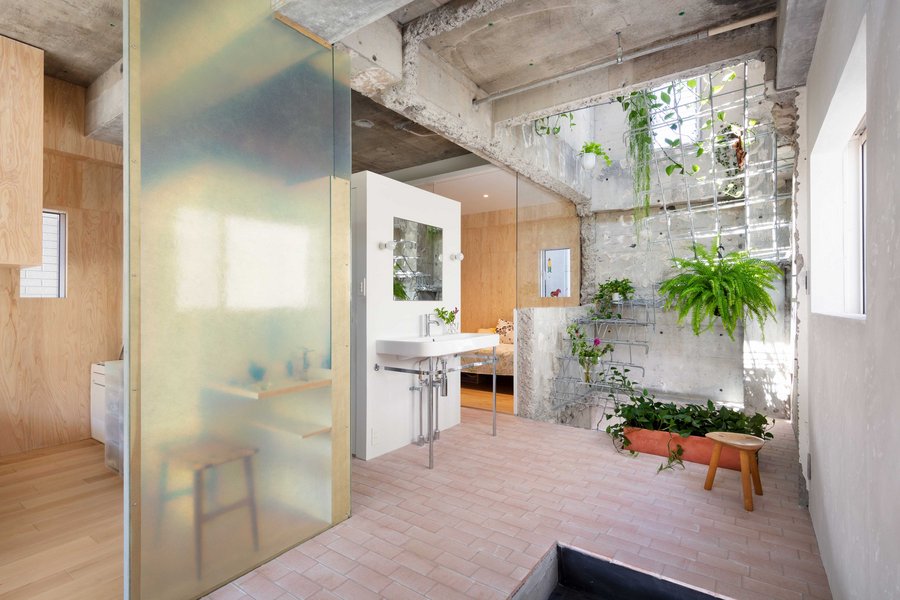 Converting a 33-year-old factory building into a four-story residential building with an integrated office – this challenge was tackled flexibly and creatively by architecture studio MAMM Design. The Duravit series Happy D.2 by sieger design and a bathtub by designer Philippe Starck are part of the project.

The reinforced-steel building is situated in the Bunkyo district in central Tokyo, famed for its publishing and printing industry. For many years, the lower area served as a print shop and the upper floors as a living area. Today, the fully renovated building simultaneously contains residential and studio space.

Preservation instead of renewal
During the renovation process, it was decided to preserve some elements of the original building. Initially, for example, it was planned to completely dismantle the former stairwell. When dismantling the reinforced bars, which are used to strengthen reinforced concrete components, it was discovered that they fitted into the design and they were retained. In the new "green staircase", plants now grow around the old reinforced bars.

The second floor includes a bedroom, a children's room, and a bathroom. In the semi-open room, a Happy D.2 washbasin was installed, with its metal console, naturally blends into the atmosphere of the building. At the same time, the timeless Starck bathtub creates a place of refuge.
For a new appearance of the building façade, the existing render was to be removed. This revealed tiles, which were then also to be retained. Freshly polished, they now serve as a contrast to the green of the newly planted trees. In this way, various elements were discovered during the renovation and incorporated into the current appearance.