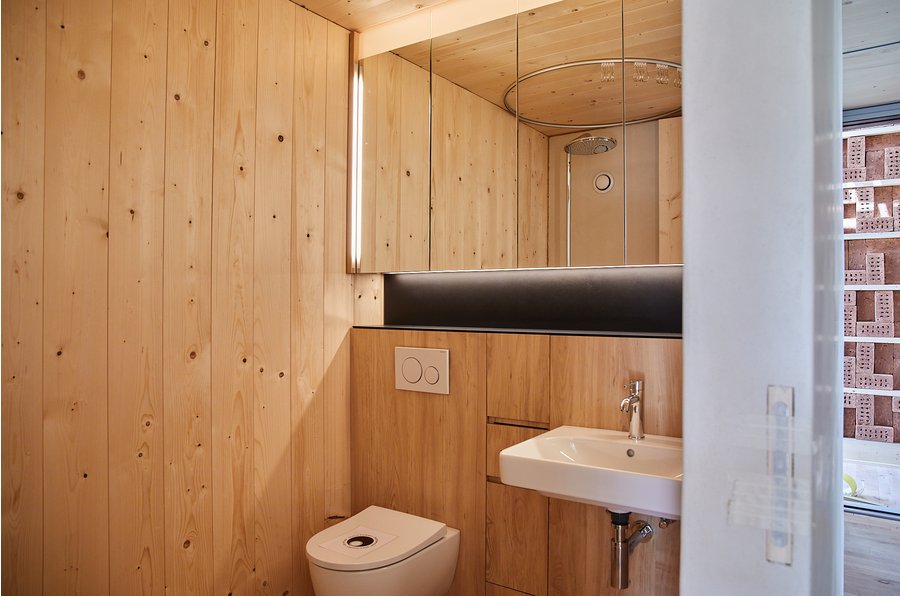 The significance of sustainable building concepts is growing as demand for living space and resources continues to rise. It is particularly challenging to implement these kinds of concepts in city settings as a result of urban densification. Solar Decathlon Europe, one of the world's biggest university competitions, encourages students to develop sustainable urban building and living solutions that address these problems.

It kicked off in Wuppertal in June 2022 with a focus on modernising existing building stock. One of a total of 16 universities from ten nations taking part in the competition was the University of Düsseldorf and its MIMO team – a team of both students and lecturers in various subject areas. As project cooperation partner, Grohe provided the team with a sustainable drinking water and bathroom concept.

Small space requirements for big advantages
The MIMO (Minimal Impact – Maximum Output) team's project involved a design to refurbish and add additional storeys to the traditional event location Café Ada at the heart of Wuppertal. A total of 17 modules are planned for the cafe roof, adding three new storeys to the building. The modules contain 13 residential units for up to 29 people of all age groups, plus communal areas. The entire structure of the additional storeys will be encased in a climate-regulating envelope with a glass roof and movable, horizontally mounted louvres to provide natural ventilation, illumination and passive air-conditioning. The glass envelope also has integrated photovoltaic cells to deliver power and a built-in shading system. The roof is shaped specifically in order to collect rainwater and store it in a cistern. Excess water flows into the natural pond.

Sustainable water concept for bathrooms and kitchens
Sustainable buildings also need sustainable concepts for drinking water supply and sanitary facilities. Thus, for the bathroom concept, the team designed a bathroom with a wood and loam structure that dispenses with adhesive, glue and silicone. This involves the use of loam panels, which regulate moisture very well but cannot be permanently exposed to water splashing. The shower is a free-standing object in the bathroom created with the help of the Essence shower system from Grohe and a concealed technology.

The wash basin features an Essence single-lever mixer to match the shower system. Thanks to the SilkMove ES technology, it reduces energy requirements which only allows cold water into the system when the handle is in the middle position. In other words, warm water only flows when it is actually needed and the lever is turned to the left, saving both energy and utility charges. In addition to that, a combined flow regulator reduces water consumption by up to 50 percent.

In the communal kitchen the Grohe Blue water system is fitted. It delivers filtered, chilled and carbonated drinking water straight from the tap. Grohe Blue ideally complements the sustainability concept by reducing plastic, water and CO2 consumption, and providing an alternative to bottled water.

1:1-scale prototypes
The competition was divided into a design challenge and a construction challenge that involves the construction of a fully functional prototype on a scale of 1:1. The living concepts were judged as fully functional residential modules according to a catalogue of criteria by a jury between 3 and 26 June 2022. At the same time they formed an exhibition covering a total area of approximately 22,000 square metres that was open to both trade and private visitors. The house demonstration units served as proof of concept, but after the exhibition they will also be lived in for three years as part of a scientifically evaluated live experiment -  a contribution to the Living Lab NRW project (a central research and education establishment of the state of North Rhine-Westphalia for climate-neutral building and sustainable living in the cities of the future) by the Düsseldorf University. The MIMO team received a well-deserved fourth place in the final.

"It was a pleasure to support the next generation of architects and planners through the cooperation, and to make a proactive contribution to the development of innovative and sustainable building and living concepts. After all, the construction sector is responsible for more than 50 percent of worldwide consumption of materials," said Alexander Zeeh, Leader Central Europe, Lixil Emena and managing director Grohe Deutschland. "Sustainability has been playing a central role at our company for more than 20 years and we feel it is our responsibility to set an example. We are proud to have partnered with the MIMO team and to have helped it realise this pioneering project."