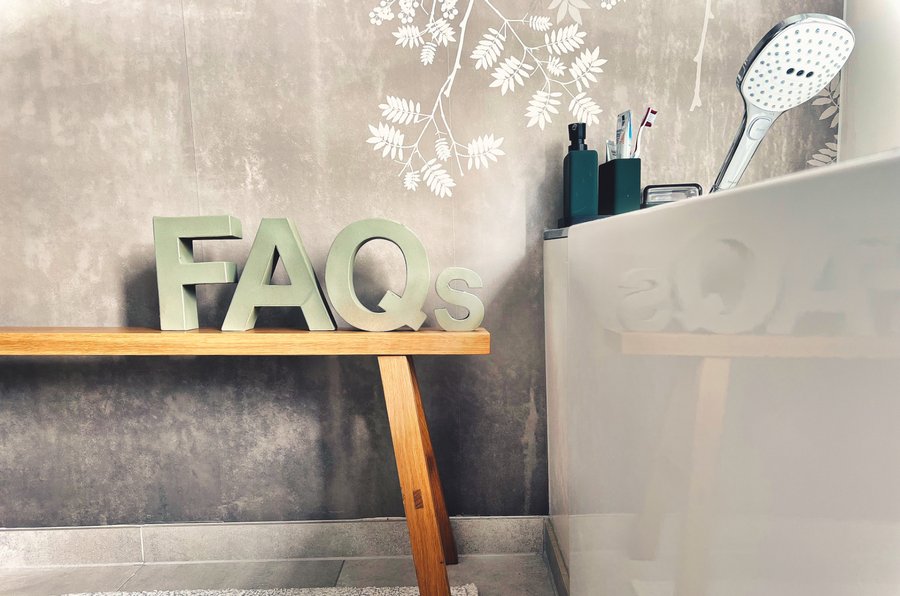 A lot of different aspects have to be taken into account before a holistic bathroom concept can be implemented. Some points are brought up by the clients themselves, others have to be actively addressed during the planning phase. The Pop up my Bathroom editorial team asks 20 questions that cover the most important aspects from the client's perspective: the briefing for a new bathroom design.

A beautiful vanity unit, cool tiles, a luxurious shower or atmospheric lighting – it's usually products like these that inspire a new bathroom. Seen in magazines, brochures or bathroom showrooms, they trigger the desire for a certain style and an idea of how the new bathroom and all its features can help brighten up everyday life.

But are they actually the right starting points for the bathroom design? Professionals know that ideas like this can sometimes cloud the picture when it comes to holistic bathroom planning. Nevertheless, the clients' wishes have to be taken seriously and, as far as possible, taken into account. That's a balancing act that calls not just for consulting and planning experience but for sensitivity as well. If you want to take customers' expectations into consideration and ask about their needs, being aware of their most important questions is helpful when it comes to ensuring long-term customer satisfaction and a sustainable bathroom design.

Whether it's a new build or a renovation, there are countless possibilities for designing a bathroom nowadays. Uninspired, nondescript solutions are no longer in keeping with the times. Modern bathroom planning caters to the individual needs and wants of the bathroom's future users. Similarly to when designing a new kitchen, it's vital to analyse their daily routines and identify usage profiles. In the bathroom too, taking ergonomic criteria into account is essential for a successful design: a bathroom that fits like a glove. Many clients find their way to an ambitious bathroom planner via a bathroom showroom or advertising for a desirable product on the pages of interior and lifestyle magazines. Exploring the products in a showroom often serves as the basis for the initial consultation.

However, there are other questions that need to be clarified before moving on to concrete product decisions. Planning a bathroom is a complex task; it involves several trades and places increasingly high demands not just on the technology but on the design quality too. Bathroom planners aren't only responsible for the technical implementation, compliance with drinking water hygiene standards or a barrier-free design – they are trend researchers, design experts, logistics specialists, architects, psychologists, colour consultants and environmental specialists, all rolled into one. A holistic approach is key – not only as it relates to the construction of future-oriented bathrooms, but in terms of the bathroom design as well. A comprehensive briefing is the basis for many creative decisions during the planning process.

In a nutshell: 20 questions for holistic bathroom planning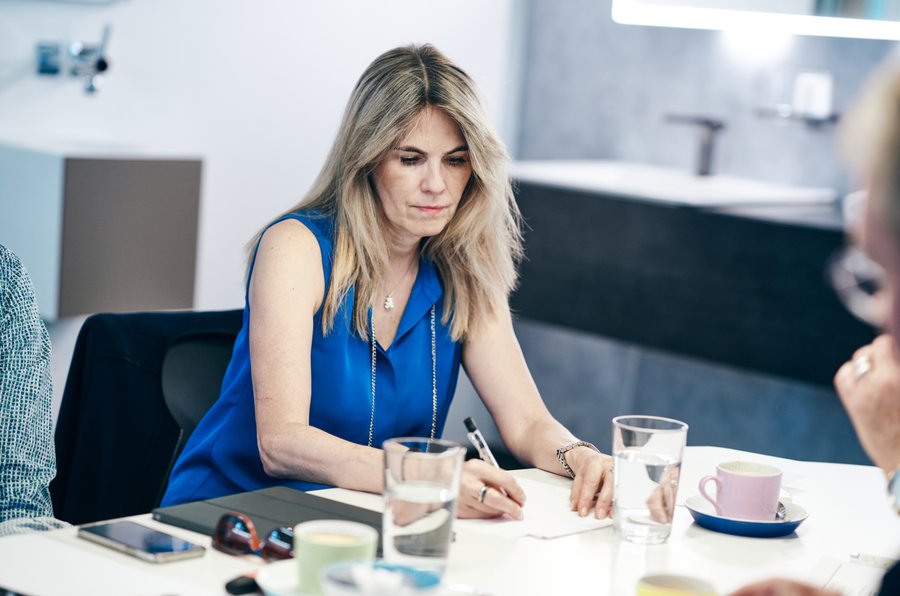 A lot of different aspects have to be taken into account before a holistic bathroom concept can be implemented. Some points are brought up by the clients themselves, others have to be actively addressed during the planning phase. Planners are well advised to be prepared for all sorts of questions and expectations from the client's perspective. An overview...

1. Analysis of daily routines, needs and furnishing style: To what extent can my new bathroom be customised to suit my lifestyle?

The customisation megatrend is shaping the bathroom too. Pop up my Bathroom's interview with trend researcher Peter Wippermann from back in 2012 is still well worth reading: "Self-design takes place in the bathroom – it's as simple as that." In their double role as decision-maker and creative, bathroom planners should aim to ensure that a bathroom fits its users like a glove. A lot of bathroom companies offer custom-sizeable washbasins, bathroom furniture, fittings and tubs that are made to measure with pinpoint accuracy.

2. Idea development: I just can't picture my new bathroom and don't have any ideas. Will you develop a new story for me – one that suits both me and the architecture?

Start with the vanity unit: in a professionally planned bathroom, it often serves as the starting point for the fixtures and furnishings. What does the customer like, how much space is available, what functions does it need to perform, what kind of basin is needed? The wall with the vanity unit is like a stage – and its design dominates the entire bathroom. Or does the architecture allow a connection between the bathroom and nature? A combined indoor outdoor bathroom has emotional appeal as well.

3. Upgrade included? My bathroom is 20 years old – which technical developments can I benefit from in a new bathroom?

A great deal has happened in the bathroom over the last 15 to 20 years: it's hard to think of any other room in the home where such huge advances have taken place, including rimless toilets, dirt-repellent finishes, shower toilets, ultra-flat shower trays, walk-in showers, lifestyle-oriented bathroom furniture, customised shower programmes, extremely pleasant overhead showers and water-saving fittings. And on top of everything else, LED technology has brought lighting and emotions to the bathroom as well – a quantum leap.

4. Sustainability: I want to build and live sustainably – how do you plan a sustainable bathroom? What needs to be taken into account? How will my old (and future) bathroom be recycled?
Sustainability isn't a new issue for the bathroom sector – take reducing water consumption, for instance: it's been part of fittings manufacturers' corporate culture for decades. Their development centres are continuously reducing the amount of water their products use without any noticeable effect on the water's tactile qualities or other functions. Dual flush toilets are standard nowadays, and the production, trade in and fitting of bathroom products is increasingly based on sustainability criteria. The Green Bathroom is a constant theme for Pop up my Bathroom – most recently at the ISH digital 2021. Brand-name companies are working to constantly improve the recyclability of their products and their use of sustainable materials.
5. Technology fan: My kitchen is smart – will my bathroom be too? Which smart applications and interconnections are possible and can help simplify my bathroom routines?

Thanks to smart technology, the bathroom can be programmed to appeal to all the senses – with a mirror that doubles as an information centre, smart controls for water-based applications (shower etc.), intelligent lighting control, innovative shower toilets, LED-illuminated shower enclosures and touchless technologies. The Smart Bathroom uses innovative technology to optimise procedures and routines.

6. Quality of stay: I want the same high standard of design that characterises the rest of my home in my new bathroom too. How can my bathroom be given a more homely feel?

Cosiness, zeitgeist, fashion and style are very much in demand as the cornerstones of a professionally planned bathroom, as are modern usage concepts that enhance the quality of the space and permit health-related activities. The Living Bathroom is featuring more furniture and more fabrics, is more flexible and more attractive. The Pop up my Bathroom magazine shares 8 facts for planning a cosy bathroom, as well as numerous tips (like why outdoor products are suitable for use in the bathroom too).

7. Lifestyle is important to me – how can I express that in my bathroom?
These 10 interior design trends focus on colour, materials, products and the right story and are guaranteed to turn any bathroom into a lifestyle space.
8. White, black, grey or beige: How can I bring colour into my new bathroom and what kinds of colour concepts will stand the test of time and adapt when necessary?

Colour is totally on trend in the bathroom again. And that doesn't just apply to the floor, walls and ceiling – the fittings and ceramics, washbasin and tiles, bathroom furniture, shower and bathtub are colouring up too. On the Pop up my Bathroom magazine you will find an article for the right colour choice in the bathroom.

9. Lighting: Which light and lighting concepts will deliver the biggest functional and emotional benefits for my new bathroom (regardless of whether I'm an early riser, not at my best in the mornings or a night owl)?
LED technology is a genuine game changer in the bathroom. With due regard for the IP zones, all sorts of things are possible: technical and functional light, indirect lighting or even lighting that adapts to the time of day. There are numerous innovations for bringing light into a dark bathroom, but a professional lighting plan is essential.
10. Not just a question of the material: Seamless, wallpaper, wood-effect tiles or clay plaster? Which materials are possible and will underscore the individuality of my bathroom design?
A wide choice of materials is available for the bathroom walls and floor: large-format marble tiles are a great option for a luxury bathroom, for instance, while wallpaper adds a fashionable element to the vanity wall. There are numerous ideas and trend reports in the Pop up my Bathroom magazine.
11. Maximising the space: How can I get a lot of bathroom out of a small area?
Storage space, storage space and more storage space are the magic ingredients for a successful concept in a small bathroom. The bathroom has to be neat and tidy – prewall installation can be used to integrate functions. With lots of homogeneous surfaces, transparent and reflective elements and a clear zoning concept, even a small bathroom can accommodate lots of different functions.
12. I'm spending longer and longer in the bathroom. How can I make it a pleasure to spend time in?
Furnishings and materials in the same quality you'd expect in a living room, a coordinated colour scheme and an emotional lighting concept help create a cosy setting. It's even possible to use real wood. Wellness, fitness and lifestyle are the main ingredients for enjoyable time in the bathroom.
13. I'm a design fan. Which architects and designers are active in the bathroom product sector, which design style is on trend?
Whether it is Edward Barber & Jay Osgerby, Patricia Urquiola, Sebastian Herkner, Stefan Diez, Konstantin Grcic or Antonio Citterio: There are many great architects and designers who create products for the bathroom and enhance the space with high-quality design. A knowledge of the current standard of design in the bathroom can play an important role in the dialogue with the customer.
14. Accessibility with or without certification? I want to be able to use my bathroom independently for as long as possible – how can my bathroom help me do that?
Accessible solutions for public and private bathrooms don't have to be look technical and functional. Many of the solutions available from the industry demonstrate just how flexible barrier-free bathroom design can be – the Pop up my Bathroom magazine has an entire section dedicated to reference projects and product tips.
15. For decor fans: I need storage space and surfaces for (changing) decorations – how can my bathroom provide enough room for both needs?
The vanity unit is the starting point for the storage space offensive in the bathroom. Lots of new vanity cabinets feature space-saving solutions for integrating the necessary trap. A mirror cabinet set into the wall or a prewall creates even more storage space in the bathroom without restricting your freedom of movement. Additional tall cabinets and side cabinets or on-trend sideboards, display cabinets and tall units with a vertical pullout are not only great spacemakers, they also provide attractive surfaces for stylish decorations.
16. The main thing is for the bathroom to be hygienic and easy to take care of – cleanliness was important to me even before the pandemic. How can my bathroom be optimised from a hygiene perspective? And how compatible is that with sustainable behaviour?
Cleanliness thanks to dirt- and bacteria-resistant surfaces, touchless controls and hygienic luxury toilets: there's more demand for hygiene in the bathroom than ever before. What's more, these features are sustainable too because they reduce the amount of water and cleaning products used.
17. A holistic concept as a matter of trust: What exactly does holistic bathroom planning mean, and how will you implement it in my new bathroom? (Are you selling me your own signature style/your products, or are we a team?)
A bathroom as a small, self-contained world – individual and adapted to the needs of its users. It's important to communicate the philosophy the design is based on clearly – including technical, aesthetic and sustainable aspects. Is there a motto, a key function, an individual touch, a usage concept? It's not so easy to explain all that clearly and concisely – the most important thing is an open working relationship and an authentic result.
18. Wellbeing & Co: How does my bathroom become a place where I can recharge my batteries and revitalise body and soul? What do you think about yoga, Kneipp, infrared, sauna and other applications and wellness concepts?
If there's enough floor space in the modernised or newly built bathroom, additional functions can be integrated. The fitness factor is becoming increasingly important, and it's good to stay up to date on new trends like app-supported indoor cycling, Cantienica, Piloxing or veganism. The Healthy Bathroom is becoming a fountain of youth.
19. Flexibility: Little people grow up, the young grow old – how can I design my bathroom so that it adapts to its users (keyword: universal design)?
It's the sum total of lots of little product solutions that turns a bathroom into a universal space. Farsighted planning inspires confidence. Adaptable, flexible and modular,
20. Last but not least, the problem of needing to ask intimate questions arises at some point: (how) can we talk about intimate hygiene? And not just about shower toilets?
The bathroom should work for everyone and their individual needs. Talking to customers about intimate hygiene or disabilities after just a short time is definitely a challenge, but often essential for holistic bathroom planning. Some customers appreciate directness, others call for a more tactful approach. Trying out a shower toilet at the showroom or a friend's house or first-hand experiences at hotels can open the door for an open and honest dialogue.
Never forget that the realisation of an individually planned bathroom is a major investment for your customers, regardless of the products and equipment they choose. Answering as many of these 20 questions as possible in as much detail as possible will provide a good basis for the planning and design of a bathroom. Because ultimately, holistic bathroom planning is only possible when expectations are consciously articulated and the planner is aware of customers' daily routines and individual preferences.

Next post: FAQs in bathroom planning: Part 2 Selecting the Products