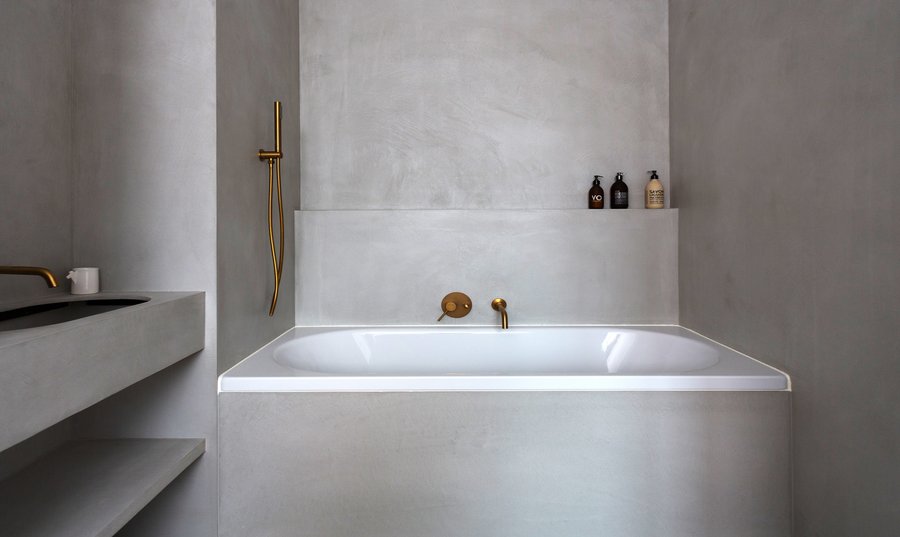 A 151-square-metre house with five bedrooms and four bathrooms that is also available to holidaymakers and for photo shoots and film shoots. This is the new home of French photographer Karine Köng on the Atlantic coast near Bordeaux. The central bathrooms, which is right on trend with its jointless wall design, is fitted with the Centro Duo bathtub from Kaldewei. The special feature: the bathtub has the Sound-Wave bathroom audio system.

After 23 years in bustling London, Karine Köng decided to return to her French home. An old villa located two minutes walk from the beach in Pyla-sur-Mer, in Le Moulleau near Bordeaux, is now the photographer's new home.

As in her former London home, Köng and her husband planned the individual renovation phases in their new home on their own. Once the floor plan was set, the biggest challenge was to design a bathroom that would feel spacious despite its high ceilings and small floor area.  To achieve this, she decided, together with the architectural office l'Atelier d'Architecture du Bassin d'Arcachon, to give the central bathroom on the first floor a minimalic jointless look in soft grey.

Minimalist reduced bath aesthetics with sound enjoyment
Köng chose the Centro Duo bathtub from Kaldewei, designed by Sottsass Associati, which she considered to be an ideal complement to the minimalist interior design of the bathroom. A special feature of this is the special sound wave equipment, which is intended to allow music enjoyment above and under water. In addition, six acoustic panels and two sound converters were installed invisibly under the bathtub at the factory. Music can be played from any Bluetooth-enabled device via the Sound Wave bathtub. "I use my smartphone to play my favorite songs", the photographer says enthusiastically, "and I enjoy the experience of fully immersing myself in the music. "

The modern design in the bathroom of Casa Pyla is rounded off by the Centro undercounter washbasin, and Köng is very fond of, "I love its minimalist design and soft curves. The compact washbasin is the perfect size for the niche I designed. "