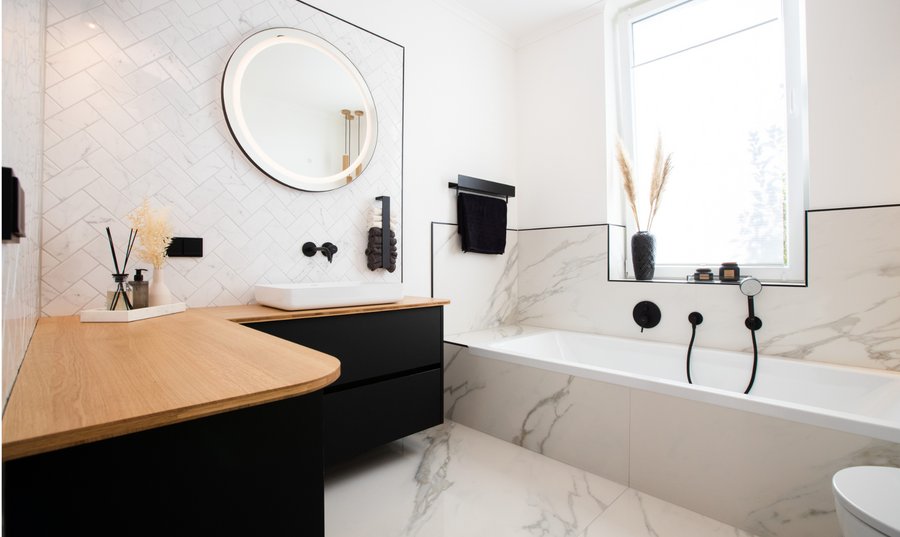 Functionality, sustainability and an unmistakable design – for Sandra Hunke, system mechanic and currently Germany's best known tradeswoman, these are the most important factors for sophisticated bathroom design. These standards also applied to their own bathroom renovation. In this, products from Kaldewei made of recyclable steel enamel played a major role.

As an experienced system mechanic, Sandra Hunke, who is also an internationally sought-after model and influencer with over 70,000 followers on Instagram alone, knows what is important in planning and installing a new bathroom. She turned her own completely inside out, restructured, refurbished and furnished the room. During her activities, the professional craftswoman took her audience on social media with her to the construction site, where some night shifts accrued.

Bathroom planning and implementation in-house
For her new dream bathroom, the 29-year-old chose the rectangular Miena washbasin from Kaldewei with its slender edge and the luxurious Conoduo wellness bathtub. Both of them she assembled and installed herself. From her point of view, the effort was absolutely worth it, since she says that the Kaldewei Conoduo bathtub with the Skin Touch spa system has turned her bathroom into a real temple of wellness. Due to Skin Touch an air-water mixture flows through the central inlet in the form of micro-fine air bubbles. So, the oxygen-enriched water becomes particularly fine-pearled and shall ensure soft skin. This can only be beneficial for a professional model as Hunke explains "After a strenuous day of modelling with a lot of different make-up, the effect is even more noticeable. You really notice how the pores open and the skin recovers."

The sound of the bathtub
In addition, the bathtub is also equipped with the Sound Wave bathroom audio system. With built-in structure-borne sound converters and Bluetooth technology, the bathtub works also as a sophisticated speaker. The system mechanic can now hear her favorite songs both above and below the water. Besides the technical sophistication, she personally likes the design and the spaciousness of the Conoduo bathtub, because with 190 x 90 cm there is enough space for two people to bathe.

The well-known influencer and successful model often personally communicates to her customers what is important to her in her own bathroom and recommends products made of recyclable steel enamel by explaining "The bathroom should be functional, but at the same time look good and have a recognition factor. Especially with sanitary products, you shouldn't save on materials. Steel enamel stores the heat and is extremely durable."