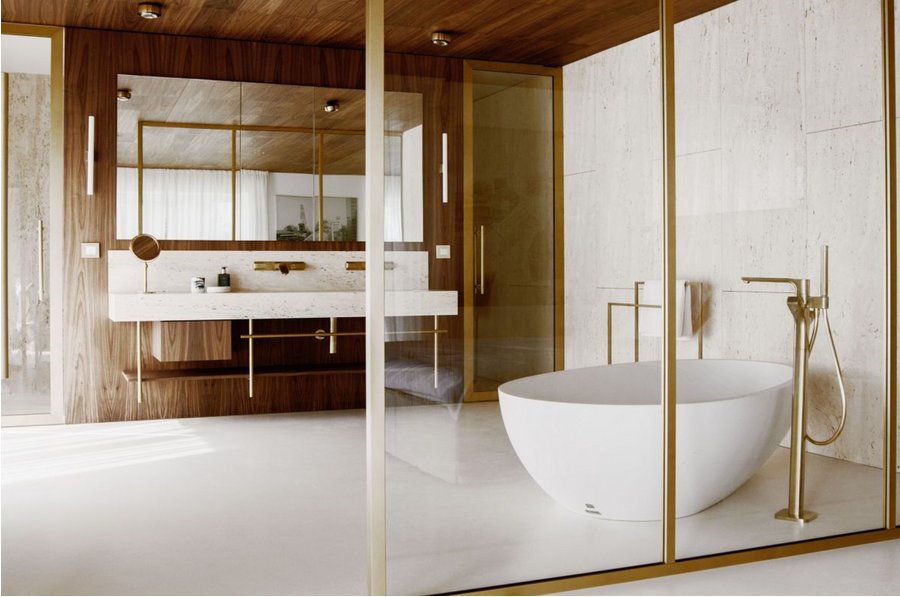 The 'Golden House', as it has been called in the media, is secluded away in Prague's sixth district, which combines rugged natural beauty with rich history and cosmopolitan appeal. Wide boulevards boast a cross-section of architectural styles spanning Soviet social realism, Modernism, Functionalism and Neoclassicism, while hosting cafes, bars, museums, theaters and a thriving international community.

Overseen by designer Ivanka Kowalski, the interiors of the 'Golden House' combine American walnut, matt brass, travertine and white concrete to create an atmosphere at once opulent and intimate. A clubroom on the lower floor, which is equipped with five television sets, offers a convivial retreat from the city while serving as the hub for the gym, sauna, garden and private pool. Upstairs, separated by glass walls framed in brass, the ensuite bathrooms feature custom washbasins hewn from travertine. Several collections by Axor embellish the spaces, each providing a unique contribution to the overall aesthetic.

Axor products for the bathroom and the kitchen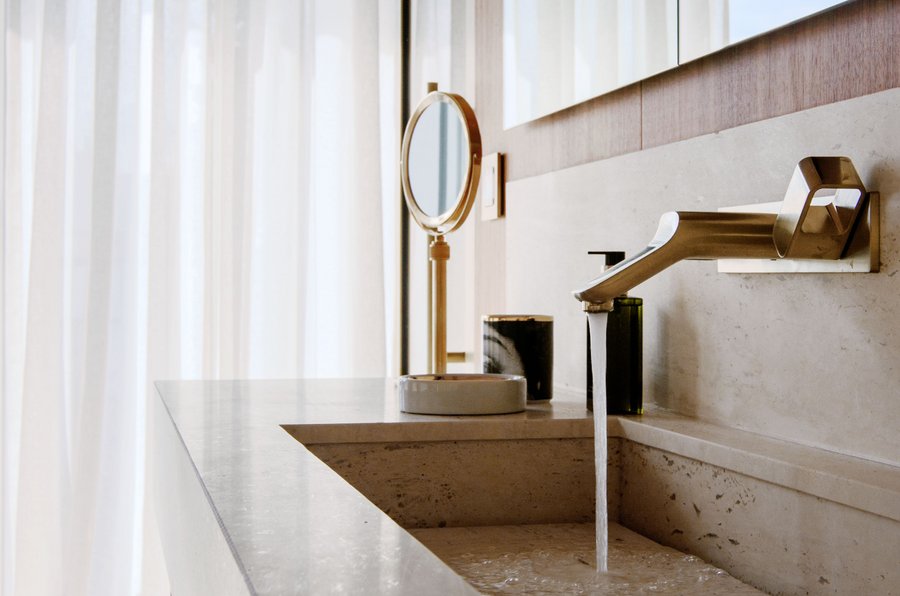 Kowalski selected for all products in the bathrooms of the `Golden House´ the surfaces Brushed Gold Optic, Polished Gold Optic and Brushed Bronze from the Axor FinishPlus range. At the washbasins, Axor Urquiola faucets, with their artfully eclectic combination of forms, contrast srongly with traditional wood and stone, while the Axor Urquiola floor-standing bathtub fixture makes an flamboyant and sensuous statement at the bathtub. In the shower, the Axor overhead shower and baton hand-shower combine clean geometric forms with a pleasant showering experience, while an Axor One thermostatic module designed by Barber Osgerby eliminates the need for multiple shower controls, consolidating all functions, including spray-type selection as well as volume and temperature control, in a single, sleek and intuitive unit with paddle handles.

For the kitchen, Ivanka Kowalski also chose Axor products. There, an Axor Starck faucet in Brushed Bronze and Brushed Gold Optic is the perfect complement to the solid brass kitchen island. "The interiors of this special home are characterized by rich materials and a sophisticated palette," Ivanka Kowalski explains her choice. "With its avant-garde designs and incomparable choice of exclusive finishes, Axor was the perfect partner for the bathroom and kitchen."